8th Annual Young Professionals Day at the Capitol
Description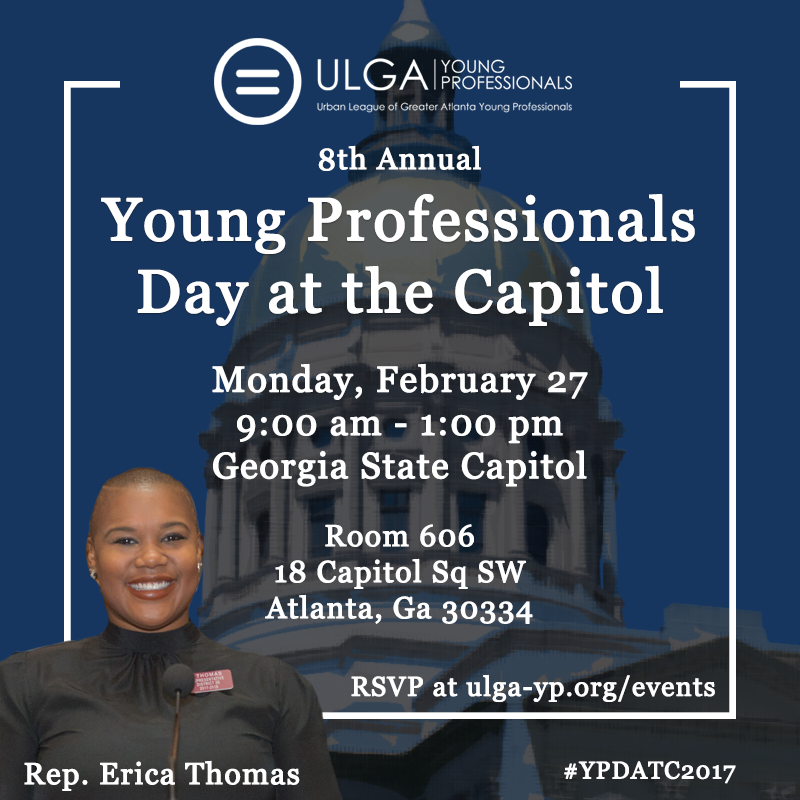 The Urban League of Greater Atlanta Young Professionals is proud to present its 8th Annual Young Professionals Day at the Capitol. Join us to advocate on behalf of the Urban League Agenda and participate in the following:
Complimentary Breakfast
Overview of the Georgia Legislative Process
Hear and meet with Georgia Representatives and Senators
General Assembly & State Capitol Tour
Young Professionals Group Photo with Governor Nathan Deal
Advocacy of Mission Supported Bills: Supplier Diversity Act (HB-21), Federal Minimum Wage Equalization Act, Community Schools Bill (SB-30)
Complimentary Lunch
Post-event opportunity to meet with your elected officials to advocate on selected bills.
Once you register, an email template will be sent to you in order to contact your elected official to set up a meeting following 1:00 PM at Day at the Capitol. If you have the same representative as another attendee, we will group you together to make arrangements.
#YPDATC2017
The Urban League of Greater Atlanta and all auxiliaries are a nonprofit, nonpartisian, 501(c)(3) organization.