Description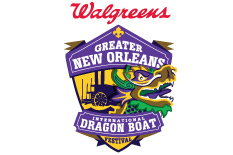 The Walgreens Greater New Orleans International Dragon Boat Festival returns to the Tchefuncte River in Madisonville, Louisiana on Saturday, May 13th, 2017, 9am-3pm. This event brings together culture, sport and international flavors that blend a 2,500-year-old tradition with the fun and excitement of an outdoor festival.
Twenty paddlers move in unison, combining strength and teamwork in a boat whose elaborate design originates from ancient China. Social groups and businesses alike embrace the sport because it builds camaraderie, forms connections and promotes healthy lifestyles.
Admission to the event is free; races will begin at 9:00am and will continue throughout the day. Festival grounds will offer a variety of activities for all participants and spectators. Wander through the Walgreens Health & Wellness Village featuring exciting products and services to assist in leading a healthy lifestyle. Grab a bite from one of our Food Trucks, enjoy a cold beverage from the Beer Tent, or shop in the Marketplace. Families can bring their children to enjoy games and activities in the interactive Kids Zone. A portion of the proceeds of the event will be donated to Mary Bird Perkins Cancer Center.
New teams and individuals are welcome! Invite friends, family, colleagues - form a group of 17-21 people and sign-up a team today. If you or a couple of friends are interested, there is a pay per seat option available, contact us at info@gwndragonboat.com to join.
Get in on the action – ask us how to get involved!
For more information, visit www.gwndragonboat.com/neworleans