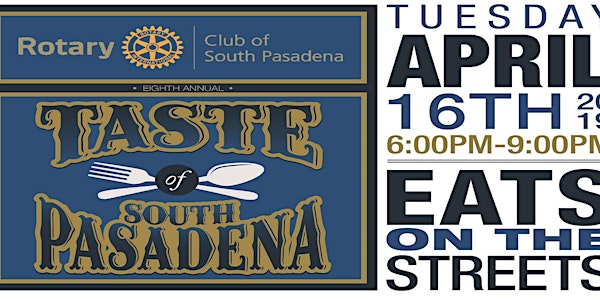 8th Annual Taste of South Pasadena - presented by the Rotary Club of South...
Location
Heart of South Pasadena
Fair Oaks Avenue and Mission Streets in South Pasadena
South Pasadena, California 91030
United States
Description
8th Annual Taste of South Pasadena - presented by the Rotary Club of South Pasadena
Learn more at: http://www.tasteofsouthpasadena.com
Grab your wristbands TONIGHT and enjoy fine tastes from all your favorite (or soon to be your favorite) restaurants. This walking event features incredible cuisine from eateries and bakeries up and down Fair Oaks Avenue and Mission Streets. Fun for the WHOLE FAMILY! So far, we have already confirmed a record-breaking 35 restaurants and a record-breaking 14 wineries - all participating just for you! Last year we hosted a record 1100 attendees and expect many more this year.
Spend time with your neighbors and enjoy a relaxing evening on the town exploring our fabulous city and our terrific food. Children under 7 are free. Live music, your favorite tastes, wine tasting by The Garagiste Festival (additional ticket) and much more! Family friendly and dog friendly.

Food wristbands ordered nin advance are just $35 for adults, $15 for children ages 7-18. NOTE: Advanced, discounted tickets are ONLY available through this website until 4:00pm on Tuesday, 4/16/2018.
Adult food tickets go up to $40, and combo tickets go up to $60 if bought at the door on the day of the event. Ticket sales start at 4:30pm at the Canoe House Registration table in South Pasadena
This is a rain or shine event. Sorry, no refunds. Rotary appreciates your donation to our community!
Wine Tasting - 5:00pm - 7:30pm (Canoe House Parking Lot) - see info below
Food tasting hours - 6:00pm - 9:00pm
Buy your tickets now and trade them in for a wristband! Wristband purchases and ticket exchange near the Metro train station on Mission/Meridian or at Canoe House on Fair Oaks starting at 5:30pm.
We have a RECORD-BREAKING 35 restaurants participating tonight!
Canoe House
Shakers
Poke Salad Bar

ARO
Rhadika
Oak Tree Inn
Menchie's
Tomato Pie
Griffins of Kinsale
La Fiesta Grande
Heirloom Bakery
Cake Sensations
Fair Oaks Pharmacy
Farm Fresh to You
Cookies & Cream
Jones Coffee - New!
Carrows - New!
My/Mo Mochi Ice Cream - New!
Charlies Coffeehouse
Mamma's Brick Oven Pizza
KeVita - New!
Gus's BBQ
Yuca's Pasadena
Bristol Farms
Cafe X20
Senor Fish
Trader Joes - New!
Kelley's Kookies
La Monarcha - New!
Simplee Boba - New!
Communal
KJ Tofu & BBQ - New!
Twoheys
Crack Shack - New!
TeaMorrow - New!
________________
For those wishing for a bit more, we are offering a VIP wine tasting event hosted by the Garagiste Festival at Canoe House for adults over 21 years of age. This VIP pre-event requires an additional wristband. We are so excited that we have a RECORD-BREAKING 14 local craft wineries (talk right to the grower and stomper!) and take home a commemorative wine glass (while supplies last). All this for just $25!
5:00pm - 7:30pm
Buy your tickets here and trade them in for a wristband at Canoe House starting at 4:30pm.
This year we are featuring fourteen (14) Garagiste Festival Wineries
13 and Third Wineries
Arndt Cellars
Artisan Uprising
Ascenion Cellars
DeWitt Vineyard
Dusty Nabor Wines
Ferguson Family
Powicana Farm
RF Fine Wines
Tercero Wines
Torch Wines
Vandella Vineyards
Vina Sympatica
and
San Antonio Winery
________________
Here is some special info for you!
Thank you so much for supporting the 8th Annual Taste of South Pasadena sponsored by the Rotary Club of South Pasadena! We are looking forward to a great evening filled with wine, food, and great entertainment. All proceeds support local nonprofits making a BIG difference in our community!
Information can also be found on our website at southpasadenarotary.org
Will Call Tables
You will find 2 will call tables where you MUST trade your food ticket for a wristband. This wristband will give you access to the restaurants and YOU MUST trade them in to receive a wristband BEFORE you begin your tastings. Will call tables are located at Canoe House on Fair Oaks/Hope and a second table across from the train station at Mission/Meridian. We will be selling additional food and wine tickets at the will call tables while supplies last.
Parking
There are plenty of free open lots and street parking in South Pasadena by our will call tables and among the Taste route, so please make use of them, but follow posted parking signs. We can't be responsible for ticketed or towed cars. If you start at Canoe House, there is a free open lot on the corner of Hope/Mound.
Food Tasting
Restaurants are excited to have you stop in and sample their offerings! They are selecting their favorite dishes to share and will give samples to guests with a food wristband. Food tasting for all restaurants starts at 6:00pm and goes until 9:00pm, with the exception of Canoe House who will be serving food ticketed guests between 5:00pm - 9:00pm
Wine Tasting and other important info
The VIP Wine Tasting presented by The Garagiste Festival, is a separate ticketed pre-event (just $25) and is being held at the Canoe House at 805 Fair Oaks Avenue from 5:00pm – 7:30pm. There will be artesian wineries offering wine to ticketholders ages 21+. Everyone is welcome, but only guests with special wine tickets will be allowed to taste. Drinks must stay within the confines of Canoe House and their lot. No open containers can be taken to the city streets.
Evening Program
Live entertainment and community booths too!
Map of the Taste route
At the will call tables, you will receive a complete map of the restaurants. There is a walking path and a free shuttle/driving path.
Van shuttles
We highly encourage our guests to walk, but for those who need a lift, we have free shuttle van. Please inquire at the registration tables.
Have a wonderful time and thank you for supporting our community in this fun and fabulous way!
Rotary Club of South Pasadena
southpasadenarotaryclub.org