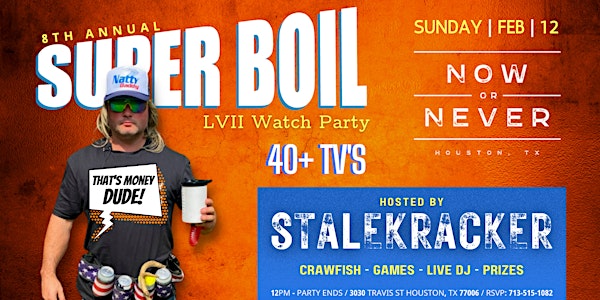 8th Annual SUPER BOIL :: Super Bowl Watch Party
8th Annual SUPER BOIL :: Super Bowl Watch Party
When and where
Location
Now or Never 3030 Travis Street Houston, TX 77006
About this event
ʀᴛʙ ᴇᴠᴇɴᴛ ɢʀᴏᴜᴘ ᴘʀᴇꜱᴇɴᴛꜱ: ᴛʜᴇ 8ᴛʜ ᴀɴɴᴜᴀʟ ꜱᴜᴘᴇʀ ʙᴏɪʟ
at 𝙉𝙤𝙬 𝙤𝙧 𝙉𝙚𝙫𝙚𝙧 - the amazing and brand new Midtown venue!
Sunday, February 12th
12pm - 11pm
𝘑𝘰𝘪𝘯 𝘶𝘴 𝘰𝘯 𝘚𝘶𝘯𝘥𝘢𝘺, 𝘍𝘦𝘣 12𝘵𝘩, 𝘧𝘰𝘳 𝘰𝘶𝘳 𝘚𝘶𝘱𝘦𝘳 𝘉𝘰𝘪𝘭 𝘞𝘢𝘵𝘤𝘩 𝘗𝘢𝘳𝘵𝘺! 𝘊𝘳𝘢𝘸𝘧𝘪𝘴𝘩, 𝘎𝘢𝘮𝘦𝘴, 𝘓𝘪𝘷𝘦 𝘋𝘑, 𝘗𝘳𝘪𝘻𝘦𝘴 - 40+ 𝘛𝘝𝘴
NO COVER!
Join RTB Event Group | Now or Never for the 8th Annual SUPER BOIL // SUPER BOWL Viewing Party with 𝑫𝑱 𝑻𝒐𝒏𝒚 𝑺𝒕𝒚𝒍𝒆𝒔 & 𝑫𝑱 𝑩𝒓𝒐𝒅𝒚! Come check us out with the internet famous 𝙎𝙩𝙖𝙡𝙚𝙠𝙧𝙖𝙘𝙠𝙚𝙧, straight from Louisiana, bringing his own supply with him! Guaranteed to be the most entertaining, yet also delicious, jump start to crawfish season yet! Raffles, games, no shortage of TV's, commercials and halftime show being shown with volume and DJ Icon for the tunes before and after!!
Crawfish by 𝙎𝙩𝙖𝙡𝙚𝙠𝙧𝙖𝙘𝙠𝙚𝙧 - The Cajun Twostep
𝑫𝑱 𝑻𝒐𝒏𝒚 𝑺𝒕𝒚𝒍𝒆𝒔 & 𝑫𝑱 𝑩𝒓𝒐𝒅𝒚
Games and Prizes - Before, During and After!
Drink Specials
Table Reservations Contact 702.523.2402
𝗡𝗼𝘄 𝗼𝗿 𝗡𝗲𝘃𝗲𝗿
3030 Travis St.
Houston, TX 77006
See RTB Event Group FB & IG for After Party Information