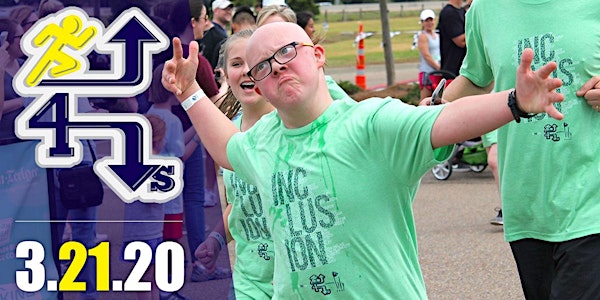 8th Annual Run Up for Downs
When and where
Location
Madison HealthPlex Performance Center 501 Baptist Dr Madison, MS 39110
Description
IMPORTANT UPDATE
Upon the advisement of the State Department of Health at today's 11:00 a.m. press conference and listening to their official announcement that any events having over 250 people needing to be canceled, we unfortunately have no choice but to cancel this year's Run Up for Downs.
To say we are disappointed would be an understatement, but our attendees overall safety is our utmost concern and there are a lot of families in our special needs community, and even some outside, that have children and adults with compromised immune systems.
With our t-shirts and bibs already custom printed, we still think we can make some lemonade with these lemons that we were handed. So, with next Saturday being World Down syndrome Day, what better day for everyone to do a virtual run on their own time and at their location of choosing. Rock some mismatched socks for World Down syndrome day, wear your custom bib courtesy of our friends at Watkins, and wear your 8th Annual Run UP for Downs shirt and post your time and pictures on our event or Lily Pad page (or you can simply tag us).
We will still have packet pick-up at the Madison Healthplex from 10:30 - 6:00 p.m. next Friday. Any packets not picked up, we will mail. If you could pick yours up, it would be greatly appreciated:) For anyone that wants a t-shirt and hasn't signed up, you can still sign-up to participate in the virtual run by going to www.runupfordowns.com and selecting the Virtual run option and we will have your packet ready by next Friday.
We also have a TON of silent auction items, so thought it would be fun to do an online silent auction. We will be getting all of those items together over the next week and will post a website link soon!
We know this is not ideal, but this is something that is out of our hands and out of the hands of all race directors that are having to type up similar messages this week and on going.
A huge thank you to all of our amazing sponsors and people that have helped us get ready for this year's event! We hope everyone will make plans on joining us next year on 3/20/2021!
Thank you all so much for supporting the Lily Pad Cafe and getting us one step closer to that dream becoming a reality! 100% of the proceeds from the Run Up for Downs go directly to The Lily Pad. Not a dime goes to any race director's pockets:)
-----
We hope you will join us to support disability awareness + raise funds for The Lily Pad by participating in the 8th Annual Run Up for Downs on March 21, 2020! ALL proceeds will go to build The Lily Pad Cafe which will employ & train young adults with special needs & equip these men & women with the tools necessary to obtain employment by local businesses so that they can not only achieve their full potential, but display to the community their abundant talents and abilities.

With YOUR help, we have been able to raise nearly $120,000 so far in our goal to $250,000!

The 8th Annual Run Up for Downs will kick off at the Madison Healthplex with a 1 mile fun run, a 5K run/walk, and a 0.0 race. Enjoy live music by Anse Rigby while you enjoy drinks courtesy of Brown Bottling Group and food from local restaurants! There will be jump zones for the kids, an amazing silent auction + much more!
Tentative Race Weekend Schedule:
Friday, March 20th
• 10:30 a.m. - 6:00 p.m. - Packet Pickup in the lobby of the Madison Healthplex

Saturday, March 21st (Updated 3/12/2020)
• Virtual Event - We encourage everyone who has registered to participate in a virtual walk/run/stroll at your leisure and location of choice. Be sure to wear your event tshirt and race bibs and tag us in your photos.
• Online Silent Auction - Silent auction items will be availble to bid online. Stayed tuned for auction website.