Description
On November 11th, 2017, we are hosting the 8th Annual Purple Palooza at St. Florian Hall in Wintersville, Ohio.
Purple Palooza is an evening out with friends that supports the Trinity Health System's Preventative Cancer Screening Fund.
Silent Auction and Appetizers will begin when the doors open at 5:00 pm.
Dinner will be served at 6:00 pm followed by awards, raffles, and evening activities until 10:00 pm.
Tickets go on sale August 1st for $40.00 with the price incressing to $45.00 on November 4th and $50.00 at the door. Mark you calanders now and purchase your tickets early!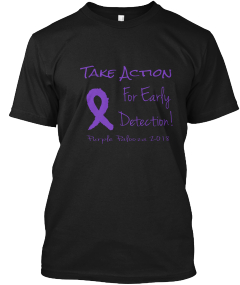 8th Annual Purple Palooza Apparel
$15.00
We partnered with Teespring to create some awesome merchandise for this event. Show your support and look good wearing it. Check it out!
Date and Time
Location
Refund Policy