8th Annual Orange Duffel Bag Charity Golf Classic with Coach Bill Curry!
8th Annual Charity Golf Event to help students in need succeed!
About this Event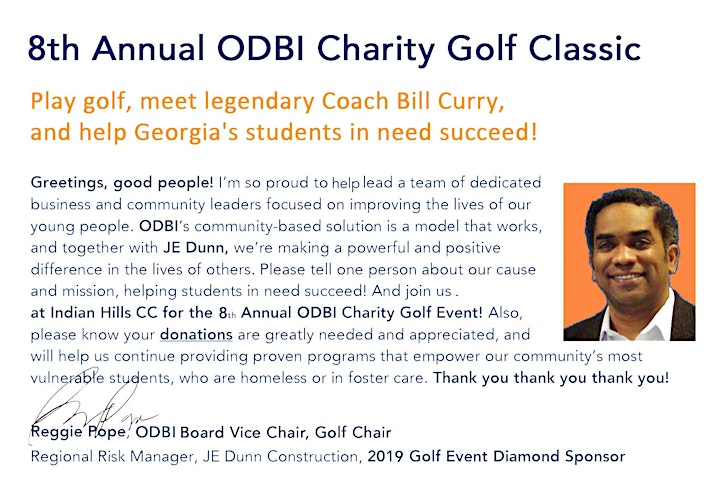 PS Don't forget: "Hole in One" $25,000 Cash Prize sponsored by Gillman Insurance. Could be your lucky year!
________________________________________________________________________________
Monday March 29, 2021 - Orange Duffel Bag Initiative (ODBI) 8th Annual Charity Golf Event with Coach Bill Curry,  Indian Hills Country Club. This best ball scramble brings together golfers from across GA in support of ODBI's work with high school and college students, who are homeless, in foster care, or experiencing high poverty, to help them stay on track with their education success.
How will your participation and support make a difference? 
Your support helps raise funds needed to purchase laptops and scholarships our ODBI graduates earn upon successful completion of our comprehensive coaching programs -- always at no cost to students.
During COVID-19, ODBI successfully moved our programs from the classroom to a virtual delivery model! High school and college students, who are homeless, in foster care, or experiencing high poverty, continue to receive much needed coaching and support for their education and life success!
Will social distancing and other safety protocols be in place?
Yes! Two golfers will be assigned to each cart, but you will have the option of asking for a plastic divider to be placed between the two cart occupants. A boxed breakfast and lunch will be served, and each goody bag will include antibacterial gel and a mask.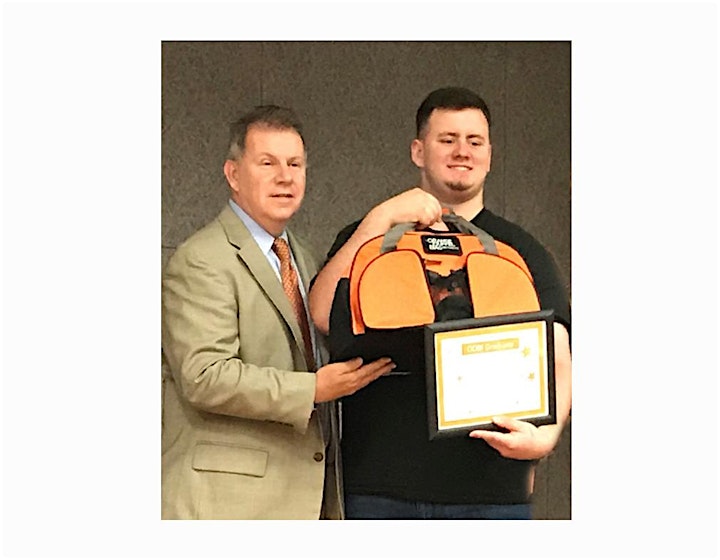 "Please join Team Orange and sign up now to be part of this event to raise funds and celebrate ODBI's 1400+ Grads and their ongoing success!" says ODBI Board Chair Dwayne Kasper, pictured above with ODBI Grad! Independently audited each year, the ODBI meets or exceeds its financial benchmark of 85+ cents of every dollar donated going to students and programs serving its students. Unable to attend, but wish to donate? Please visit http://www.theodbi.org/donate-now 
 To view a previous event in pictures, please click here
What do ODBI graduates have to say about Team Orange and their experience?
"The ODB class taught me how to move forward in my life and not turn back for no one. I'm now a straight-A student and have more determination to keep going on." M 
 "It was a great life experience that changed me. I'm taking school more seriously." C 
"Since I graduated ODB, I am a lot more at one with myself and my emotions and I am also a lot more okay with the past I've had and open to share it with others." R  
"ODB gave me a sense of hope." B 
Educators agree, ODBI makes a difference!
"We have a challenge: graduate kids from high school and motivate them to complete higher education. ODBI lights that spark in our kids and works to keep the flame burning." Sonia Davis, Homeless Liaison, Clayton County Public Schools
"ODBI was great support for self-efficacy, college and career readiness. 100% of our students participating improved attendance, behavior and performance. Our students' soft skills were enhanced as well as written and oral communication. ODBI is an awesome program to extend our student's resume for success in life!" E. J. Mobley Ph.D., Principal, West End Academy
ODBI is recipient of Dr. Martin Luther King, Jr. Community Service Award from Emory University for exemplifying the precepts of leadership and social justice.
Thanks in advance, and see you March 29, 2021!
Golf Event Info:
Indian Hills Country Club4001 Clubland Dr.Marietta, GA 30068 
Registration: 8:00 AM Tee-Off Time: 9:00 AM Registration Fee Single Golfer: $150
Sponsorships Available! Please invite your friends, colleagues, and family to join us for a fun-filled day. 
View ODBI 2-Minute PSA