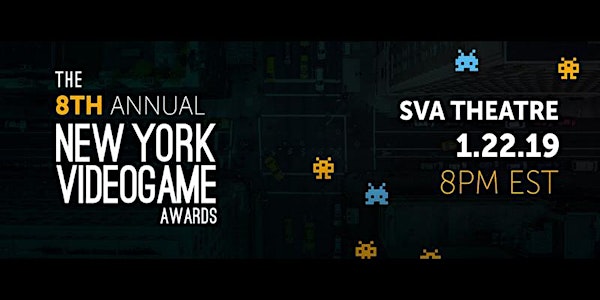 8th Annual New York Game Awards + After Party + Free Drinks + Meet & Greet!
Location
SVA Theatre
333 West 23rd Street
New York, NY 10011
Description
Buy a ticket! We've now added a gift envelope for the first 400 attendees! This includes free games and more! The first free game is the beautiful Gris from Devolver Digital! Also, our Legend Award Winner, Assassin's Creed co-creator Jade Raymond, will be with us to be honored. Geoff Keighley from The Game Awards will be on our PreShow. Meet Geoff! We just announced three more comedians fromThe Daily Show with Trevor Noah! On 1/7, we announced that Maddie Rice from Stay Human and The Late Show With Stephen Colbert will play nominated music! As of 1/8, you'll get Brooklyn Brewery Beer with your full priced Eventbrite ticket (must be 21 to drink)! On 1/9, we announced your 2nd free game, YIIK: A Postmodern RPG! Amazing.
Mark your calendars for January 22, 2019 at 8 pm (pre-show: 7:30 pm)! The New York Videogame Critics Circle, a 501c3 non-profit group of 40 multicultural journalists, is delighted to announce the 8th Annual New York Game Awards Ceremony to be held at SVA Theater in Manhattan. The show celebrates the Best Games and Game Developers in the industry along with the Circle's non-profit work in underserved communities. The Awards will be hosted by Devin Delliquanti from Comedy Central's "The Daily Show with Trevor Noah." Daniel Radosh, Emmy Award-winning "Daily Show" senior writer and "Liberty Crossing" executive producer, will craft the comedy as well.
Highlights of the ceremony include the Andrew Yoon Legend Award, which will be presented to Jade Raymond who co-created Assassin's Creed! The fourth annual Best Games Journalism Award, voted on by our 40 critics, will also be presented. Two new teen winners of paid internships from the DreamYard Prep School will be named junior critics.
"The DreamYard is a bright light in the poorest Congressional District in the United States. It was the perfect place to begin our mentoring and scholarship work," says Goldberg. "The students are thoughtful and whip smart. And we've had top game executives like Sony's Shawn Layden to speak about pathways into the world of games."
Celebrity guests, presenters, musical acts and trailer premieres will be announced soon!
"The New York Game Awards are the most for-the-people Awards event in existence," says Harold Goldberg, the author/journalist who founded the New York Game Awards. "There's no other awards show that invites the audience to drink free and party with the Awards winners, celebrity presenters, musicians and our critics afterwards - on the Awards stage itself."
Early Bird Tickets are available for a suggested donation of $17. In October, they will increase to $22. The ticket also includes access to the After Party reception (guests must be 21 to drink) on the stage and itself. There, you can mingle with the winners, our critics and other attendees. Seating is limited. All ticket donation proceeds will go to the NYVGCC scholarship fund, teen internships and honoraria for writing and editing NYGameCritics.com.
The New York Game Awards Scholarship and Mentoring donors include Sony, HyperX, Samsung, MSK, Alienware, GreenLit Media and Ubisoft, with more to be announced. Keep up to date with our news at NYGameCritics.com and on Twitter @NYVGCC, @NYGameAwards and @HaroldGoldberg.