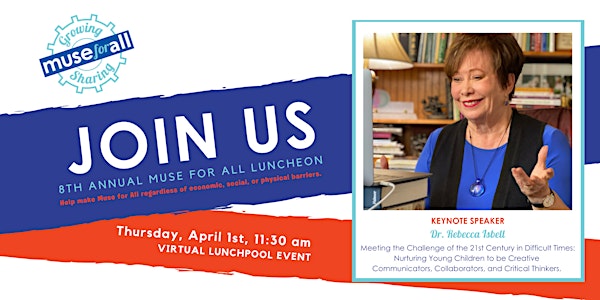 8th Annual Muse for All VIRTUAL Luncheon
Join us for the 8th annual Muse for All fundraiser!
About this event
Please join us for the 8th annual Muse for All fundraiser to help bring Muse Knoxville programs and services to all children regardless of economic, social, or physical barriers.
WHEN: Thursday, April 1st, 11:30 am to 1:00 pm
WHERE: Your choice! Join our virtual luncheon and networking event via the Lunchpool Platform. Details on how to log in will be sent to your email a few days prior to the event.
Learn how Muse Knoxville has continued to serve its mission to inspire and empower all children through transformative learning experiences during the COVID-19 pandemic and what's to come!
KEYNOTE SPEAKER
Early Childhood Education author and Professor, Dr. Rebecca Isbell will share why there has never been a more urgent time to invest in Early Childhood Education and what learning environments are key to preparing our future workforce.
The Muse for All Luncheon is presented by LBMC and Lunchpool.
View a video shared at last year's luncheon about the Muse for All fund and it's impact on East Tennessee by clicking on the arrow below.