Description
Dear Valuable Technology Vendors, Partners, and Manufacturers:
On behalf of the officers and members of the Mississippi Technology User Group (MSTUG), I am pleased to announce registration is open for our annual Technology Expo for 2020. The date is Wednesday, July 8th at the Mississippi Trade Mart in Jackson, MS from 9:00 am until 3:00 pm. This year's theme is based on Jurassic Park/Jurassic World™ - "Technology Finds a Way." We are encouraging vendors to decorate their booths with anything with this dinosaur park theme in mind. This will be a competition and the attendees will vote on the best themed booth throughout the day. There will be a prize awarded!
We are inviting each of you to participate and we have a two sponsorship options for you to consider.

Levels of Sponsorship are as follows:
Velociraptor-Level – This is our Single Vendor Booth level and the cost is $650.00. This includes two (2) free lunches, booth electricity, Wi-Fi, tables, chairs, curtains, and signage.
Indominus Rex-Level *** - This is our Sponsorship level and the cost is $1600.00. This includes four (4) free lunches, a single vendor booth wtih 4 chairs, booth electricity, company logo on the MSTUG website, Wi-Fi, curtains, signage, and one (1) breakout session time slot. A breakout session will be 30 minutes for product demonstration or technology presentation.
Coffee and water will be provided to all vendors throughout the day, courtesy of MSTUG.
***NOTE: We are limited to TEN (10) Indominus Rex-Level sponsorships for the event and they will be accepted on a first come, first serve basis when online registration opens. If in the event you wish to participate on the sponsorship level but we have already filled the 10 sponsorships, your organization will receive a future MSTUG event accommodation available some time later in the calendar year.
We are truly excited about this event and we look forward to your participation with us. This event gives Mississippians, who are interested in technology, an opportunity to meet you and learn more about the latest innovation your organization can offer. If you have any questions, you may contact me at 601-359-2597
Thank you in advance for your consideration and participation. We can't advance with innovation in this state without your important contributions to events like this.
Respectfully,
Shana R. Holt
President
MS Technology User Group (MSTUG)
www.mstug.org
Office: 601-359-2597
Email: president@mstug.org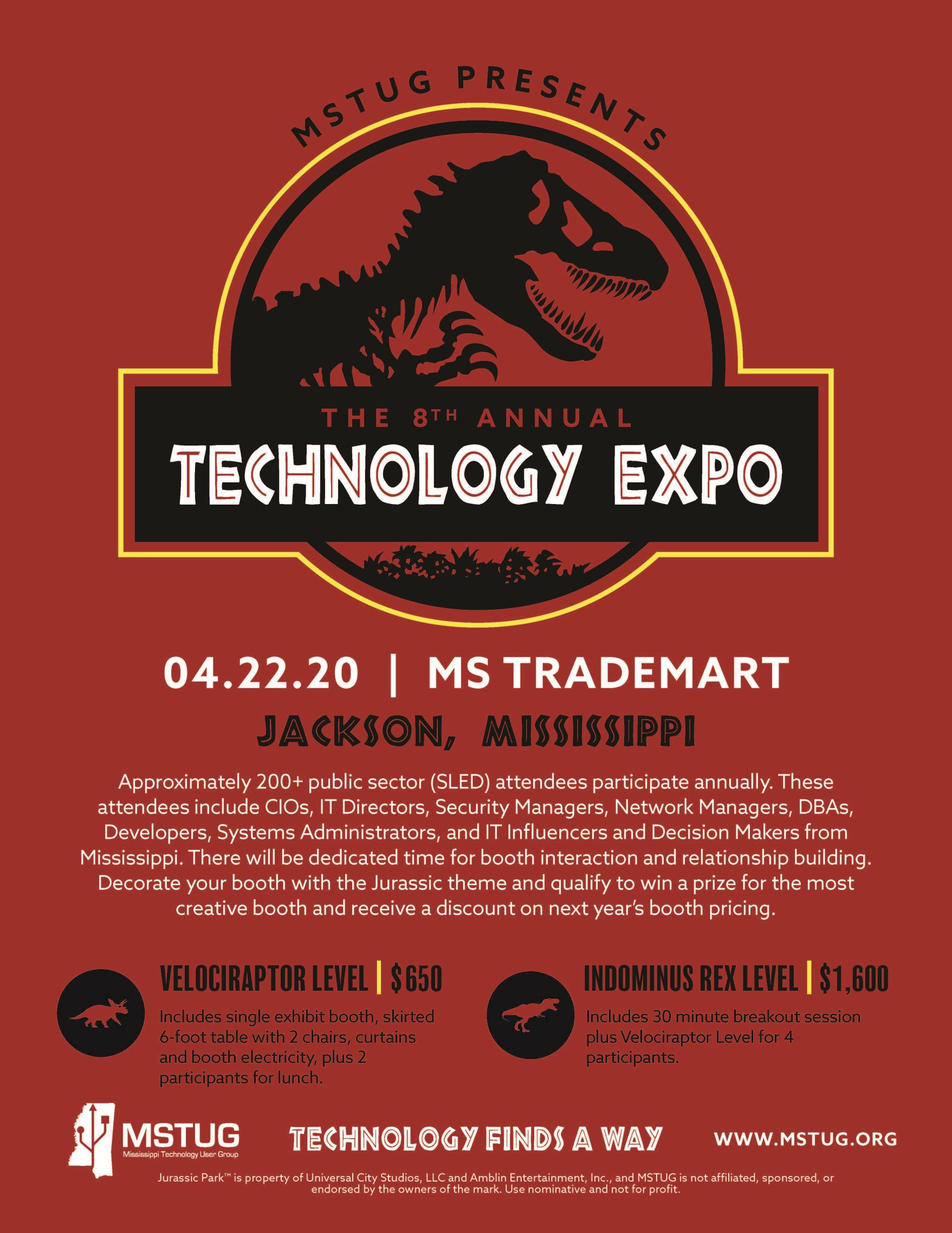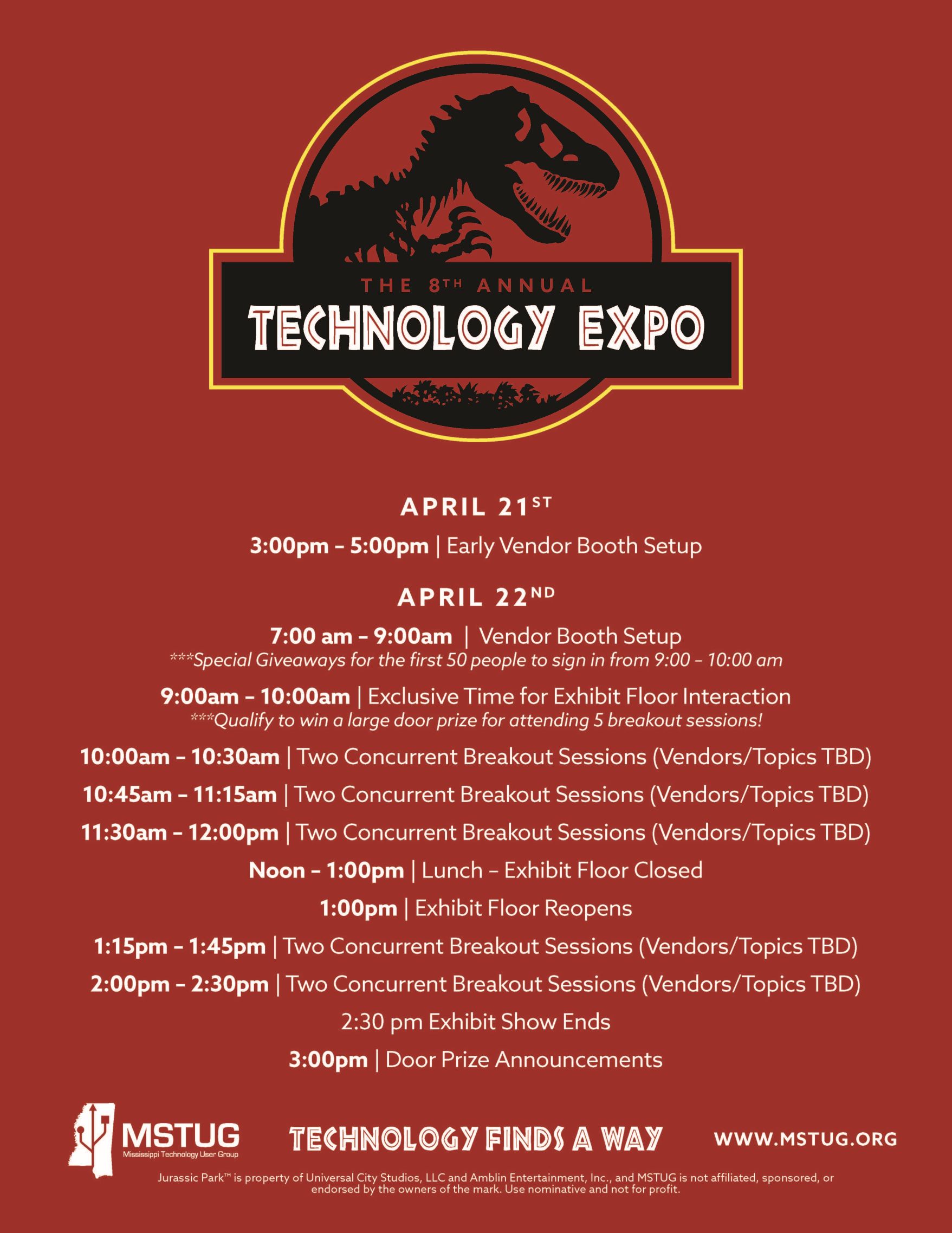 Organizer of 8th Annual MSTUG Technology Expo 2020 - Sponsorships
The MS Technology User Group (MSTUG) is a non-profit trade association, whose members work in state, local and education technology jobs for the State of Mississippi. MSTUG was formed in October of 2009 to unite state and local IT professionals to promote efficiency in Mississippi government through the use of effective technology solutions. We strive to enhance the missions of each entity by sharing knowledge and ideas, thereby enabling each agency to accomplish their respective goals. By fostering a cooperative working environment we mutually benefit our members and our vendors. A major MSTUG mission component is providing education to our members, especially of products, services, and practices. Our membership participation is a major factor in our being able to fulfill this objective.