Description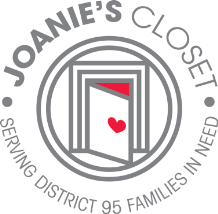 JOANIE'S CLOSET PRESENTS
THE 8TH ANNUAL VALENTINE'S DANCE
A Family Night Out
A fun-filled and memorable evening awaits you and your special little someone on Saturday, February 8th! Come join us at May Whitney Elementary School from 5:00 - 8:00 pm and enjoy these exciting activities:
- Cut a rug on the dance floor with Mobile Music
- Reenergize with a delicious pasta dinner from Little Joey's Catering
- Remember the evening forever with a keepsake photo
- Shop for your Valentine at the raffle table filled with amazing baskets

Don't miss this popular parent and child date night! This "dressed-up" affair is sure to be the talk of the town, so hurry and make your reservation today for your very special night out!
Proceeds from this event benefit under-resourced District 95 students and their families through Joanie's Closet and the District 95 Educational Foundation.
The last day to order tickets for the evening with dinner is Thursday, January 30th.
Tickets will be available at the door for the same price, but will be for the dance and photography only. Dinner will NOT be provided with walk-in tickets. Sorry, no exceptions.
Order tickets here at Eventbrite today or if you prefer to order tickets by check, please see the following link for the paper reservation form: https://resources.finalsite.net/images/v1576600629/lz95org/ligfnzolgq0uarggmmx9/2020PaperDanceReservations.pdf