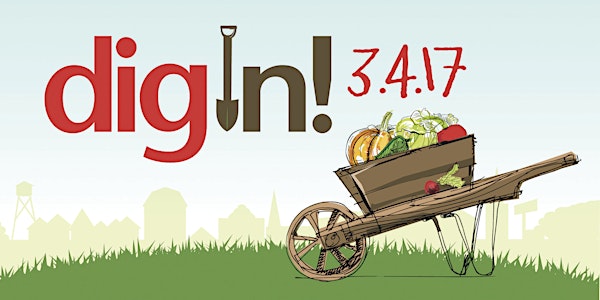 8th Annual Dig In!
When and where
Location
Marbles Kids Museum 201 East Hargett Street Raleigh, NC 27601
Description
Weaving Edible Landscapes—Urban Ag and Community Gardens—into the Fabric of Our Communities
Join Advocates for Health in Action (AHA) and partner Marbles Kids Museum for Dig In!, exploring urban agriculture, community gardens, and edible gardens in schools and child care settings. Gain inspiration from our Pecha Kucha style stories to kick off the day, participate in how-to workshops, network with others, and hear from keynoter Soyini Guyton, co-founder of Frogtown Farm, a food justice nonprofit and public urban farm in St. Paul, Minnesota. Dig In! features 4 tracks of concurrent workshops. Here's a snapshot of the day, and the full agenda follows below:
8:15 am-1:30 pm:
Check-in, Workshops, Keynote & Lunch

10:30 am-2:00 pm:
Educational Booths and Sun Sprouts Garden Fun

---
WHO SHOULD COME?

Whether you are already gardening or thinking about it, Dig In! has workshops, resources and expertise you can use. We invite anyone interested in urban farms, community gardens, and edible school and child care gardens and how they can transform communities in Wake County to join us for learning and networking.

- Churches and other faith-based organizations
- Municipal planning and parks and recreation staff
- Teachers and school administrators (WCPSS teachers may earn 3.5 hours of CEUs.)
- Child care/preschool directors and staff (3.5 contact hours approved)
- Parents
- Business leaders
- Non-profit organizations
- Health and community advocates
- HOA leaders and members
- Master gardeners
Dig In! is for adults and teens. Child care is not provided for Dig In! registrants. Children and families are welcome to visit the educational booths and the Sun Sprouts Garden, as well as all the usual fun at Marbles Kids Museum.
---
AGENDA

8:15-8:45 am
Check-in/Breakfast Refreshments
8:45-9:00 am
Welcome & Opening Remarks
9:00-9:25 am
Storytelling: Urban Farms/Gardens and Food Access in Wake County
We're borrowing the popular Pecha Kucha presentation style to share quick snapshots of amazing food access work in Wake County. Feast on this visual showcase of local urban agriculture and gardening. Featuring:
9:30-10:30 am
Concurrent Workshops (choose 1 to attend from the track of your choice)
10:30-11:00 am
Visit Educational Booths
11:00 am-12:00 pm
Concurrent Workshops (choose 1 to attend from the track of your choice)
12:00-1:15 pm
Keynote Address and Lunch
Uniting Neighborhoods: Growing Food and Community, Creating Art and Culture
Soyini Guyton, Co-founder and Board of Directors Chair, Frogtown Farm, St. Paul, MN
Frogtown Farm is a 5-acre urban farm and food justice nonprofit in St. Paul, Minnesota. The Frogtown neighborhood has the highest youth population in the city, yet had the least green space. Guyton, a master gardener, artist and poet, and 30-year Frogtown resident, worked with others to develop Frogtown Farm, a 5-acre urban farm and food justice nonprofit that now serves as a vibrant community gathering place, an active recreation area, a nature preserve and an urban demonstration farm.
Frogtown Farm and Park is recognized as a destination for those seeking learning, innovation, reflection, celebration, and authentic community. Rooted in values of social equity, justice, and inter-connectedness, this urban farm serves as a model for multi-cultural communityies and a catalyst for economic development, wealth creation, community pride, and sustainability.

Hear Guyton talk about the founders' intentional focus to incorporate food, art and culture into their neighborhood, the positive impact it is having on Frogtown and its residents, and about creating and sustaining vibrant, dynamic and beautiful community-based projects.
1:15-1:30 pm
Closing Remarks
1:30-2:00 pm
Networking & Visit Educational Booths
---
DIG, LEARN, MAKE and PLAY!
EDUCATIONAL BOOTHS & SUN SPROUTS GARDEN FUN

Continue the learning by visiting educational booths with hands-on activities that you can replicate and plenty of resources to help you start or maintain your garden. Plus, join Team Marbles in Sun Sprouts to search for signs of spring and help wake up the garden for planting. You will see a variety of ideas to engage and teach young children.
Ask the Master Gardener
Wake County Extension Master Gardeners are a tremendous resource to community, school and child care gardeners with a wealth of information to share. Visit their booths for best practice know-how and hands-on learning.
Soil Testing and Soil Amendments

Top 10 Diseases & 10 Insects: What to Do

What to Grow When in North Carolina
Faced with a Healthy Snack
Join Wake County Farm Bureau's Ag in the Classroom in making a fun (and friendly!) snack while learning about healthy food choices. Learn more about the curriculum, grants and other resources (K-7) for teachers from NC Ag in the Classroom and see this example of a lesson relating to healthy foods.
Butterfly Gardening
Bees are star pollinators, but butterflies do their share to help fruits and vegetables grows, and they sure are fun to watch as they work! Visit with Annie Louise Wilkerson Nature Preserve staff with Raleigh's Parks, Recreation and Cultural Resources Department to learn about butterfly gardening, see plant and caterpillar specimens and lots of butterfly visuals.
Community Solutions for Urban Ag
Join Raleigh City Farm to learn about existing barriers for new farmers, and solutions, and opportunities for community members to get involved in urban agriculture. Make and take a sustainable seed starter pot!
Composting: Farm to Table to Farm
Visit with CompostNow to learn more about the composting cycle (farm-to-table-to-farm) and its benefits. Plus, learn more about CompostNow's services and how they can help you compost while supporting local community gardens and urban farms.
Conservation at Urban Farms & Gardens
The Wake Soil and Water Conservation District assists farmers, operators, landowners and citizens. Urban ag specialists will share resources and information on technical assistance they provide. Learn about different soil and water conservation principles with a storyboard and coloring activities.
Creating a Multi-use Teepee
Join the Natural Learning Initiative (NLI) to learn the many ways and materials you can use to create a teepee. They are an affordable setting for a variety of activities such as story time and dramatic play and provide a great structure for growing vegetable and flowering vines. You are only limited by your imagination!

Farm to Child Care
Like Farm to School, Farm to Child Care is growing right here in Wake County. Child care directors and teachers will learn the basics on how and where to purchase locally grown fruits and vegetables for meals and snacks to enhance quality care, and see how harvests from their own edible gardens can be incorporated. Plant herbs with Wake County SmartStart that you can take back to your center or family child care home!
Garden Harvest Sculpture
Learn about what fruits and veggies grow in North Carolina, plus make veggie sculptures. Visit with The Produce Box to learn and play!
Healthy Foods and Farming
Spin and win! Think you know about healthy living, foods and farming? Come spin the wheel, answer a question and win a prize from Purple Martin Community Farm—the epicenter of 5401 North, a new community in Raleigh.
It's a Worm's World/Plant a Row for the Hungry
Join the Inter-Faith Food Shuttle's Urban Agriculture team and our wiggly worms as we learn how worms turn food waste into nutrient dense compost for your backyard, school or community garden! Learn about planting an extra row (or pot!) and donating the harvest to local people in need of healthy produce.
Seed Swap/Freebies
Gardeners of Wake County will host a Seed Swap with a variety of seeds for your garden this year! Local gardeners have saved and donated their seeds for Dig In Freebies, and participants may also bring
seeds to swap if they wish; bring labeled and sealed bags. You don't need to bring seeds, but do bring a need for seeds! Stop by and learn how to save seeds to help keep costs down, maintain variety including some heirlooms.
Starting Seeds Indoors
Growing from seed is the most economical way to garden, and it's a science lesson in itself! Visit with Fairview Garden Center to learn what supplies are needed to start seeds indoors, how to sow your seeds and how long before you can transplant to the garden.
Straw Bale Gardening
Short on well-drained soil or want to experiment with different ways to grow vegetables? Join the Future Farmers of America Club from Wakefield High School to learn the ins and outs of straw bale gardening.
Top 10 Pollinators
Without pollinators, our gardens simply will not grow. Learn about the top 10 pollinators in North Carolina–from buzzing bees to darting hummingbirds and other pollinators North Carolina –and how to attract these important workers to your garden. Join Grow and Share for a coloring activity that shows how pollen is taken from one flower to another.
Wild Edibles
Join Piedmont Picnic Project to see, touch and taste common wild edibles you may see along area greenways and trails, or even your own backyard. There are lots of common wild edibles sprouting this spring—check out this see, touch and taste display!
---
SCHOLARSHIPS
Each person attending Dig In! must register. A limited number of scholarships is available to community members who are unable to pay for the registration. Please email info@advocatesforhealthinaction.org regarding a scholarship if needed.
---
SPONSORS
Many thanks to our generous sponsors! Their support is vital to the success of Dig In!
The Whole Farm: $5,000+
Marbles Kids Museum
Thanks to Marbles for providing a wonderful meeting site and partnering to present the Dig In Courtyard with fun and educational booths and hands-on garden play!
Cultivator: $3,000
Irregardless Cafe and The Glenwood
Purple Martin Community Farm
Whole Foods Market
Harvester: $1,000
Blue Cross Blue Shield North Carolina
Capital Grange
CompostNow
Fairview Garden Center
Logan's Trading Company
Triangle Gardener
Grower: $500
Good Dirt
Greenscape
McAdams
Oakwood Garden Club
The Produce Box
Wyatt-Quarles Seed Company
Additional Sponsors
Wake County Human Services
Sponsorships are available at a variety of levels. Contact AHA at info@advocatesforhealthinaction.org with questions or to sponsor Dig In!