8th ANNUAL DAEE STATEWIDE ENVIRONMENTAL EDUCATION CONFERENCE
Description
8th Annual State-wide Environmental Education Conference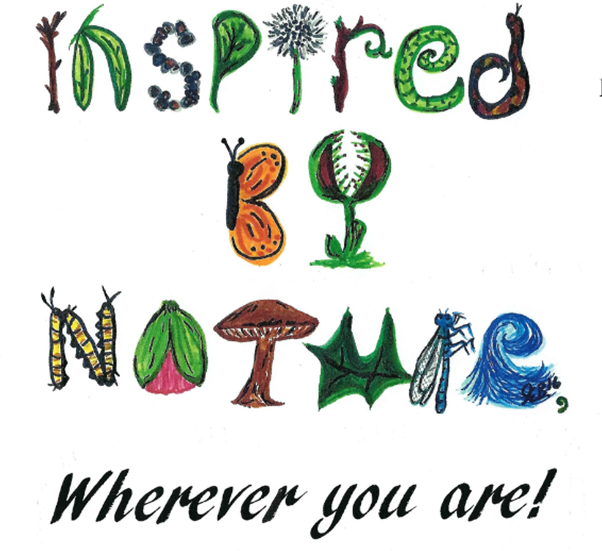 It's offical!!! The 2017 conference agenda has been finalized and General Sales are open!!!!! We received so many quality session proposals we created a 5th strand of sessions. This year's conference offers 22 concurrent sessions and two keynote speakers! If you attended last year's conference you know this is a group who loves to have fun, learn about environmental resources, and be inspired by nature! Whether you are a teacher, a non-formal educator, a parent, or member of the community, the DAEE annual conference is the place to be inspired!
Register now for DAEE's 8th Annual Statewide Environmental Education Conference on Saturday, February 11, in Wilmington, Delaware. This year's conference theme, "Inspired By Nature, Wherever You Are!" is intended to showcase a full-day of sessions aligned to the following strands: "Experience Nature through Play," "Connect with Nature Using Science," and "Engage Nature with Technology," "Inspire Learning through Nature," and "Connect with Your Audience." Throughout the day we will explore environmental education opportunities, resources, best practices, and local issues to help increase our connection with nature for this and future generations.
Additionally, we are excited to announce the location of this year's conference at the new campus of the Pilot School! The campus was designed to utilize the outdoor environment and incorporate nature in many innovative ways including a living roof and large saltwater pool. The location itself is a must see, a real inspiration!.
The 2017 DAEE Conference Agenda, FINAL!
You will be asked to select your sessions during registration. Session descriptions can be found here:
https://daeeonline.files.wordpress.com/2016/11/2017-daee-conference-session-descriptions.pdf
Final agenda pdf: https://daeeonline.files.wordpress.com/2016/11/2017-daee-final-agenda.pdf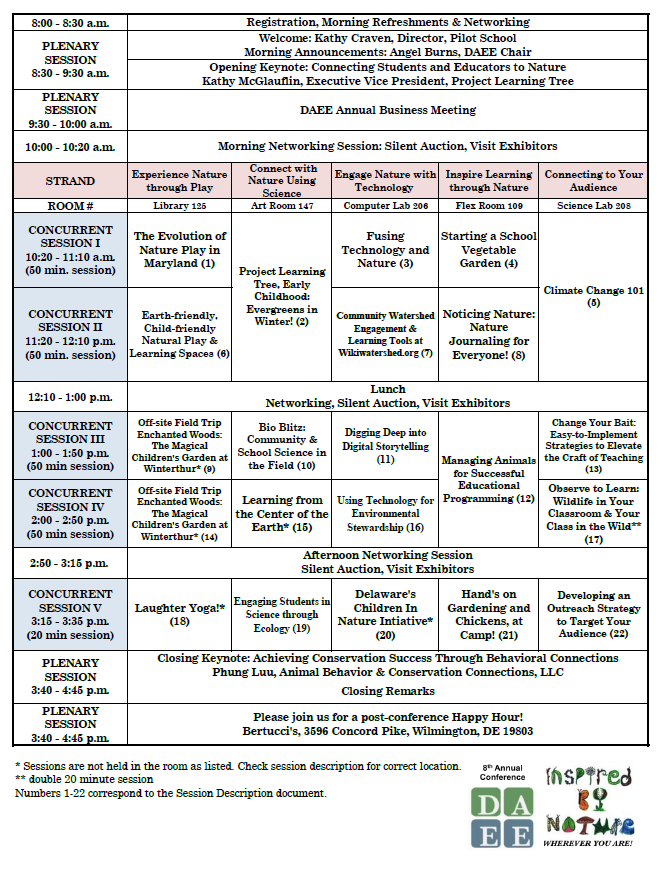 2017 CONFERENCE HIGHLIGHTS
Conference Keynote Speakers
We are very excited to announce our two dedictated keynote speakers. Our opening keynote speaker is Kathy McGlauflin, Project Learning Tree who will share her 40 years of experience, "Connecting Students and Educators to Nature." To cap the day, Phung Luu of Animal and Behavior Conservation Connections will deliver our closing keynote: Achieving Conservation Success Through Behavioral Connections.
Off-site Field trip
Fieldtrip to Winterthur Museum, Garden & Library to explore Enchanted Woods: The Magical Children's Garden. This fieldtrip will provide inspiration and insight into creating outdoor gardens and play spaces for children.
Silent Auction
Please consider participating in the conference Silent Auction. Funds raised through the Silent Auction are used for the Annual DAEE Mini-grant. Details on applying for the DAEE Mini-grant are below!
Annual Business Meeting and BOD Election
All 2017 conference participants are current member of DAEE and are welcome to attenad and participate in the Annual Business Meeting direclty following the Keynote Address. The DAEE by-laws call for an annual election of the Board of Directors (BOD). The BOD consists of 10-24 persons primarily representing formal and non-formal fields of environmental education. Elected Board members will serve a two-year term. A slate of nominated candidates for the BOD will be presented for a vote at the annual meeting on February 11, 2017.
If you are interested in being nominated and elected to the DAEE Board of Directors, please submit your name and affiliation, professional qualifications and why you support DAEE.
The deadline for nominations is January 31, 2017. Please email your nomination information to Angel L. Burns at DAEEonline@gmail.com.
For more information, or to volunteer to help out with the conference, please contact the chair of the Conference Planning Committee, Rick Mickowski, at Rick.Mickowski@state.de.us
---

DAEE Mini-Grant
Deadline: January 20, 2017
Beginning in 2016, DAEE offers one (1) mini-grant, annually, of up to $500, to a current member, to conduct an environmental education project at their institution.
For information and application: https://daeeonline.org/minigrant2/