8th Annual Crush Cancer Napa Valley (previously Sisters Crush Breast Cancer...
Description
The journey continues with this 8th Annual 5K Walk/Run, Silent Auction & Celebration. Crush 2018 is especially meaningful as we realize a long-awaited goal. Please join us as Sisters Crush Breast Cancer becomes Crush Cancer Napa Valley. First, we must acknowledge the reprieve taken last year due to the impact of the local fires. The common thread between the fires and our mission is the difficulty of balancing life within the context of crisis.
Our mission to assist cancer patients during treatment has not changed, our charge to serve is steadfast. We will continue to support the urgent needs of those impacted financially during treatment by providing help with expenses such as groceries and basic necessities, with a growing emphasis on nourishment and resource support.
If you can't join us, but wish to donate or support a participating individual or team, you can do so by following the registration prompts.

Timeline
7:30am Check-in and same-day registration
9:00am 5K Walk/Run starts
9:30am Post-5K Silent Auction & Celebration
1:00pm Auction bidding last call
1:30pm Event ends - winning bidders collect auction lot(s)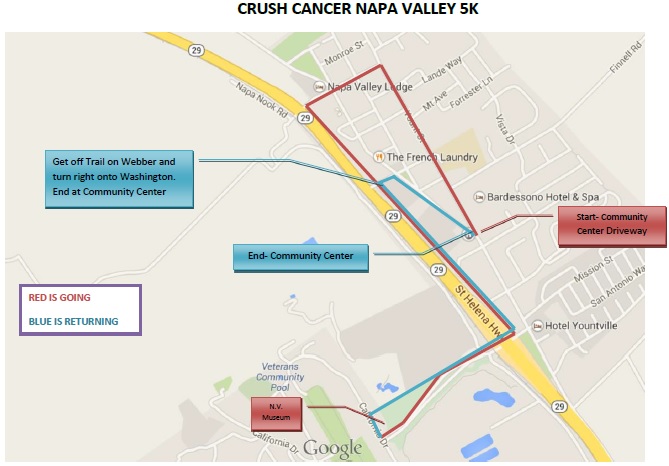 5K starts at the Yountville Town Plaza driveway. Proceed north on Yount Street. Turn left onto Madison. Proceed to the Vine Trail at Hwy 29 and turn left. Follow to the Vine Trail to California, turn right and proceed under the overpass and up the tree-lined drive toward the Veterans Home of California. Turn right at the top and proceed past the Napa Valley Museum. Turn right onto the paved pathway behind the museum that parallels California and continue back to the Vine Trail. Take a left on the Vine Trail until Webber Street. Turn right at Webber and proceed to Washington Street. Turn right on Washington and return to the finish line at the Community Center.