8th Annual Cook County Human Trafficking Task Force Conference

Wednesday, August 1, 2018 at 1:00 PM

-

Friday, August 3, 2018 at 4:15 PM (CDT)
Event Details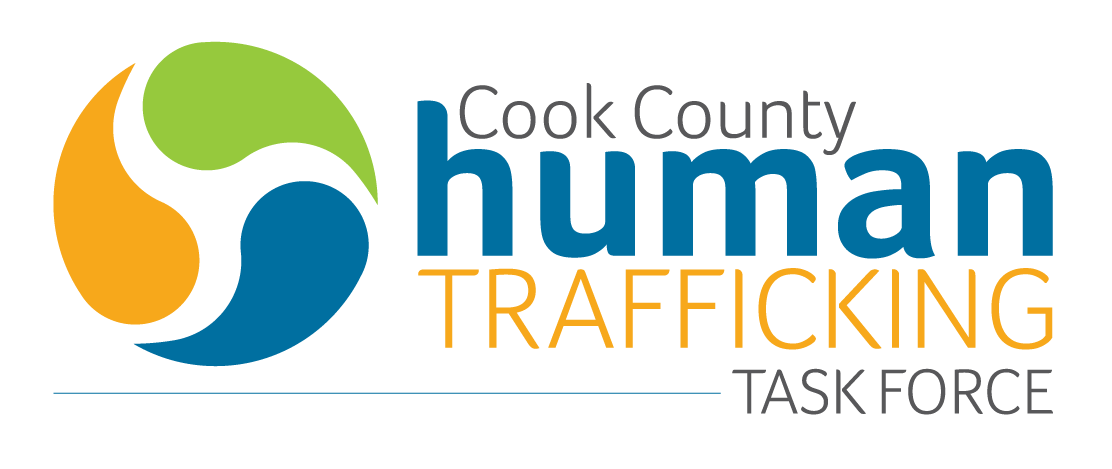 The Cook County Human Trafficking Task Force is pleased to host the 8th Annual Cook County Human Trafficking Task Force Conference on August 1st, 2nd and 3rd, 2018 in partnership with IIT Chicago-Kent College of Law.


*2018 CONFERENCE AGENDA*
Wednesday, August 1st, 2018




The first afternoon of this year's conference offers a foundational understanding of human trafficking to those who are looking to better understand the issue, become aware of the regional context, consider local responses, and brainstorm methods of professional and community engagement in addressing human trafficking. This first foundational afternoon can be attended as a standalone session for folks unable to attend the entire 2.5 days of the conference. 
REGISTRATION/CHECK IN
12:30 pm to 1:00 pm 
PLENARY 
1:15 pm to 2:30 pm
Laying the Groundwork
Cook County Human Trafficking Task Force Panel
​
This session will lay the groundwork by offering foundational definitions of human trafficking as dictated by federal and state law, by exploring the local and regional context and by discussing existing responses to the issue in the area.
BREAK
2:30 pm to 2:45 pm
CONCURRENT SESSIONS 
2:45 pm to 4:15 pm 
Attendees will choose three 20-minute breakouts from the following content areas to delve deeper into the issue and explore a framework for moving forward.

1) Victim Identification
Alma Munoz 
2) Engagement and Service Provision
Elyse Dobney
3) Human Trafficking and the LGTBQ Community
Angie D'Souza
4) Awareness Campaigns, Messaging and Training
Summar Ghias
5) Cultural Considerations
Megan Mahoney and Laura Moreno
6) Collaboration with Multi-Disciplinary Partners 
Lou Longhitano
Thursday, August 2nd, 2018



REGISTRATION/CHECK IN

8:30 am to 9:00 am 
OPENING REMARKS 
9:00 am to 9:15 am
PLENARY 
9:15 am to 10:30 am
Labor Trafficking and the #MeToo Movement: Identifying Relief for Survivors of Exploitation and Gender-Based Violence in the Workplace
Karla Altmayer (Healing to Action), Lisa Palumbo (Legal Assistance Foundation), Jane Flanagan (Office of the Attorney General), Lisa Sciolaro (OSHA)
With the rise of the #MeToo movement, society has to face the issue of gender-based violence in a way like never before. But how has this affected the conversation around human trafficking and exploitation in the workplace? This session will explore the overlap of these issues: what have practitioners learned so far from individuals who seek help? What kind of relief is available at the federal and state level for all these crimes? The session will also feature an example of a grassroots movement recently established in Chicago to address gender-based violence in the workplace. The audience will hopefully gain new insights to creatively respond or strengthen both survivor support and advocacy systems in their own communities, to aid in preventing and addressing gender-based violence, workplace abuse, and human trafficking

. 
BREAK

10:30 am to 10:45 am
CONCURRENT SESSIONS
(choose one session from the concurrent sessions listed) 
10:45 am to 12:15 pm 
Beyond Awareness: Practical Application of the My Life My Choice Prevention Solution Model
Amy Corbett and Audrey Morrissey (My Life My Choice)
It can be far too easy to see the commercial sexual exploitation of girls as an inevitable egregious form of child abuse, sewn deep into the fabric of our society. It is not.  While there are multiple areas to address to ensure a safer, healthier upbringing for all girls, targeted strategies can be implemented to decrease the likelihood that commercial sexual exploitation, and the trauma and degradation associated with it, will be part of a young person's trajectory.  Over the past fifteen years, My Life My Choice has developed a survivor-led prevention that includes the development of specialized policies and procedures as well as the integration of the My Life My Choice Prevention Curriculum. Taking our Prevention Curriculum one step further, participants will have the opportunity to learn about this enhanced model and consider applying it to programs within their jurisdiction.   This workshop is most appropriate for those who have intermediate to advanced knowledge of commercial sexual exploitation and experience working with exploited or high risk youth. This workshop will benefit all youth service providers seeking to expand their knowledge of the My Life My Choice Prevention Solution Model. However, it will be most relevant to providers working in congregate care settings and equip them with greater understanding of how to create effective prevention programming for commercially sexually exploited and high risk youth.
Comparing and Contrasting Human Trafficking Intervention Courts in New York and Chicago
Lori Cohen (Sanctuary for Families), Caroline Winsett (CCSAO), Susan Matyus-Ehrlich (Public Defender's Office), Norma Cervantes (Footprints), Jennifer Harvey (STOP-IT)
Launched in September 2013, New York State's Human Trafficking Intervention Courts (HTICs) provide an avenue for reaching trafficking victims by offering social and legal services instead of potential convictions.  Sanctuary for Families, along with a robust corps of volunteer attorneys, has provided pro bono immigration legal screenings and consultations to approximately 1000 HTIC defendants, the overwhelming majority of whom are Chinese women arrested for unlicensed massage and/or prostitution offenses.  As a result, Sanctuary has gained critical insights into the ways in which these individuals are exploited, and improved identification for trafficking victimization.  
The Chicago Prostitution and Human Trafficking Intervention Court is a deferred prosecution program for misdemeanor prostitution cases that has been in operation since 2015.
 This panel will compare the experience of Sanctuary's work in the New York HTIC's with service providers in the Chicago's Prostitution and Trafficking Intervention Court, exploring both the gains made and continuing challenges.
The Trafficking of Native Persons in Chicago
Allison Creekmur (Loyola) and Emily Loerzel (American Indian Center)
In 2016, the Office of Victims of Crime created Project Beacon, a grant designed to address the quantity and quality of services available to Native American human trafficking survivors living in urban settings. The American Indian Center in Chicago is one of three Project Beacon awardees in the nation tasked with raising awareness about and offering services to urban Native Americans who have been trafficked. Because there are no reservations in Illinois and the Native American population is also racially diverse, the population in Chicago is often invisible and therefore not identified as Native American by law enforcement and service providers.  As many Native Americans find resiliency in their identity and traditions, identification as Native and the resulting service provision are imperative to a survivor's journey through healing.   Participants in this session will gain an understanding about the rates of trafficking and violence in the Native American population, the particular vulnerabilities faced by the Native American population that increase their rates of trafficking, and an awareness about the Native American population in Chicago.  Participants will walk away with knowledge about specific, culturally-informed practices they can implement in order to best serve Native persons in Cook County.  
A Review of Current Anti-Labor Trafficking Efforts and Suggestions for Making Task Force Efforts More Effective 
Derek Marsh (BJA)
Deputy Chief (ret.) Derek Marsh has been working as a Visiting Fellow at the Bureau of Justice Assistance since October of 2015. A substantial part of his fellowship has focused on working with Enhanced Collaborative Model Anti-Trafficking Task Forces throughout the country to understand how to better approach labor trafficking: from victim identification to investigations and prosecutions. D.C. Marsh will review the findings of his fellowship in hopes of providing insight into the challenges of labor trafficking investigations and prosecutions, and suggest some promising practices he has seen. Finally, he will provide suggestions to task forces regarding how to organize their stakeholders to optimize their anti-labor trafficking efforts. 
LUNCH
12:15 pm to 1:15 pm
PLENARY 
1:15 pm to 2:30 pm
Medical, Law Enforcement and Social Service Providers:  A Collaborative Response to Human Trafficking
Bill Bernstein (Mosaic Family Services), Carrie Schirato (Reclaim 611), FBI 
Research shows that up to 88% of sex trafficking survivors have contact with healthcare providers, but less than 1% are ever "recovered".  This means that healthcare providers are caring for the human trafficking population, but are failing to properly recognize, respond and report victims.  Front-line providers require training using trauma-informed care not only to identify human trafficking victims, but to equip them with the necessary tools to respond and report these trafficked persons safely.  To do so, collaboration between healthcare providers, local/state/federal law enforcement and social services is vital to a victim's safety and positive outcomes.  With the help of an FBI Special Agent and Bill Bernstein with Mosaic Family Services, as well as lawyers, doctors, nurses and local law enforcement, Reclaim611 developed a protocol to allow for the best possible outcomes when dealing with trafficked patients.  Once a patient is identified, the protocol assists the provider step by step through the appropriate responses while ensuring the safety of the victim.  Healthcare professionals, law enforcement and social services play key roles in safely handling these victims, obtaining necessary information and securing a safe place for them to begin healing.
BREAK
2:30 pm to 2:45 pm
CONCURRENT SESSIONS 
(choose one session from the concurrent sessions listed) 
2:45 pm to 4:15 pm
Engaging and Navigating a Disjointed MDT System
Chicago Children's Advocacy Center, DCFS, FBI, CPD, Juvenile Probation, Office of the Public Guardian
This presentation will focus on the current state of the multidisciplinary approach to investigations involving youth who have been involved with or are suspected of being involved in human trafficking. The panel discussion will focus on identifying current barriers to effective investigations and provision of services to youth using the State of Illinois as an example. Furthermore the presentation will utilize a case study which highlights the role of community based services such as Children's Advocacy Centers in helping bridge the gap that exists between law enforcement agencies and child protection. The role of the CSEC Specialist and the intricate navigation of the investigation system will be highlighted as a necessary component to MDT investigations. Also, the role of CSEC Specialist as it pertains to community outreach and education in schools, hospitals, and with caregivers will be highlighted.
Does Your Hospital or Clinic Need a Human Trafficking Policy?
Julia Geynisman-Tan (Northwestern), Traci Kurtzer (Northwestern), Kimberly Leslie (Swedish Covenant), Lisa Mathey (Lurie Children's Hospital)
Many hospitals and clinics lack a policy for informing healthcare providers and staff on how to identify, screen and respond to current and former survivors of human trafficking despite estimates that up to 88% of trafficked individuals access the
healthcare system while being trafficked. This workshop would review approaches for attendees to 1) educate administration of the importance of having a policy  2) create a hospital or clinic specific policy protocol to submit utilizing a model created by the Healthcare Subcommittee of the CCHTTF and 3) brainstorm in small groups what this type of protocol would look like in their own setting using the framework provided. 
Diplomatic Security: Global Networking for Trafficking Investigations
John Freeman
The Diplomatic Security Service is the law enforcement arm of the U.S. Department of State. With more than 2000 Special Agents, DS has a presence in more foreign countries than any other law enforcement and security organization.  DS also conducts specialized investigations. As the most widely deployed U.S. federal law enforcement agency, DS provides cooperative partnership to domestic-based task forces by expanding their capabilities globally. This presentation will explain the DS role in combatting human trafficking, both at home and abroad.
Friday, August 3rd, 2018





PLENARY

 

9:00 am to 10:15 am
After Harvey: Corporate Risk Management Presentations to Increase Funding Opportunities for Services Provision

Minal Patel Davis (City of Houston)
In the aftermath of Hurricane Harvey, the Houston Mayor's Office developed a short- and long-term disaster response that included education to Houston-area corporations about the potential increase in labor trafficking based on post-Katrina legal precedents. The Mayor's Office will model corporate engagement by framing labor trafficking as a risk management and compliance issue that impacts their supply chains. This provides an alternative path to traditional methods of soliciting corporate support that relies on victim narratives to build sympathy and secure donations without system level considerations. It also offers ways to leverage the impact global footprints can have on trafficking. To lead by example, we highlight Mayor Sylvester Turner's Executive Order 1-56 which prohibits the use of city funds on contracts that rely on trafficked labor. Through such engagement, a leading oil and gas firm requested the Mayor's Office submit a multi-year and multi-agency funding request over $500,000 each year for three years to enhance service provision for labor and sex trafficking victims. 
CONCURRENT SESSIONS
(choose one session from the concurrent sessions listed):

10:15 am to 11:45 am
Compassion Fatigue, Emotional First Aid, Mindfulness and Self Care
Catherine Ashton, Angela Rae Clark, Matthew Lipman
This session will address compassion fatigue, mindfulness, self-care and emotional first aid in the midst of difficult work. 
Learn specific tools & embodied techniques to replenish your personal and social resources so that you can continue to sustainably and generously share with others while maintaining a sense of grounded well-being. Facilitators will explore techniques such as Trauma Tapping and various types of self-care for professionals in the field. 
The Intersection of Domestic Violence and Human Trafficking: Power, Control and the Impact  on Survivors in Systems ​
Jennifer Greene (Life Span) and Mary Landerholm (Laboratory to Combat Human Trafficking)
This presentation will explore the intersection of domestic violence and human trafficking with a particular emphasis on survivor perspectives.  Presenters will highlight similar control tactics utilized by those who are perpetrating these crimes whether those perpetrators are paramours or family members.  The discussion will explore the co-occurring aspects of criminalization that is often experienced by survivors of domestic violence and sex trafficking.  Finally, case examples and promising practices for service provision including harm reduction strategies will be highlighted.   
Escaping "The Trap":  A Case Study on the Investigation and Prosecution of a Human Trafficking Ring in a Milwaukee neighborhood.
Assistant District Attorneys Abbey DeSiato and Katherine Halopka-Ivery, trauma counselor Maria Rozek, and Milwaukee Police Officer Gerardo Orozco
An elderly women and her cognitively delayed son maintain their residence in a deteriorating Milwaukee neighborhood.  Defendant Benjamin Franklin Hooks, along with his crew, take over the house and transform it into what becomes known as "The Trap."  Hooks and his crew lure young, vulnerable females to the residence with hopes of freedom, relationships and protection, but actually end up being physically and emotionally abused, and sold for sex. As the drugs, sex, and alcohol follows, Hooks and his crew expand their criminal enterprise, while simultaneously being released on bail for felony offenses.  Following numerous police responses to "The Trap" and minimal referrals to Milwaukee County District Attorney's Office, one detective and prosecutor link Hooks and his crew to the true torture and horror contained within "The Trap."  Trauma counselor/victim advocate, law enforcement officer, and prosecutors discuss working with traumatized victims and how this guided their investigation strategies and prosecution of Hooks and his crew in order to close down "The Trap." 
An Integrated and Multidisciplinary Healthcare Approach to Addressing the
Biopsychosocial Needs of Human Trafficking Patients​
Dr. Mary C. Reissinger  (Baylor College of Medicine)
Personnel from the Baylor College of Medicine (BCM) Program for Victims/Survivors of Human Trafficking will present a unique and innovative approach to addressing the biopsychosocial needs of human trafficking patients identified within a healthcare system while being provided routine physical and mental healthcare services. The presentation will describe how BCM's program personnel collaborate with city officials, social service agencies, community advocates, and healthcare professionals to facilitate trauma-informed and individually tailored HT screenings, care coordination, and psychiatric treatment of patients who are current or prior victims of labor and sex trafficking crimes. In addition, the program's past publications and current research projects will be highlighted. 
BREAK
11:45 am to 12 pm
NETWORKING/LUNCH WORKSHOP 
12:00 pm to 1:15 pm
From Knowledge to Action - Your Role in Addressing Human Trafficking (Lunch Provided)
PLENARY 
1:15 pm to 2:30 pm
Serving LGBTQ Survivors of Human Trafficking: Specific Considerations for TGNC Youth and Best Practice​
Paige Baker Braxton (Howard Brown), K.D. Roche (Free to Be Me), Meaghan L. Tomasiewicz (Loyola)
Lesbian, gay, bisexual, transgender, and queer (LGBTQ) communities experience social determinants of health that result in increased vulnerabilities associated with human trafficking including: unemployment, financial instability, unstable housing, isolation from family, substance use/mental health conditions, and previous experiences of trauma. While the LGBTQ community faces increased risk of human trafficking, many LGBTQ survivors go unserved or underserved. Arguably, most at risk are transgender and gender-non-conforming (TGNC) young people. The existing literature suggests TGNC youth have different experiences than their cisgender peers at every stage of their trafficking: they enter for different reasons, their experiences as victims are unique, and they require specific service provisions, especially when it comes to mental and physical health. 
This plenary aims to improve the anti-trafficking community's response to TGNC youth who are survivors. By drawing upon interdisciplinary research, the conversation will identify risk factors faced by TGNC youth and the population-specific considerations that need to be made by service providers, law enforcement, and other professionals working in the anti-trafficking field. An improvement in knowledge, skills, and abilities will be accomplished by: 1) examining the vulnerabilities that put TGNC young people at an increased risk of experiencing human trafficking, 2) discussing the barriers TGNC survivors face in accessing existing services and systems, 3) and by providing actionable steps and best practices for anti-trafficking agencies and individuals to improve the response to TGNC youth survivors. 
BREAK
2:30 pm to 2:45 pm
CONCURRENT SESSIONS
(choose one session from the concurrent sessions listed):
2:45 pm to 4:15 pm
Survival Sex and Human Trafficking: How Exploitation Manifests in the Lives of African American Men
Libby Trudeau (Emmaus Ministries) and Scott Nobel 

This discussion will focus on the results from a research study that set out to learn how mental health, survival sex, and human trafficking intersect for low-income African American men involved in survival sex work in Chicago. The project was funded by a grant from the Illinois Institute of Technology and supported/sponsored by Emmaus Ministries. The project surveyed almost 100 men in the greater Chicago area and conducted in-depth focus groups. Presenters will also engage participants in a discussion about the intersectional impacts of exploitation for vulnerable domestic men and boys.
Survivor-Informed Organizational Practice​
Jennifer Greene (Life Span) and Mary Landerholm (Laboratory to Combat Human Trafficking)

What does it mean to be survivor informed with in an organizational setting? This session allows for a one-one-one dialogue between two national and local leaders in the anti-trafficking response as they discuss challenges and successes to survivor informed organizational practices, answer tough question from organizational leaders struggling to implement survivor informed practices, along with recommendations from the recent guide published by the Administrations for Children & Families Office of Trafficking in Person and the National Human Trafficking Training and Technical Assistance Center Toolkit to Building Survivor Informed Organizations.  Participants will be invited to share in a Q&A portion of the session.

Law Enforcement Only Session: Using Digital Tools To Further Investigations

Shoba Pillay





The presentation will cover the types of information that may be obtained using various types of legal process (from subpoenas to search warrants); along with the tools and techniques for uncovering digital evidence during the course of an investigation, including from digital media (such as phones, tablets, and computers), and internet-based evidence, (such as social media, messaging, and email accounts). 



----

*** Agenda is subject to change. ***

If you have any questions, please contact stop-it@usc.salvationarmy.org or contact Cook County Human Trafficking Task Force Coordinator Summar Ghias at 773-433-5735. 



When & Where

Chicago Kent College of Law
565 West Adams Street
Chicago, IL 60661


Wednesday, August 1, 2018 at 1:00 PM

-

Friday, August 3, 2018 at 4:15 PM (CDT)
Add to my calendar
Organiser
The Cook County Human Trafficking Task Force is a multi-disciplinary task force that brings law enforcement, social service and legal service agencies together to work on human trafficking cases. Learn more about the Cook County Human Trafficking Task Force here.