8th Annual Columbia Gorge Invasive Species and Exotic Pest Workshop
Description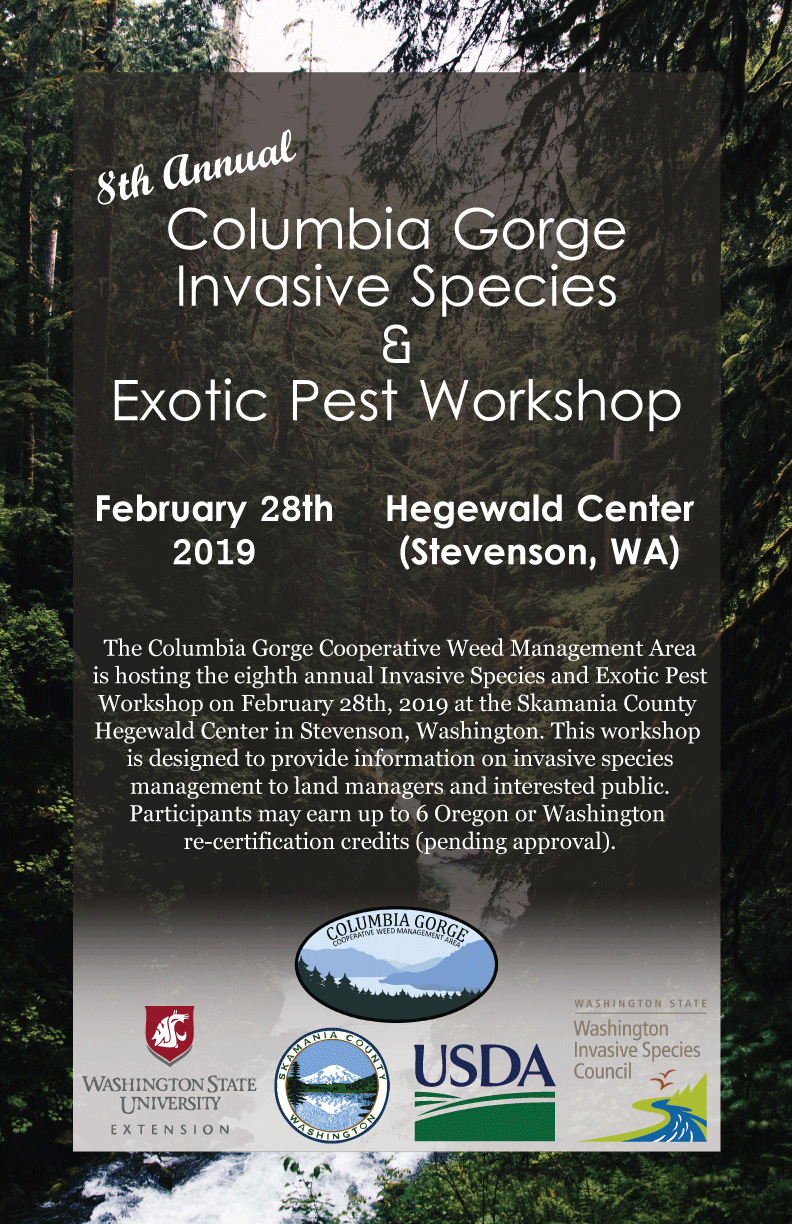 In partnership with United States Department of Agriculture's Animal and Plant Health Inspection Service, the Columbia Gorge Cooperative Weed Management Area (CWMA), the Washington Invasive Species Council, and Washington State University Extension will be co-hosting the 8th Annual Columbia Gorge Invasive Species and Exotic Pest Workshop! This excellent opportunity is designed to provide information on invasive species management to land managers and the interested public. We will focus on identification and control methods for the Spotted Lanternfly (Lycorma delicatula) and Flowering Rush (Butomus umbellatus) in the morning. After lunch, we will put your weed identification skills to the test with a fun, interactive weed quiz through the game-based platform, Kahoot!. Later in the day, we will hear the latest news on regional pesticide research updates and the Eagle Creek Fire containment zone. We are excited to be hosting at Skamania County's Hegewald Center once again! The draft agenda is posted below.
Recertification Credits
Oregon Department of Agriculture (ODA) - 7 Pesticide Applicator Credits

Washington State Department of Agriculture (WSDA) - 7 Pesticide Applicator Credits

International Society of Aboriculture (ISA) - 4.25 Certified Arborist Credits
Please note:
Lunch will not be provided at the event, so please bring a lunch or plan on eating at one of Stevenson's local restaurants during the break.

On the day of the event, please park behind the Hegewald Center near the Skamania County Fairgrounds; parking is not allowed in the front of the building.

There will be no refunds issued due to inclement weather. Attendees can receive refunds up to one week prior to the event date.
Thank you and we hope to see you there!
---
2019 Invasive Species and Exotic Pest Workshop
Thursday, February 28th, 2019, 8:00am – 4:30pm
Hegewald Center
710 SW Rock Creek Drive
Stevenson, WA, 98648
8:00 – 8:30
Networking
---
8:30 – 8:40
Welcome
---
Hannah Brause (Washington State University)
8:40 – 9:30
Riparian Restoration and Beyond: Strategies for Effective Stewardship
---
John Richard Goetz III (Clean Water Services)
9:30 – 10:20
Spotted Lanternfly – New pest on the Horizon
---
Sven-Erik Spichiger (Washington State Department of Agriculture)
10:20 – 10:30
Break
---
10:30 – 11:00
EDRR in the Eagle Creek Burn Area
---
Chris Aldassy (East Multnomah Soil and Water Conservation District)
11:00 – 12:00
Flowering Rush Distribution and Control Options in the Columbia River
---
Jennifer Andreas (Washington State University Extension)
12:00 – 1:00
Lunch
---
1:00 – 1:05
CWMA Coordinator Introduction
---
Courtney Gattuso (Clackamas Soil and Water Conservation District)
1:05 – 1:30
Invasive Species Quiz - Kahoot!
---
Marty Hudson (Klickitat County)
1:30 – 2:30
Pesticide Research Updates
---
Kaci Buhl (Oregon State University)
2:30 – 2:45
Break
---
2:45 – 3:35
Decontamination 101 & Aquatic Invasive Species Management
---
Brianna Widner (Washington Invasive Species Council) & Jesse Schlutz (Washington Department of Fish and Wildlife)
3:35 – 4:25
Development and persistence of soil legacy effects of Scotch broom and implications for reforestation
---
Sara Grove (University of California Santa Cruz)
4:30
End
---
About the Hegewald Center:
July 8, 2010 the Skamania County Board of Commissioners dedicated what was formerly the Rock Creek Center to the Rudy & Helen Hegewald family. The dedication came at the conclusion of an addition and remodel to the existing structure which was built on land donated by the Hegewald family for park and fairgrounds use. The building, which used to house the Parks & Recreation Department is now home to a beautiful Community Services center which includes Skamania County Facilities & Recreation, Community Health and Senior Services. Hegewald Center is situated directly adjacent to the Rock Creek Park and Skamania County Fairgrounds. Skamania County is also home to a variety of recreational opportunities for those guests who have the time to explore.