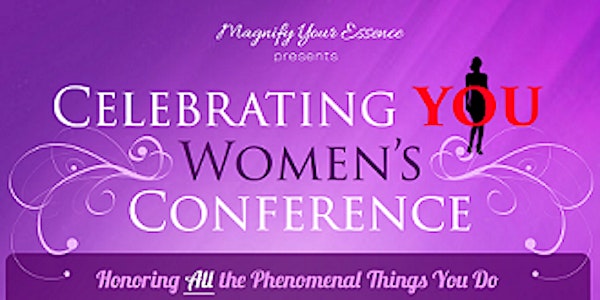 8th Annual Celebrating YOU Women's Conference & Expo
Come to the 8th ANNUAL ~ CELEBRATING YOU WOMEN'S CONFERENCE & EXPO - IT'S HYBRID - IT'S HAPPENING!!!
When and where
Location
Courtyard by Marriott Philadelphia City Avenue 4100 Presidential Boulevard Philadelphia, PA 19131
About this event
Come to the 8th ANNUAL ~ CELEBRATING YOU WOMEN'S CONFERENCE & EXPO
It's year 8! An we will have a lot to celebrate! It's Happening!
After 2 years of being virtual we will finally be back in the building live and in effect doing what we do best!
Join us for a morning of motivation and an evening of elevation, inspiration and celebration!
Taking this back to basics....
As Women on the Move...who are moms, single moms, caretakers, wives,
business owners, ministry & community leaders the list goes on about what we all do.....
Now....It's time to Celebrate You!
Join us in the morning for a power house expo that will help you get moving towards your next big thing. Whether it's starting a business, looking for a new job/changing careers, starting an exercise program towards health & wellness, volunteering in your community, or going back to school.  If you have enjoyed our Power Hours and CYWC in the past then this is the next best thing.   Come prepared to leave with new possibilities for you.
Join us Sat for a powerhouse expo and Sunday for a celebration like no other.
We'll get to hear from and spotlight our powerhouse speakers, authors and filmmakers making a difference in the world. We will meet the phenomenal ladies of H.E.R.Story.
And back by popular demand the men of Why Men Don't Talk Panel!
CELEBRATING MYE's ANNIVERSARY AND ALL FABULOUS WOMEN ON THE MOVE.
HONORING DYNAMIC WOMEN WHO HAVE MADE AMAZING BOLD MOVES.
HONORING A SPECIAL WOMAN OF DISTICTION WHO HAVE MADE A TREMENDOUS IMPACT.
THE SISTER'S CHOICE AWARD WHERE YOU GET TO NOMINATE A PHENOMENAL WOMAN TO BE HONORED!
AND WE WILL BE HONORING MEN OF VALOR
CYWC IS EMPOWERMENT AT IT'S BEST!!!
SO START YOUR WEEK OFF RIGHT
SPEND A SPECTATULAR SUNDAY WITH OTHER PHENOMENAL WOMEN JUST LIKE YOU &  
SHOP THE CYWC MARKETPLACE FEATURING TOP VENDORS FROM THE TRI-STATE AREA
THIS IS ONE CELEBRATION YOU DON'T WANT TO MISS!!!!
LET'S BE EMPOWERED, LET'S BE INSPIRED, LET'S BE MAGNIFIED  
This year a portion of the ticket sales will go to benefit WNP (Why Not Prosper)
Please bring a toiletry items to benefit LSH - Lutheran Settlement House – Jane Addams & Sheila Brown Women's Shelter
Registration Required:
Saturday:
Expo Session: (9am - 3pm): includes dynamic speakers, panel discussion, entertainment and time to shop the CYWC Marketplace in person & virtually
Mid Day Break: (12:00pm - 1:30pm): Exclusive shopping  time in the CYWC Marketplace and networking (lunch on your own)
VIP Luncheon: (12:30pm - 1:30pm):  VIP guest enjoy a special networking power lunch with host and other special guest.  
Sunday:
Pre-Conference Reception & Red Carpet: (5:00pm - 6:00pm): Join us as our honorees, special guest and VIP hit the Red Carpet
Award Conference (6pm - 9pm): lunch, Mag Bag, door prize raffle, networking, entertainment, time to shop the CYWC Marketplace and to hear from our dynamic honorees. 
****VENDOR &SPONSORSHIP OPPORTUNITY AVAILABLE***

The following opportunities are available:
To be a vendor or basic sponsor  click here
If you would like to Nominate a deserving Sister Nominations are being taken  click here
If you would like to be a spotlight expo speaker  click here
Here's the hotel info: CYWC Expo
Start Date: Friday, December 9, 2022
End Date: Sunday, December 11, 2022
Last Day to Book: Thursday, December 1, 2022
Hotel(s) offering your special group rate:
Courtyard Philadelphia City Avenue for 169 USD per night
Book your group rate for CYWC Expo