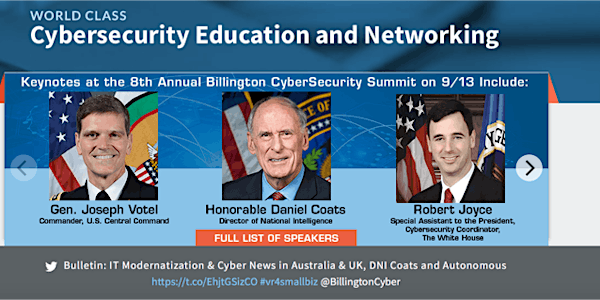 8th Annual Billington CyberSecurity Summit
When and where
Location
Walter E. Washington Convention Center 801 Mt. Vernon Place NW Washington, DC 20001
Refund Policy
Contact the organizer to request a refund.
Description
The 8th Annual Billington CyberSecurity Summit
Today | Tomorrow | The Future
Ensuring Cybersecurity In Unprecedented Times
Get the Insider's View from 25+ Gov't Cybersecurity Leaders on Emerging Federal Cyber Priorities
Sponsor Opportunities Available

Email

Sandy Nuwar or call 443-994-9832 to benefit as a sponsor!
AGENDA
SPEAKERS
VENUE
SPONSOR OPTIONS
REGISTER
Nearly a thousand federal and private cybersecurity thought leaders, decision makers and personnel will network and explore new cybersecurity options and directions at the 8th Annual Billington CyberSecurity Summit, Sept. 13, 2017, Washington, D.C.
Hear from
over 25 Government and Military experts including
CISOs at DHS, Treasury, HHS and senior IT leaders at the U.S. Army, Department of Defense, U.S. Cyber Command, NIST, ODNI, NSA, USDA, FBI, U.S. House of Representatives, the CIA, OMB, etc.
Keynotes:
The Honorable Daniel Coats, Director of National Intelligence, OFFICE OF THE DIRECTOR OF NATIONAL INTELLIGENCE
Robert Joyce, Special Assistant to the President and Cybersecurity Coordinator, THE WHITE HOUSE

General Joseph Votel, Commander, UNITED STATES CENTRAL COMMAND
Representative William Hurd, R-TEXAS
Government CISOs:
Grant Schneider, Acting Federal CISO, OFFICE OF MANAGEMENT AND BUDGET (invited) (keynote)
Essye Miller, Deputy Chief Information Officer for Cybersecurity, CIO, U.S. DEPARTMENT OF DEFENSE

John "Jack" Donnelly, Associate CIO for Cyber Security and CISO, U.S. DEPARTMENT OF THE TREASURY

Christopher Wlaschin, CISO and Exec. Director, Information Security, U.S. DEPARTMENT OF HEALTH & HUMAN SERVICES

Jeffrey Eisensmith, CISO, Office of the CIO, U.S. DEPARTMENT OF HOMELAND SECURITY

Chris Lowe, Chief Information Security Officer, U.S. DEPARTMENT OF AGRICULTURE
Peter Liebert,

CISO and Director of the Office of Information Security, CALIFORNIA DEPT OF TECHNOLOGY

Randal Vickers, Director, Information Security, Office of Cybersecurity, U.S. HOUSE OF REPRESENTATIVES
DHS Speakers:
Kevin Cox, CDM Program Manager, Network Security Deployment, DEPARTMENT OF HOMELAND SECURITY

Jim Piché, Homeland Sector Director, FEDSIM, DEPARTMENT OF HOMELAND SECURITY

Christopher Krebs, Assistant Secretary for Infrastructure Protection, DEPARTMENT OF HOMELAND SECURITY
John Felker, Director of Operations, National Cybersecurity and Communications Integration Center, DEPARTMENT OF HOMELAND SECURITY
Senior Government Speakers From the NSA, ODNI, DHS, In-Q-Tel, DOT, FBI:
David Hogue,

Technical Director, Cybersecurity Threat Operations Center, NSA
Tonya Ugoretz, Director, Cyber Threat Intelligence Integration Center, ODNI
Matthew Barrett, Program Manager, Cybersecurity Framework, NIST
James Richberg, National Intelligence Manager for Cyber, ODNI
Peter Mitchener, Senior National Intelligence Officer for Cyber, FBI
Teresa Shea, Executive VP and Director of Technology, In-Q-Tel
CIOs and Deputy CIOs:
George "Dennis" Bartko, Director, Capabilities Development Group (CDG), and CIO, US CYBER COMMAND
Sanjeev "Sonny" Bhagowalia, Dep. Asst. Secretary for Information Systems and Chief Information Officer, DEPARTMENT OF THE TREASURY
William Marion, Deputy Chief, Information Dominance and Deputy Chief Information Officer, US AIR FORCE

Gary Wang, Acting Chief Information Officer/G6, U.S. ARMY
FiveEye Partner Cyber Ambassadors:
Conrad Prince, UK Cyber Security Ambassador, UNITED KINGDOM
Dr. Tobias Feakin, Australian Ambassador for Cyber Affairs, AUSTRALIA
Retired Senior Government Officials:
Brigadier General (Ret) Gregory Touhill, Former US CISO; President, Cyxtera Federal Group, Cyxtera Technologies
VADM (Ret.) Michael McConnell, Senior Executive Advisor, Booz Allen Hamilton (Former Director, NSA and Former DNI)
Richard "Rick" Ledgett,

Former Deputy Director, National Security Agency
Government and Military Are Free but Must Register
Mark your calendars: Sept. 13, 2017, Washington, D.C.
For sponsor opportunities, contact Sandy Nuwar

or call 443-994-9832

Secure your place. Previous summits have sold out.
Platinum Sponsors




Knowledge Partner




Exclusive Diamond Sponsors



Silver Sponsors



Gold Sponsor


Exhibitors




UK CYBER INNOVATION ZONE



​​CANADA CYBER INNOVATION ZONE





ASSOCIATION SPONSORS




MEDIA SPONSORS

To find out more about sponsor opportunities, please contact
Sandy Nuwar or call 443-994-9832

****
This Year, Billington Cybersecurity is a Proud Supporter of the White Hat Gala to benefit Children's Hospital Foundation.
NOTE: Attendees must be citizens of the U.S. or allied nations to attend this event.

This flagship summit for Billington CyberSecurity in 2016 exceeded 650 attendees, selling out for the third straight year. The summit brought together top cybersecurity decision-makers and brought an unprecedented five cyber commanders, including the Commander for USCYBERCOM, Marine Corps. Cyber, 10th Fleet Cyber, Air Force Cyber and Cyber National Mission Forces.