CST's in partnership with Our Place Healing Hearts & Children of Deceased Parents Celebrates Our 8th Annual Back to School Giveaway
About this event
Children Striving Together in partnership with Our Place Healing Hearts & Children of Deceased Parents is happy to present our 8th Annual Back To School Giveaway in partnership with Grocery Outlet. With an entire pandemic that we are still in, many of our children have stayed home, lost communication within their childhood friends, as well as became socially awkward. With the new school year on the way, we want to ensure that the youth are ready for the new school year.
We are currently looking for donations for school supplies, a few vendors, as well as sponsorships to ensure these children have all that they need. If you are interested, you can email us at childrenstrivingtogether@gmail.com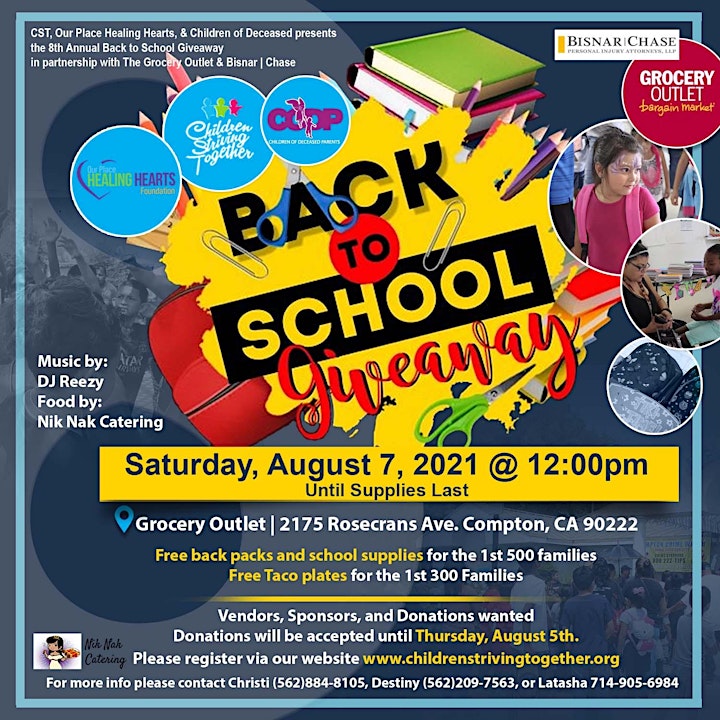 Organizer of 8th Annual Back to School Giveaway
Our mission is to support at-risk youth as well as youth in the community by providing them with quality services to foster their growth as individuals. We plan on doing so by offering enrichment programs based on the children's interests which may include art, sports, music, dance, volunteer opportunities, high school and college prep workshops and many more.  Our programs will continue to grow and evolve based on the needs and interests of the children as well as provide an outlet for children to explore their talents.  It is our goal to help at-risk children and the children in the community realize that their struggles and obstacles don't have to determine their life but that they can overcome adversity with help and hard work.