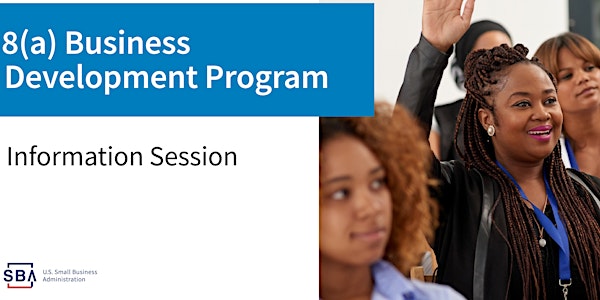 8(a) Business Development (BD) Program
Do you want access to over $500 Million in Prime Contracts that was spent on North Florida District Office (NFDO) 8(a) Firms last year?
About this event
The SBA's 8(a) Business Development (BD) Program is designed to help small, disadvantaged businesses that are socially and economically disadvantaged compete in the federal marketplace. The 8(a) Program offers executive level business training that helps to keep your small business competitive. There are many benefits, requirements, and an online application process.
To that end, the U.S. SBA's North Florida District Office (NFDO) will host a bi-monthly workshop on the 8(a) Business Development (BD) Program. Topics covered during the workshop will be: Initial inquiry, steps needed to process the application through the Certify Platform, questions you need to ask yourself, benefits, other resources, application process, 8(a) Application Checklist and 8(a) contact information.
BENEFITS:
• Sole-source contracts-Up to $4 million for goods and services and $7 million for manufacturing
• Specialized business training, marketing assistance, counseling and high-level executive development
• 8(a) businesses can participate in the SBA Mentor Protégé Program which helps new 8(a) companies learn the ropes from other experienced businesses.
• Assistance eligibility to obtain access to surplus government property and supplies, SBA-guaranteed loans, bonding, and more!
Answer these questions:
• Is your business qualified as small under your NAICS Code (Industry)?
• Have you been in business at least two years?
• Is your business majority-owned (51%) and controlled by socially and economically disadvantaged individual(s)?
• Do you have the potential for success as well as other requirements?!
• Would you like access to the over $500 Billion the government spends annually, to include over $95 Billion with small businesses?
Contact one of our Business Opportunity Specialists (BOS) for information and assistance on how to apply.