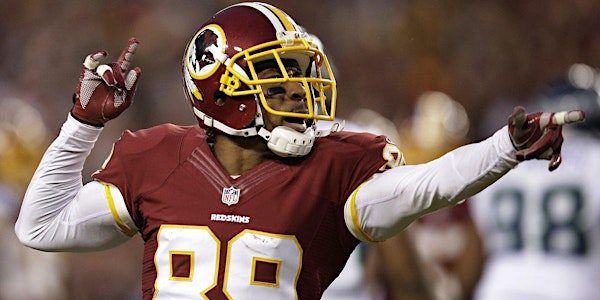 89 WAYS TO GIVE: 2018 MOSS ACADEMY FOOTBALL CAMP
When and where
Location
Evergreen Sports Complex Evergreen Sports Complex (Field #1) 19623 Evergreen Mills Road Leesburg, Va 20176
Description
Santana Moss is ready for his amazing 2018 football camp. Are you ready?
Moss Academy Football Camp by retired Washington Redskin wide receiver Santana Moss
The purpose of this camp is to provide the basic fundamentals for beginners, diversify techniques for others, and most importantly give all who attend a genuine snapshot of how the effects of a positive mental approach to the game and life can be the difference between gains and losses.
Santana Moss, Washington Redskins wide receiver for ten seasons will be the lead coach alongside some of the top coaches in the area. Their goal for the attendees are both physical and mental. Physically, the goal is to provide athletes with skills, abilities, and techniques that are applicable to today's game. With a combination of expert football instruction and on the field practical application, players will walk away with a tangible skill set to put to the test in the upcoming season. Mentally, players will have collective and individual time to discuss the many mental aspects of the sport and life. Courage, endurance, motivation, decisiveness, responsibility, teamwork, tact, and unselfishness are a few areas that will be tabled and discussed throughout.
No matter an individual's position, skill set, or level of play, they should EXPECT TO WORK HARD DAILY! The training is designed to elevate both their mental and physical game to the next level; creating a hunger in them that will assist them in developing years to come as athletes and as difference makers in society. Don't miss out on this outstanding opportunity to assist your little athlete (or big) to the next level of football.
Please go to Moss Academy Football Camp on Facebook and view all the amazing review, videos, and pictures of last years camp.
Ages: 7-17 years old
WHAT'S NEEDED AT CAMP...
1. CLEATS
2. WATER BOTTLE (with your name on it)
3. SUNSCREEN
4. LUNCH OR MONEY TO PURCHASE LUNCH AT CONCESSION STAND
HERE IS THE CONCESSION'S WEBSITE SO YOU CAN REVIEW WITH YOUR CHILD AND PROVIDE ACCURATE FUNDS FOR THEIR LUNCH.
5. REGISTRATION FORM COMPLETELY FILLED OUT & PLEASE LET US KNOW VIA EMAIL WHAT POSITION YOUR CHILD PLAYS IN FOOTBALL OR WHAT POSITION THEY'D LIKE TO LEARN.
6. A GREAT ATTITUDE
PLEASE LET US KNOW IN THE NOTES WHAT POSITION YOUR CHILD HAS PLAYED IN FOOTBALL AND IF THEY ARE NEW TO THE GAME, WHICH POSITION WOULD THEY LIKE TO PLAY.

What's included:
Each child recieves a free T-Shirt, autographs, and surprise appearances. Hourly rest breaks and motivational talks, while rehydrating.
For further questions, please call 703-870-6135