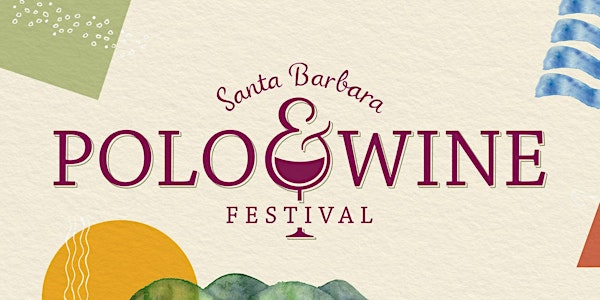 88.7 KCRW Presents: The Santa Barbara Polo & Wine Festival
When and where
Location
Santa Barbara Polo & Racquet Club 3300 Via Real Carpinteria, CA 93013
Performers
Charles Bradley
LP
Nick Waterhouse
Durand Jones & The Indications
Vieux Farka TourĚŠ
Description
88.7 KCRW Presents: The Santa Barbara Polo & Wine Festival, held at the beautiful Santa Barbara Polo & Racquet Club on Saturday October 7th, 2017, is the first of its kind in California. The festival combines polo, local wine, and music for a one-day experience that will be enjoyed by all who attend. This is a true celebration of Santa Barbara and Southern California living! www.sbpoloandwine.com
$1 of every ticket sold will be donated to Notes For Notes, a non-profit organization dedicated to growth of music education for the youth. http://notesfornotes.org
Ages 21+
Lineup:
Macy Gray

LP
Nick Waterhouse
Durand Jones & the Indications
Vieux Farka Toure
Angelou
DJ Sets By: Soul Dust Production's Jason Perez and Jungle Cat
Wineries:
Happy Canyon Vineyard
Sanford Winery
Standing Sun Wines
Summerland Winery
August Ridge Vineyards
Argaux
Jardesca
Schedule:
11:00 AM - Doors Open
11:15 AM - Angelou
12:00 PM - Vieux Farka Toure
1:00 PM - Durand Jones & The Indications
2:00 PM – Nick Waterhouse
3:00 PM - Polo Matches followed by the traditional champagne/wine and divot stomp
5:00 PM - LP
6:15 PM - Macy Gray
7:30 PM - Festival's over / everyone home safe!
FAQ's:

When is the event? - The event will be held on October 7th, 11:00am – 7:30pm.
Where is the event? - The SB Polo & Wine Festival will be held at the beautiful 87-acre property nestled between the Pacific Ocean and the Southern California foothills. The property is off of the 101 between Santa Claus Ln, Padaro Ln and Summerland exits. 3300 Via Real, Carpinteria, CA 93013.
Is this a 21 and over event? - Yes
What is included with my ticket? - Two polo matches, five live nationally touring music acts, access to wines from Santa Barbara's finest wineries, beautiful Santa Barbara scenery, a festival branded stemless wine glass, food pairings, and much more.
Where do we park? - Parking is on site at the Polo Club, and will cost $10 + fees if purchased in advance and $15 if purchased at the gate. Valet VIP is $40 + fees if purchased in advance, and $45 if purchased at the gate. VIP parking valet will be in the closest possible location to the event. Remember to drink responsibly, bring a designated driver!
Can I bring in food & drink? - No, outside food and drink will not be allowed into the festival. That said, we will have plenty of options for you to choose from inside.
Can I purchase food on site? - Yes, there will be amazing local food options!
How do I pay for drinks and food? - Attendees will purchase $5 tickets on site. These tickets can then be redeemed for wine, food, beer, etc. at each vendor station. All items will be priced in increments of $5. We will accept cash, credit, and debit cards on site.
What do I wear? - Attire suggestions can be found in the Polo & Dress section of the website.
What are the rules of Polo? - The rules of the game can be found here. An announcer will be calling the match to help you follow along.
What is the champagne/wine divot stomp? - The divot stomp is a polo tradition in which patrons take to the field at the close of the match to flip over divots and drink champagne.
Is there a charity involved? - Yes, this year's charity will be benefiting Notes For Notes, a non-profit organization dedicated to the growth of music education for the youth. More details about this amazing group can be found a their website, notesfornotes.org
Is wine/food included with the ticket? - No, all wine (tastings, glasses, bottles) and food will be for sale at the event.
Is the event "rain or shine?" - Yes, wine, food, and live music will still take place rain or shine. However, if the fields are too wet, the polo matches will be cancelled.
Can I bring my lawn chair or blanket? - No lawn chairs will be allowed into the festival, but please feel free to bring a blanket to setup and watch the live music and polo matches. Please note that we do not have storage capabilities at the festival.
Are tickets refundable or transferable? - No, all sales are final.