Event Information
Location
Oak-Leyden Developmental Services
411 Chicago Avenue
Oak Park, IL 60302
Description
Signed Football from Members of the
1985 Chicago Bears Championship Team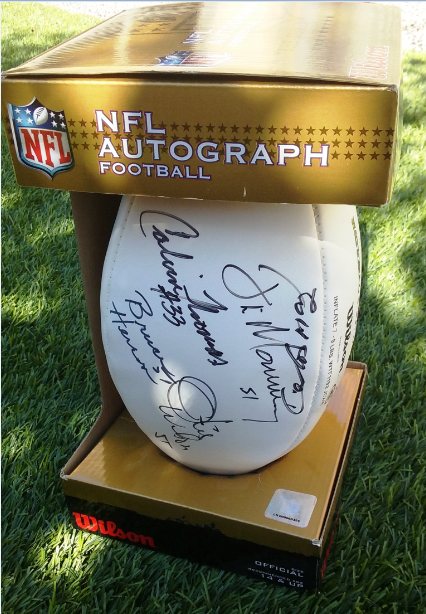 Click to buy an e-raffle ticket and you could win an official Chicago Bears football, hand-signed by members of the legendary 1985 Super Bowl team. This limited edition, souvenir ball has an approximate retail value of $550.
Chicago Bears signatures include:
Brian Baschnagel

Bruce Herron (played '78 – '82)

Calvin Thomas

Dennis McKinnon

Emery Moorehead

Jim Morrissey

Kurt Becker

Otis Wilson

plus Carlos May of the Chicago White Sox!
Raffle ticket sales will end at midnight Wednesday, October 12. Friday, October 14, one lucky winner will be drawn to receive this very special piece of Chicago Bears' history.
Get your ticket and spread the word to your favorite Bears fans. We've released 200 raffle tickets, and every one contributes to Oak-Leyden's programs and services to assist children and adults with developmental disabilities. We appreciate your support!
Oak-Leyden Developmental Services Autographed Football Official Raffle Rules
a. Price of raffle ticket: $15.00 for one or $40.00 for three, benefitting Oak-Leyden Developmental Services.
b. Method by which the winners will be determined and the raffle will be conducted:
The drawing will be held at the Oak-Leyden Developmental Services office on Friday, October 14, 2016 and will be conducted by a third-party representative. Winner need not be present to win. The winner will be determined by a random drawing of purchased tickets. The winner will be notified via contact information supplied during ticket purchase. Winner will have thirty (30) days from the notification of winning to confirm his/her address and his/her acceptance of the prize won. If a selected winner is unable to be contacted or located after a period of thirty (30) days from the drawing date of the raffle, or if the selected winner declines acceptance of the prize, an alternate winner will be chosen from the remaining entries. Must be 18 years or older to purchase raffle tickets. Must be a resident of Illinois. As a condition of being awarded the prize, winner will be required to execute a signed affidavit of eligibility and acceptance of these Official Rules and release of liability. If the winner fails to submit the release of liability, winner forfeits the prize and an alternate winner will be drawn from remaining entries. The prize winner will be responsible for all applicable federal and state taxes.
c. Contingency plan for inclement weather or other extenuating circumstances if the raffle or alternative raffle cannot be conducted as planned: In the event of extenuating circumstances, if the raffle cannot be conducted as planned on Friday, October 14, 2016 the raffle will be completed on the next available business day at 12 pm.
d. Redemption Claim period: If the raffle Prize is refused, the winner cannot be located within 30 days of the drawing, or arrangements cannot be made with the winner within sixty (60) days of the drawing regarding the delivery of the Prize, Oak-Leyden Developmental Services shall conduct another raffle using the original pool of ticket entries.
e. Refund Policy: No ticket refunds will be given.
f. Effective date of these rules: October 3, 2016
For more information about the raffle, contact Lori Malinski at 708-524-1050 x102 or lmalinski@oak-leyden.org.
Oak-Leyden Developmental Services is a 501(c)3 organization. All In accordance with federal laws, the purchase of a raffle ticket is not tax deductible.
Date and Time
Location
Oak-Leyden Developmental Services
411 Chicago Avenue
Oak Park, IL 60302