Event Information
Location
Troubadour
9081 Santa Monica Blvd
Los Angeles, CA 90069
About this Event
Ozma
In 1995, while still in high school, the members of Ozma first met and began conducting Casiotone counterpoint exercises and lyrical experiments in double entendre together. After selling homemade cassettes and CD-Rs at all ages shows throughout California and producing demos with Weezer's Jason Cropper and The Rentals' Rod Cervera, Ozma released their debut album Rock And Roll Part Three on January 1, 2000, nearly 20 years ago to the day. At the advent of digital distribution, the 11 slabs of infectiously singable powerpop on this "little-album-that-could" ruled Napster, Limewire, and MP3.com. Rock and Roll Part Three couldn't be ignored by Rivers Cuomo, who praised it in Rolling Stone and invited Ozma to join Weezer on several North American arena tours, catapulting the band to international success. Joe Escalante of The Vandals also became a lifelong supporter, signing Ozma to his Kung Fu Records imprint, giving them worldwide distribution to for their first three LPs and a headlining slot on the Warped Tour. Throughout the 2000s, Ozma continued touring tirelessly with era-defining bands including Rilo Kiley, Nada Surf, The Get Up Kids, Shiny Toy Guns, The Rentals, Superdrag, Nerf Herder, Piebald, Yellowcard, Hellogoodbye, Rooney, Asian Kung-Fu Generation, The Format, and innumerable partners on the road.
On 12/19, Ozma will celebrate the 20th anniversary of Rock and Roll Part Three by playing the album live in its entirety.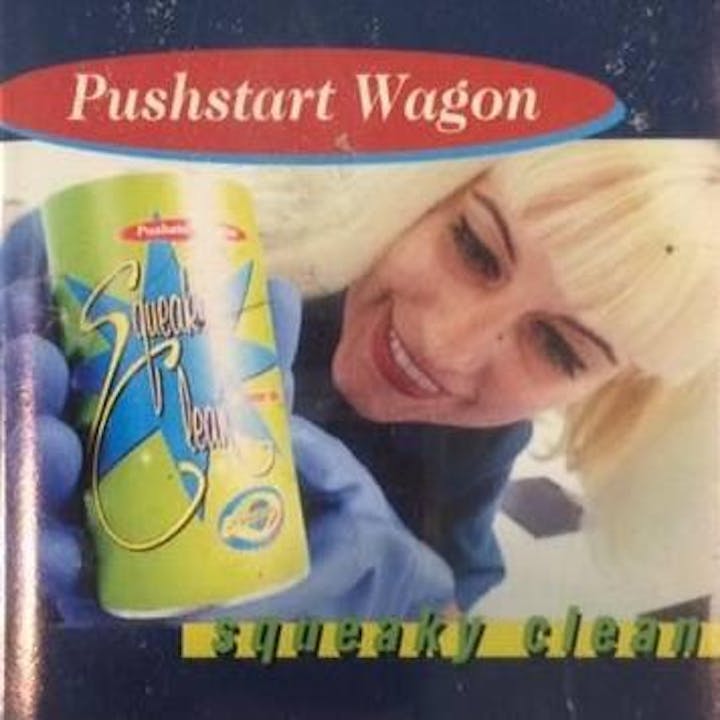 Pushstart Wagon
Twenty five years after first calling themselves a band, Pushstart Wagon is back with their unique brand of rock and roll that balances catchy pop hooks and straight-ahead guitar-driven rock sensibilities. Formed in Azusa, California, the group honed its sound performing everywhere from mall parking lots to truck beds on baseball fields, rolling out their amps in signature red Radio Flyer wagons. Within two years they'd signed with Gene Eugene's Brainstorm label and cut their debut, Squeaky Clean, in the summer of 1996. Produced by Andy Prickett (One Republic, The Prayer Chain) and recorded at the fabulous Green Room Studio in Huntington Beach, the record generated a flurry of local shows, tours and festival performances. The songs on Squeaky Clean evoke a power pop sound indebted to the influence of Weezer's Blue Album and the Smashing Pumpkins' Siamese Dream. Over the years, Pushstart has shared the stage with groups like MxPx, Save Ferris, Ozma, OneRepublic, Switchfoot, and Five Iron Frenzy. Along the way, the group put out a second record independently that garnered attention from Paste Magazine, which led to their music being placed on a variety of television shows. And now, the members of Pushstart Wagon — Ben Eggehorn on drums, Steve Guiles on guitar and vocals, Elliot Chenault on lead guitar, and Eric Shouse on bass and backing vocals — return to the stage December 19th to rock through a celebration of the 23rd anniversary of Squeaky Clean's release.
Cheekface
Cheekface is a rock combo from Los Angeles made up of guitarist and singing person Greg Katz, bassist and other singing person Amanda Tannen, and drummer Mark "Echo" Edwards. Inspired by the great American talk-singers like Jonathan Richman, Stephen Malkmus and Lou Reed, and British indie rock bands like Wire and The Fall, Cheekface released their first single "Glendale" in 2018, a song Indie Shuffle lauded as "an art-pop gem." Following what The Line Of Best Fit called "a stream of instant-classic singles," the band's debut LP Therapy Island materialized in spring of 2019 on the New Professor label. Post-Trash called the album "extremely charming and catchy," and Punk News said it's "a perplexing, rewarding experience." A groundswell of support for the album led the band to issue it on vinyl in October 2019, a pressing that quickly sold out.
Performers
Date and Time
Location
Troubadour
9081 Santa Monica Blvd
Los Angeles, CA 90069
Refund Policy