Event Information
Location
Troubadour
9081 Santa Monica Blvd
Los Angeles, CA 90069
United States
About this Event
9:30 PM - LINDSAY ELL
8:30 PM - Caleb Lee Hutchinson
Doors - 8:00 PM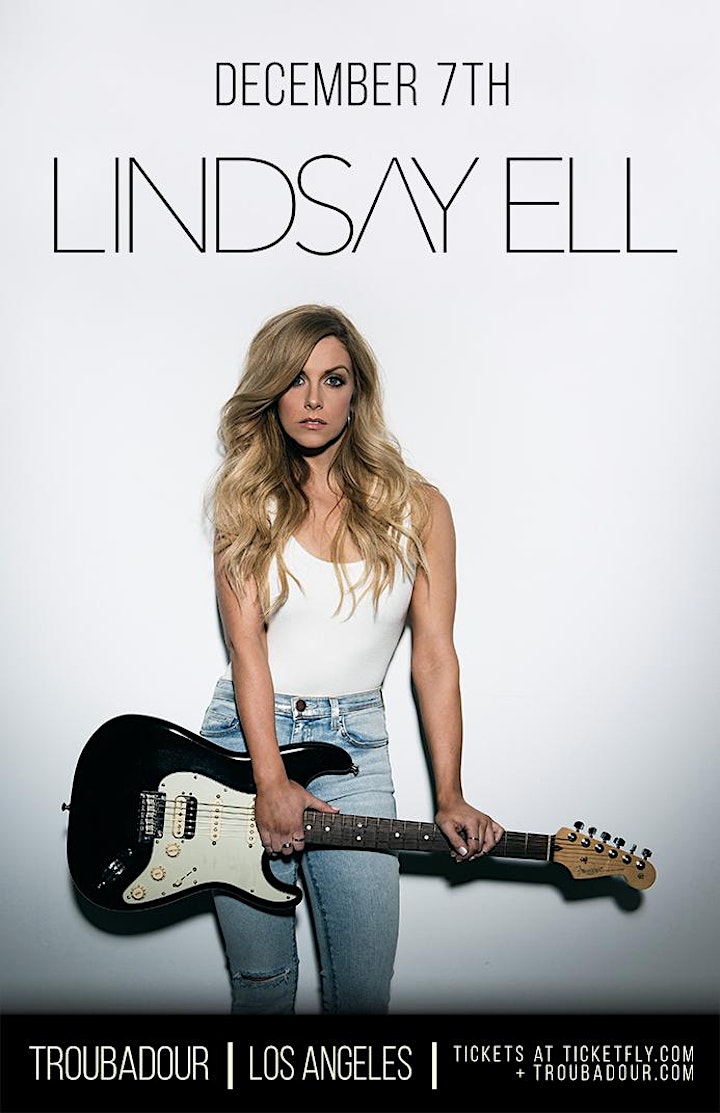 For rising star Lindsay Ell, her debut album on Stoney Creek Records has been a long time coming … but you can't rush personal discovery. Sent on a mission to unleash the vibrant, soul-bearing country artist long predicted by fans and critics alike, Ell's journey is now complete – and she calls the result simply, The Project.
Comprised of 12 gripping, heart-on-her-sleeve tracks and produced by Sugarland's Kristian Bush, The Project is the musical calling card Ell's been working toward her whole life – from her childhood in Calgary, Alberta; through her time opening shows for blues legend Buddy Guy; and even with attention-grabbing country singles "Trippin' On Us" and "By the Way."
"I feel like I've finally found myself," Ell beams about The Project. "I'm a better guitar player, I'm a better singer, I'm a better songwriter. I'm just a different artist, and I've never felt about music the way I do now."
Grooving, diverse, and emotionally charged, it's easy to hear what Ell means. The Project reveals every aspect of her abundant talent – from her fiery guitar prowess to her crisp, inviting vocals … and even her new knack for vulnerable song craft.
It's funky, bluesy, and full of pop-country sweetness, but also delicate and – at times – brutally honest, as Ell's heart is placed front and center on each track. She embraces the anything-goes fun of country's future but also holds fast to its traditions, focusing on real instruments and co-writing nine of The Project's songs to create something both unique and self-assured.
For the first time, Ell's music feels 100 percent "Lindsay," and part of the reason for that is the growing up she's done over the past few years.
The young star has traveled the world with The Band Perry and Luke Bryan, showcased her multi-instrumental dexterity as one of CMT's Next Women of Country, and is currently trading guitar solos with Brad Paisley on his 2017 Weekend Warrior World Tour. Plus, she and country radio personality Bobby Bones went public about falling for each other, leading to an outpouring of support and inspiring her to open up like never before on her critically-acclaimed 2017 EP, Worth the Wait.
"The album has helped me dig even deeper into that identity," she explains. "With Worth the Wait I had something to say, writing real songs with real lyrics. But now I've kicked it up a notch. I still have really important lyrics, but The Project has groove and lots of guitar solos – I let my musical brain free."
Crediting Bush with making her ask what kind of artist she really wanted to be, Ell says "You can tell when it clicks into gear." Bush gave her a deceptively simple task before getting to work on The Project – recording her own version of her all-time favorite record, note for note and completely alone. For Ell, that record is John Mayer's Continuum, and after locking herself in a studio for two weeks straight, she had a musical epiphany.
"It made me realize that I love music when it's great, and simple," she says. "When it's great, it can stay simple – it doesn't need to be that complicated."
Well aware of Ell's reputation as one of country's most electrifying entertainers, Bush also sought to keep things simple. He recorded her with a live band as much as possible, letting her do what she does best.
"The funk aspects, the blues and the rock aspects are really where my influences lie," she says. "When I pick up a guitar, that's what makes my heart smile. But I've also gotten to a point in my life – professionally and personally – where I'm just more open, and I'm not afraid to talk about it in songwriting."
The Project's first single, "Waiting on You," is the perfect combination of those traits, basking in slippery guitar grooves and real-life romantic optimism. Longtime fan favorite "Criminal" follows suit, swaying under the invincible armor of fresh love, while the wounded "Worth the Wait" holds out hope that some things really are meant to be.
"Champagne" shows off Ell's personal swagger – complete with a strutting horn section and a message about the proper way to treat a woman. "Mint" features a refreshing, carefree beat, and the sugary pop of "Good" reveals Ell's cautious joy as her dreams come true. "It's so scary for things to work out," she says with a nervous laugh.
Meanwhile, "Wildfire" burns with the same passionate intensity Ell displays onstage, "Space" takes a vocally-stunning look at long-distance relationships – whether physical or emotional – and "White Noise" explores the glazed over, hallow feeling of a bad breakup. That powerful track was written by hit makers Kelsea Ballerini, Ross Copperman, and Josh Kear.
"There's a rawness in a slow groove like that," says Ell. "The vocal is gritty and you're talking about a heart being broken, trying to think of anything but that, and everything else in life seems like white noise. I feel like that's something we can all connect to."
Another track many will relate to – and one which speaks directly to The Project's theme of self-discovery – is "Just Another Girl." Ell wrote the tune with Shane McAnally and Josh Osborne, but even with a bouncy country beat and sunny steel guitar, its lyrics are deeply meaningful. It's all about making sure your true calling doesn't slip away.
"I really believe everybody has their own story and their own path of brilliance ahead of them," Ell explains, hinting at the her own winding journey. "It's a song of not settling for things, careers, or even emotions that you're having, just because they happen to you all the time. It's about knowing you're meant for something more special than that."
With her long-awaited album debut, Lindsay Ell has discovered what she was meant for, and who she really is. Her next "project" will be to pass that message on.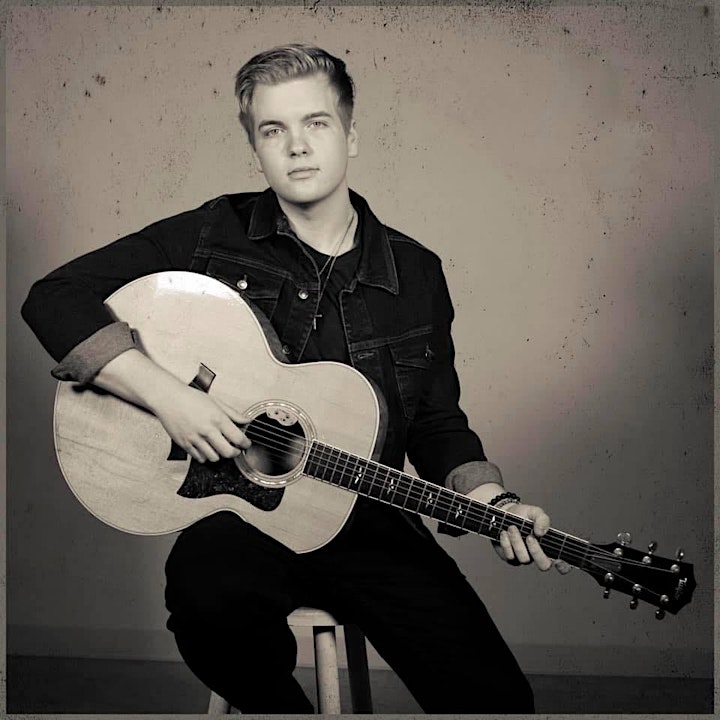 Caleb Lee Hutchinson
"I'm not just some kid from a singing show who can do covers. I have something different to bring to the table."
That's Caleb Lee Hutchinson, charting a bold course for his country career and knowing it won't be easy – especially in a landscape full of singing show graduates. But then again, he's used to standing out.
After all, Hutchinson was the blond-haired charmer whose crisp baritone and forward-thinking tastes captivated American Idol's 16th season, and with an adventurous batch of original music on the way, he's ready to build on those hints of artistry. One of the genre's finest new vocals reaches back through history and combines with a cutting-edge vision of modern country sonics, as classic meets contemporary in earnest.
"I'm not trying to be 'John Doe,'" Hutchinson explains. "I'm just trying to be me."
Raised in the small town of Dallas, Georgia, just 35 miles west of Atlanta, Hutchinson came by this new generation of three-chords-and-the-truth honestly – while other kids were obsessing over sports, he was doing the same with music. His dad schooled him in classic-country icons like Waylon Jennings and Merle Haggard, his mother loved the electronic energy of '80s pop, and an uncle kept heavy-metal legends like Black Sabbath and Led Zeppelin in constant rotation.
At five years old the youngster learned to sing on a karaoke machine, then picked up a guitar and began setting up "shows" in his uncle's basement. He learned Johnny Cash's gritty "Folsom Prison Blues" as his first song and was soon winning local talent shows – even opening concerts for trad-country stalwarts like Gene Watson and Rhonda Vincent in middle school. But by his senior year, a restless creativity began to emerge, with Hutchinson posting countrified covers of hip-hop star Post Malone online and foreshadowing his story to come.
In 2017 he took that spirit to American Idol, moving seamlessly between his love for traditional giants like Keith Whitley and rough-hewn modern stars like Sturgill Simpson. He stood out immediately as fans latched on to his dynamic Southern vocals – just as resonate on Carrie Underwood's "So Small" as they were on Prince's "When Doves Cry" – and by the show's finale he had earned a strong second- place finish. But it felt more like a beginning than an end.
"Half the reason I took a chance and did Idol was because my parents were like 'You only get one life. You don't want to look back when you're 50 and wish you had tried a little harder,'" Hutchinson says. "There's a path in country that nobody's really on right now, and even if the music I make is a little out in left field, at least it will be something you've never heard before."
With six new tracks, that path is becoming clear. In 2018 he joined producer Kristian Bush in an Atlanta recording studio – one half of the Grammy winning country duo Sugarland, and no stranger to infusing country with outside energy. With Bush as his guide, Hutchinson began by walking the time- worn trails of country's past, but soon struck out into a wilderness of anything-goes inspiration. Classic balladry mixes with blistering Southern rock and rootsy indie pop, with acoustic guitars and moody rhythms meeting ethereal, electronic effects. A self-penned standout lays Hutchinson's soul bare and a rap anthem transforms into a stone-country heartbreaker – all built around that commanding baritone, geared low for traction in the muddy emotions which connect us all.
"I think it has a broad array of sounds," Hutchinson says of the new tunes. "They're not quite folky, not quite singer-songwriter, but leaning to that side of country, and that's my favorite thing – there's all kinds of craziness going on."
With a swampy slide guitar leading the charge, Hutchinson gets real in a hurry on "As Good As You Think I Am," connected in part to the double-edged sword of American Idol fame. Propulsive and yet introspective, "It's not about living up to expectations and pressure," he explains, "but just trying to be a person someone else can be proud of."
The humble sentiment continues on "Steering Wheel Prayers," an early-morning conversation between God and a regular Joe presented in quiet, piano-forward desperation. "It hit me in the gut, because there was a period in my life when I had to learn to accept myself and grow," Hutchinson admits. The woozy "If I Ever Will" nurses a bad breakup, two-stepping through a smoky honky tonk and conjuring neo- traditional memories "like somebody's guts falling out onto the table," he says.
Meanwhile, "Belle of the Bar" takes a turn toward dreamy modern rock, with ambient guitars and vocal echos framing a blue-jeaned vision of love at first sight. "It's a good mix of what I'm going for," Hutchinson says, "traditional, modern and experimental at the same time." But to truly grasp that "modern and experimental" side, look no further than "Better Now."
Feeling like a glimpse of a genre-less future, the lovelorn ballad features a low-down storyline and drips in soulful twang – but it's actually another Post Malone send up, this one a platinum-certified hit stripped to its foundation. "It's the whole reason I love country," Hutchinson explains about the striking roots-rap hybrid. "It's vulnerable and honest, and it was also a chance to do something real funky and weird."
Looking back, Hutchinson admits he's often thought of his music as "weird," but the dark rock anthem "Left of Me" proves others are not so dismissive. Written by Hutchinson solo during the 2018 American Idol Live! Tour, it fuses the sonic edge of underground heroes like the Drive By Truckers with a melodic sense befitting a student of radio icons like Tom Petty, and points the way forward for Hutchinson to bring something "different" to country. He actually assumed his booming tale of romantic hindsight wasn't good enough to record ... but Bush put those fears to rest.
"At first I thought 'What can I possibly have to say that hasn't already been said?'" Hutchinson admits. "But [Bush] was like 'No, you have a story to tell.'" To be sure, that story is just now beginning to unfold. But one thing is already certain – it will be his, and his alone.
"There ain't no point in doing something if 100 people are doing it already," he says. "If I'm really gonna do this with my life and I'm really gonna take a leap of faith, I might as well do it in a way that means something to me."
Performers
Date and Time
Location
Troubadour
9081 Santa Monica Blvd
Los Angeles, CA 90069
United States
Refund Policy