Description
Healing Arts Workshop
This workshop will introduce participants to mandalas, what they are, how they've been used in different cultures and traditions and spirituality. Caroline Z. Marcos holds a Masters degree in Marital and Family Therapy and Art Therapy. She will introduce how mandalas have been used in the field of art therapy and finally each participant will create their own original piece using mixed media. She will teach how to create, textures, and layering using acrylic paint, and collage, on bristol paper!
Psalm's ARTS Studio is excited to be partnering with Caroline to bring healing thorugh art with this 3-Hour workshop. Space is limited so make sure to Register.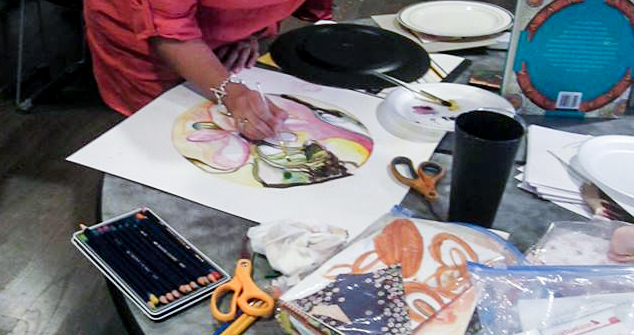 About Caroline Z. Marcos
She has worked as an art therapist/family counselor under the LPC-Intern license at Houston First Baptist Church as well as various community clinics in California. Upon becoming a mom herself she focuses on her children and her art. Nonetheless, she can not help but share the joy and healing of art making with others on a frequent basis.
Caroline creates works of fine art; utilizing various mediums and techniques, such as acrylic gel medium transfers, encaustic, collage, and oil stick. Creativity as play and using tactile mediums are inspirations to her pieces. She has participated in over 13 Juried shows and has had 3 commissions and various collectors. She enjoys participating in the Houston art community on a regular basis. (www.carolinez.com)
She recieved her degree at Notre Dame de Namur University, Graduate School of Sciences; Art Therapy
Psychology, Belmont CA with a Masters in Marriage and Family Therapy with Art Therapy emphasis