The Queens Baseball Convention also known as the QBC is a fan fest run by the fans of our favorite baseball team from Flushing Queens.
About this event
The Queens Baseball Convention also known as the QBC is a fan fest run by the fans of our favorite baseball team from Flushing Queens. We have put this Fan Fest together as a mix of a Comic Con and a baseball card show.We hold our "BIG" QBC in January before the start of Spring Training. As fans we were looking for an event that would help us get through the winter months and help us with the lack of Flushing Baseball.You can email us at qbc16@gmail.com
Follow us on twitter at @QBConvention and also @mediagoon.
Our Instagram is QBConvention.
For November 13th 2021 event at Mulcahy's in Wantagh LI, we will be having :
Broadcasters(and former player) Ron Darling and Gary Cohen.
Olympian and former Flushing baseball player Todd Frazier.
SNY is bringing in air talent for a panel.
Meet the Mets Execs is back with Jay Horwitz, Will Carafello, and Tara Napoli.
Mets Author Panel
New Panel Just Added:
Director/Producer of the 30 for 30 documentary- Once Upon a Time in Queens.
Schedule for the Day(Subject to change)
11:00 am- Doors Open
11:15 am - State of the Mets
12:00 pm - Gil Hodges Unforgettable Fire Award
12:30 pm - Ron & Gary Panel
1:30 pm - SNY
Ron & Gary autographs
2:30 pm - Meet the Mets Execs
3:30 pm - Todd Frazier Panel
4:30 pm - Nick Davis Panel
Todd Frazier autographs
5:30 pm - Mets Authors Panel
6:30 pm - End
General Admission Tickets are $25.00 plus tax/fees
Gary Cohen Autograph is $40
Gary Cohen "It's Outta Here" Inscription $20
Gary Cohen Inscription $10
Ron Darling Autograph $40
Ron Darling Inscription $10
Gary Cohen and Ron Darling Auto Combo $
Todd Frazier Autograph $25
Todd Frazier Inscription $10
.
Admission tickets and autographs are separate. You need to buy General Admission tickets to enter QBC. There are no combo ticket/autograph packages.
COVID 19 Policy for QBC 2021
The protocols that will be put in place are as follows:
• All attendees (paid attendees, guests, vendors, and volunteers) must be EITHER fully vaccinated OR if not vaccinated, must present proof of a negative COVID-19 PCR test taken within 72 hours of the QBC start time, or a negative COVID-19 antigen test taken within 6 hours of the start time. This includes guests under 12 who are not yet eligible for a vaccine. "Fully vaccinated" means the guest must have received the second dose of a two-dose COVID-19 vaccine, or their first does of a single-dose COVID-19 vaccine (J&J) no later than September 30th
Proof of vaccination must be presented in one of the following manners:
▪ A CDC vaccination record card
▪ A record of vaccination from the health care provider who administered the vaccine, along with a government-issued or official document bearing the name of the individual and a photo or date of birth matching the name on the COVID-19 vaccination documentation
▪ PrintedCOVID19 vaccination documentation or a clear photo of documentation displayed on your iPhone or Android phone will be accepted
▪ NYC COVID Safe Pass, New York State Excelsior Pass, or EU Digital Passport will also be accepted
• All attendees must wear masks while inside the venue, except while eating or drinking in designated areas
• Guests who fail to comply with these protocols will not be admitted into the QBC, or will be asked to leave.
Talent subject to change.
No Refunds unless due to cancellation of the event.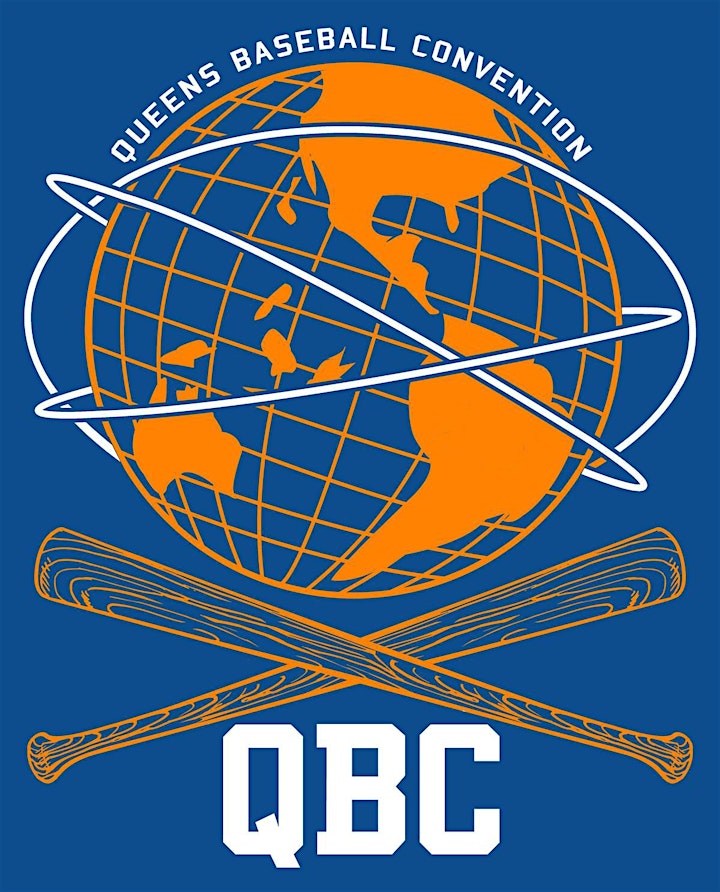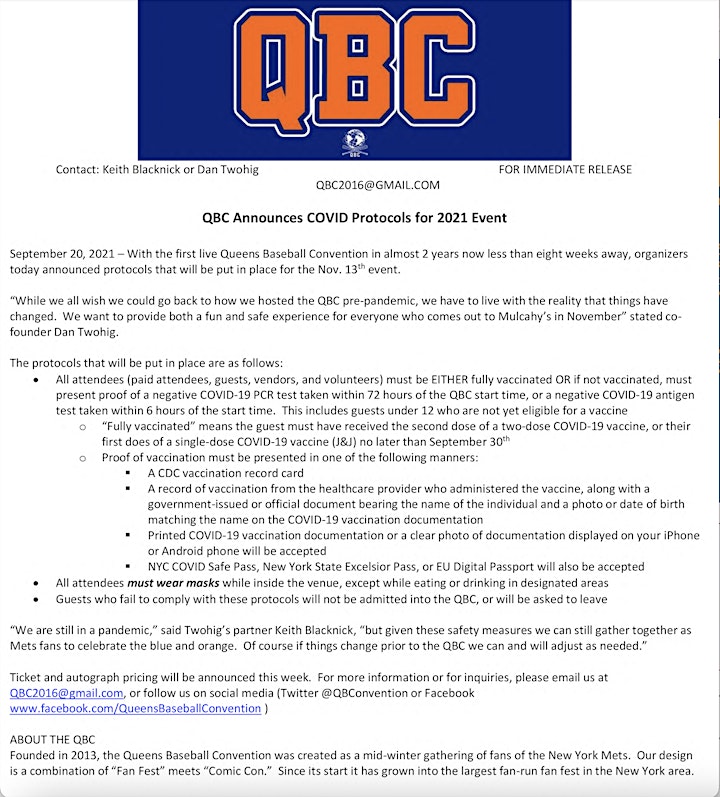 Organizer of Queens Baseball Convention: QBC 2021
Some Fans noticed something was missing during the offseason for the team from Flushing. Other teams have fanfests and their team didn't. They decided to do something about it. TThey decided to make a fanfest that they would want to go to themselves and they succeeded. That is when the QBC aka QUEENS BASEBALL CONVENTION was born.