Description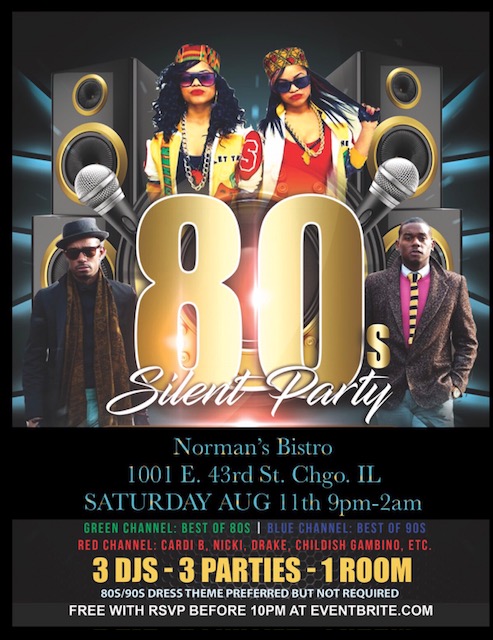 Today Muzic Doctors brings you a quality, grown, and sexy event in Chicago's Bronzeville area at Norman's Bistro located at 1001 E. 43rd St. Chicago, IL. from 9pm-2am in a Silent Butt Loud Party format! Silent parties are hot and are sweeping the country off it's feet. At this first ever silent "Butt Loud" event you'll receive a specially designed pair of Muzic Doctors headphones that have their own volume control and three different channels being controlled by three different Djs playing three different types of Music. Don't like what the dj is playing? Change the channel! Wanna talk to that special someone? Take off the headphones. It's just that simple. The green channel dj will be playing the best of the 80's, the blue channel dj will be playing the best of the 90's and the red channel dj will be playing the best and latest of Hip Hop and R & B all night!
80/90s dress theme preferred but not required. Kitchen Open Late!!!
SNAP CHATTERS AND INSTAGRAMMERS ALERT!!!
This is a silent butt loud event meaning the RED channel will have it's music playing thru finely tuned speakers allowing for effective SNAPCHATTING AND INSTAGRAMMING.
GOT ME IN MY FEELINGS CHALLENGE ON ALL CHANNELS AT 11pm!!! (Don't Be late!)
Must be 21 and over with VALID I.D. to attend. STRICT NO REFUND POLICY. By attending this event you agree to allow your photos/images to be used in future promotions and marketing endeavors.
To celebrate your birthday for free at a Muzic Doctors Event send your request to reservations@muzicdoctors.com or call 708-417-0869.
Interested in dejaying at a Muzic Doctors event? Email your inquiry to info@muzicdoctors.com or call 708-417-0869.
FREE RENTAL BEFORE 10PM WITH RSVP
ONLY ONE RSVP PER PERSON WILL BE ACCEPTED. THANK YOU!!!