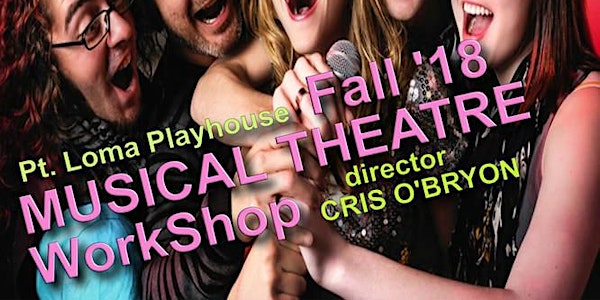 8 Week Musical Theatre Workshop+Showcase
Date and time
September 10, 2018 · 8pm - November 4, 2018 · 10pm PDT
Location
Point Loma Playhouse 3035 Talbot Street San Diego, CA 92106
Refund Policy
Contact the organizer to request a refund.
Description
+ 2 Showcase Performances
Finding one's own voice, and developing it from that authenticity is the most important part of making a unique impact in the world. This is also the greatest path to freeing the voice to be as full, resonant and powerful as it was meant to be. So many times, we want to stand out and yet fit in at the same time. We want to be (fill-in-the-blank), but the world already has that person. What the world needs is YOU, and that begins by finding your own voice, connected to body, soul, and spirit!

During the safe environment of this workshop, you will learn how to connect with your breath better, to find your 'why' sooner, to use your music to your advantage instead of feeling trapped by it, and to understand the how the lyrics and your history can push you ahead or pull you back. You will get many chances to perform and watch others do the same. You will receive pinpoint direction on what traps you many not even know you have, and what will free your work and bring your music to beautiful final performance.
Students should be able to match pitch and have a basic foundation for singing to allow for a fair evrionment for the other students with prior singing experience, not recommended for beginners.
Wherever you begin, it is the goal of this workshop to move every single member farther along in their musical journey, to explore new perspectives on known and less-known music, and to share the joy of that growth in the 2 shows that wrap up the workshop intensive. Be yourself! Everyone else is taken." - Oscar Wilde
Teaching Artist:
Cris O'Bryon
Workshop Dates:
Mondays, Sept 10, 17,
24 Oct
1, 8, 15, 22, 29
Workshop Times: 7 PM to 10 PM
Age: 18+
Showcase Dates/Times:
Sat Nov 3, 8pm
,
Sun Nov 4, 2pm
Returning PLP Workshop Members: $225
New PLP Workshop Members: $255
Location: 3035 Talbot St Point Loma, CA 92106 at the Historic Point Loma Assembly
About the organizer
Point Loma Playhouse is a 501(c)(3) non-profit community theater organization residing in the historic Point Loma Assembly Building, est. 1911. The mission of Point Loma Playhouse is to present quality theatre productions and educational workshops to the community.