8 Hours eUsahawan Training LIVE In Penang (Pre-Registration 2019)

Tuesday, January 1, 2019 from 10:00 AM to 7:00 PM (Malaysia Time Malaysia (Kuala Lumpur) Time)
Event Details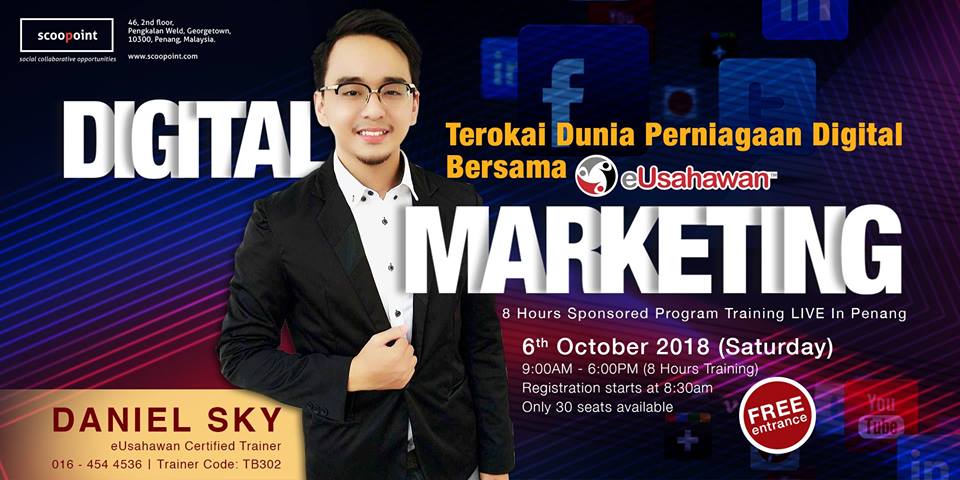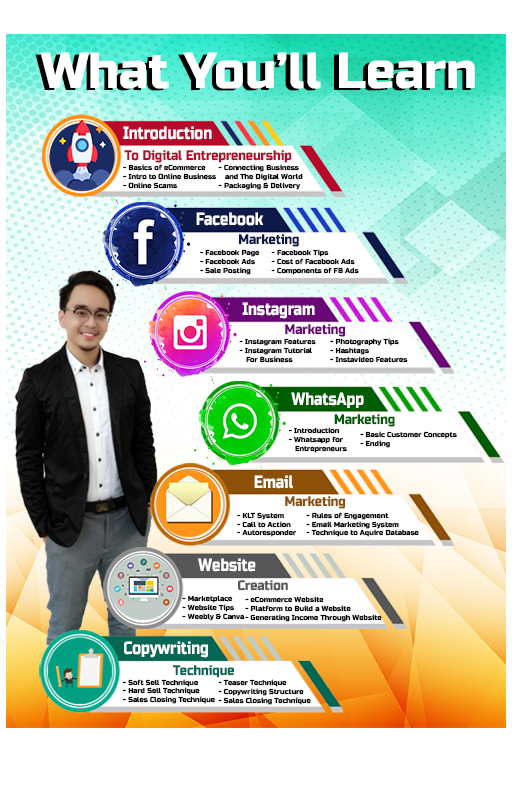 FREE 8 Hours eUsahawan Training in Penang
Book Your Seat Now at >>  http://bit.ly/eUsahawanTraining <<
-----------------------------------
Terokai Dunia Perniagaan Digital Bersama eUsahawan
What You'll Learn:
- Introduction to Digital Entrepreneurship
- Facebook Marketing
- Instagram Marketing
- Whatsapp Marketing
- Email Marketing
- Website Creation
- Google Trends
- Copywriting Technique
- Search Engine Optimisation (SEO)
Sign up now at >>  http://bit.ly/eUsahawanTraining <<
-----------------------------------
Requirements:
- Possessed Malaysia Citizenship
- Aged 18 years old and above
- Have a product or service to market
- Must have a Laptop with Google Chrome Browser
- Must have Facebook, Instagram, Google and whatsapp Account
- Must have a smartphone along with an internet connection
- Priority is given to those who have NEVER attended an eUsahawan program (First Timer)
Register Now at >>  http://bit.ly/eUsahawanTraining <<
-----------------------------------
Class Schedule:
Entrance Fee: Sponsored
Date: Next Year 2019
Time: 9:00AM - 6:00PM (8 Hours Training) 
Registration Start at 8:30am
Location: To Be Announced 

Waze >>
Or 
Google Map >> 
-----------------------------------
Note: This program is prioritize to first timer. An e-Certificate will be given upon completing the 8 hours training and watched all the videos in eUsahawan Portal. The e-Certificate is downloadable. Additional bonuses and more free training activities and workshop are also given to those who stayed for the 8 hours training. 

Reserve Your Seat Now at >>  http://bit.ly/eUsahawanTraining <<
--------------------------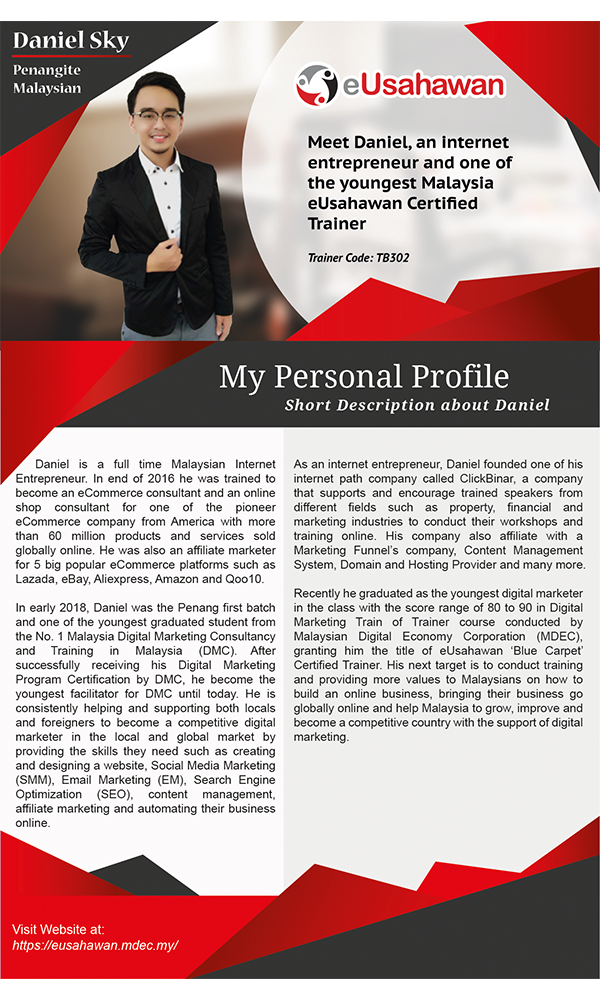 Not Yet Sign Up? Click Here  >>  http://bit.ly/eUsahawanTraining <<

Thank you and hope to see you soon

To Your Success
Daniel 
Certified eUsahawan Trainer
Trainer Code: TB302
When & Where

To Be Announced

George Town, Pulau Pinang 10300
Malaysia

Tuesday, January 1, 2019 from 10:00 AM to 7:00 PM (Malaysia Time Malaysia (Kuala Lumpur) Time)
Add to my calendar
Organizer
Daniel is a full time Malaysian Internet Entrepreneur. In end of 2016 he was trained to become an eCommerce consultant and an online shop consultant for one of the pioneer eCommerce company from America with more than 60 million products and services sold globally online. He was also an affiliate marketer for 5 big popular eCommerce platforms such as Lazada, eBay, Aliexpress, Amazon and Qoo10.
In early 2018, Daniel was the Penang first batch and one of the youngest graduated student from the No. 1 Malaysia Digital Marketing Consultancy and Training in Malaysia (DMC). After successfully receiving his Digital Marketing Program Certification by DMC, he become the youngest facilitator for DMC until today. He is consistently helping and supporting both locals and foreigners to become a competitive digital marketer in the local and global market by providing the skills they need such as creating and designing a website, Social Media Marketing (SMM), Email Marketing (EM), Search Engine Optimization (SEO), content management, affiliate marketing and automating their business online.
As an internet entrepreneur, Daniel founded one of his internet path company called ClickBinar, a company that supports and encourage trained speakers from different fields such as property, financial and marketing industries to conduct their workshops and training online. His company also affiliate with a Marketing Funnel's company, Content Management System, Domain and Hosting Provider and many more.
Recently he graduated as the youngest digital marketer in the class with the score range of 80 to 90 in Digital Marketing Train of Trainer course conducted by Malaysian Digital Economy Corporation (MDEC), granting him the title of eUsahawan 'Blue Carpet' Certified Trainer. His next target is to conduct training and providing more values to Malaysians on how to build an online business, bringing their business go globally online and help Malaysia to grow, improve and become a competitive country with the support of digital marketing.