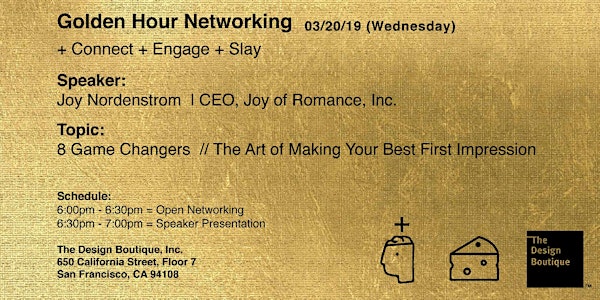 8 Game Changers // The Art of Making Your Best First Impression
When and where
Location
The Design Boutique, Inc. 650 California Street 7th Floor San Francisco, CA 94108
Description
8 Game Changers // The Art of Making Your Best First Impression
Joy Nordenstrom | CEO, Joy of Romance, Inc.
Joy Nordenstrom, founder of Joy of Romance, Inc., relationship coach and certified matchmaker, explain how to make your best first impression and set the stage for a successful relationship moving forward, whether in a business setting or on a first date.
Key Learning points:
Scientifically-backed ways to authentically present yourself

Inviting others to quickly bring down their guard down so you can mutually get to know one another
Takeaways:
Simple techniques for communicating

Understanding neurosciences for relating
Schedule:
6:00pm - 6:30pm = Open Networking (nibbles will be served)
6:30pm - 7:00 pm = Speaker Presentation
Golden Hour Networking is a monthly networking event held on the 3rd Wednesday of every month. RSVP required to gain access to the building. You must be on the list to attend. Bring valid ID to gain access to the building.