8 Elements™ Intensive 1: Initiation / August 5th - 9th, 2017 Portland, OR

Saturday, August 5, 2017 at 12:30 PM (PDT)
Event Details
SOLD OUT! Thanks!!!
If you didn't get a spot, please post your interest on the facebook event page as people often sell their spots before the intensive. Please also sign up for the waitlist here. Thanks!
---
 
Little Scarab Presents a five day intensive with Rachel Brice:
The 8 Elements™ Intensive I : Initiation
August 5th - 9th, 2017 Portland, OR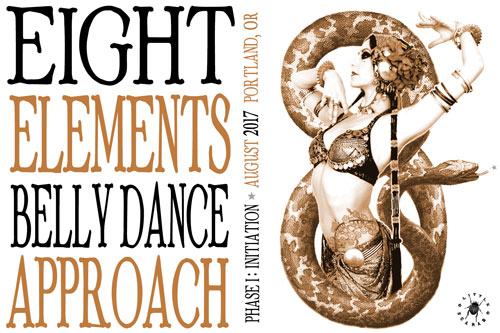 Class size limited
36 Hour Program | Optional Testing Offered
Schedule
Saturday 8/5          12:30pm - 8pm
Sunday 8/6            1pm - 8pm
Monday 8/7           9:30am - 4:30pm / 6:30pm - 8:30pm Roots of Datura Style™ Dance and Aesthetic
Tuesday 8/8           9:30am - 4:30pm
Wednesday 8/9      9:30am - 4:30 / 5:00pm - 7:00pm testing / 8:30pm - 10:30pm Hafla
**On time attendance in all sessions, including the hafla, is required for testing. Sorry, no exceptions.
The 8 Elements™ Approach Overview
The 8 Elements™ is a process-centered approach developed by Rachel Brice. It is rooted in tribal fusion, american tribal and american cabaret belly dance styles, other contemporary and ethnic dance forms, and viniyoga™. 
The 8 Elements™ is a multi-phase training designed to impart a strong, creative and dynamic foundation to one's belly dance practice, and as a way to complement and converse with the many belly dance styles. The intention of this student-centered approach is not to teach a set style of belly dance, but rather, seeks to explore the underlying architecture of many dance styles, honoring traditions, while encouraging discovery, excellence, innovation and joy.
8 Elements™ Intensive I : Initiation
Initiation, Phase I of the 8 Elements™ training, introduces and explores 8 key concepts building from the simple to the complex with the purpose of laying a foundation to unlock the "how" of dance making and healthy dance practice. Through Initiation, participants are introduced to the key concepts of the approach which encompass biomechanics, vocabulary development, improvisation, choreography, musicality, practice development, belly dance history, costuming, and performance preparation and experience. Participants in this intensive will come away with a tool box full of methods and concepts to improve technique, stimulate creativity, and begin to build effective and dynamic dances, whether improvised or choreographed, solo or with others. 
Initiation is open to all levels of dancers, from the familiar beginner (1+ year of experience) to the seasoned performer seeking to strengthen the foundation of their dance.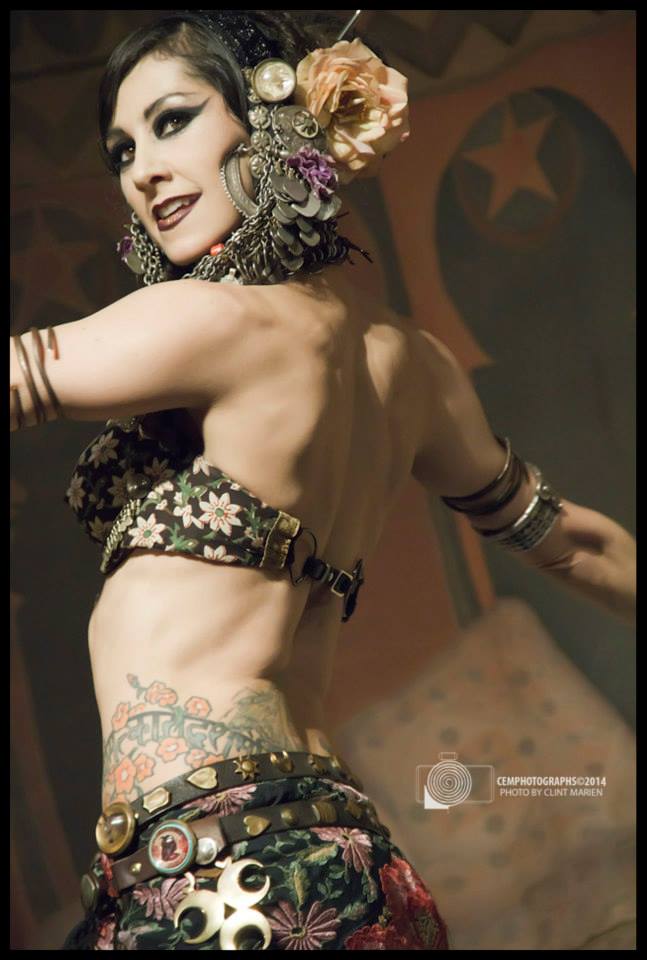 Testing Recognition and Certification
Registration for testing is here.
The 8 Elements™ intensives are intended as an approach for exploration and development of one's personal dance practice, with the opportunity to join a network of other practitioners and teachers who have displayed a degree of commitment and proficiency in the approach through testing for recognition at each phase and two culminating certifications: A Practitioner's Certification and a Teaching Certification.
The Practitioner's Certification will be offered for participants who complete Phases I - III and who satisfy the requirements and testing for each phase. The Teaching Certification will be offered after the completion of Phase IV, the Teacher Training phase and its requirements. Participants who complete all phases, projects, and testing, earning the Teaching Certification, will be certified to teach material from the 8 Elements Datura Style™ approach.
More information about Rachel Brice's 8 Elements™ method is here and a FAQ can be found here.
 Requirements for the Intensive 
A minimum of 1 year of belly dance training.
English language proficiency in reading, writing, and speaking.
A willingness to work with others and actively participate in an intensive group setting.
Students are at least 18 years old.
The ability to dance at least 5+ hours per class day.
Location
918 SW Yamhill St, 4th Floor
Portland, OR 97205
http://www.nianow.com/studionia
StudioNia is located on the 4th floor of the Pythian Building in the heart of downtown Portland.
Here's a map of StudioNia and nearby places of interest.
Below are some resources to help you get here and plan your stay.
Portland International Airport (PDX) Visit the official Port of Portland site for airport and passenger services.
Blue Star Airport Shuttle Phone: (503) 249-1837 Visit this site to arrange ground transportation.
TriMet - MAX Light Rail Portland's award winning public transportation. You can ride the Redline Train directly from Portland International Airport to the "Galleria/SW 10th Avenue" stop one block north of StudioNia.
Portland, Oregon Visitors Association (POVA) - Visit the official tourism and meeting website for Portland, Oregon.
Portland Citysearch - A great resource for finding all of the area hotspots.
Area Accommodations + Discounts
StudioNia is located in the heart of Portland's Downtown. The following is a list of places to stay. You can find additional hotel information from POVA (Portland Visitors Association).
Paramount Hotel:  808 SW Taylor, Portland, OR 97205. 503-223-9900. 2 blocks from StudioNia. 

Special rate when you reserve your room online at  http://www.portlandparamount.com, enter "NIATE" under Corporate ID to receive your discount. Mention that you are with a Nia Intensive Training for phone reservations.

Hotel deLuxe: 729 SW 15th Ave, Portland, OR 97205. 503-219-2094
Reserve your room on-line and receive a special client appreciation discount rate at this link: http://tiny.cc/studiodatura-deluxe.

Hotel Modera: 515 SW Clay St, Portland, OR 97201. 877-484-1084.
The Crystal Hotel: http://www.mcmenamins.com/CrystalHotel. 303 SW 12th Ave, Portland, OR 97205. 503-972-2670 / 855-205-3930.  Located just 8 blocks from StudioNia with the added bonus of a soaking pool. Invite your friends over after class to soak those sore muscles.
Mark Spencer Hotel:  409 SW 11th Ave, Portland, OR 97205. 503-224-3293 | 800-548-3934.  A 10 minute walk to StudioNia. When booking online, follow the directions below to receive a discount:
1. Visit www.markspencer.com and scroll all the way to the bottom of the page. Click the little blue tab that says "Group Log In"
2. Enter Group ID as 8ELEMENT
3. Enter Password as 8ELEMENT2017
4. Enter dates and reserve as normal.
Northwest Portland Hostel:  425 NW 18th Ave, Portland, OR 97209. 503-241-2783. A 20 minute walk to StudioNia. 
Portland Guest House:  2185 NW Flanders St, Portland, OR 97209. 503-224-0500 / 877-228-0500. A 20 minute walk to StudioNia, or easy Street Car Ride. European-style accommodations for the budget minded, independent traveler.
AirBnB:  https://www.airbnb.com. A peer to peer website that allows private residencies to rent their rooms or apartments out to guests. Based upon a review system so be sure to do your research. Many attendees have found great deals here.
Connect with other workshop attendees on the Facebook event page.
To prepare for the intensive you can start class with Rachel now on Datura Online.
---
Questions? Answers to frequently asked questions can be found here.
Terms of Service: These requirements are tough, and we have found through our experience that they are necessary to guarantee the best experience for everyone. If you have any questions that are not addressed on the FAQ please contact the event organizer. Thank you for reading this message!
Please be certain you wish to register for this intensive as it is not refundable or returnable.
In the case where a registrant is unable to attend, it is their responsibility to sell their spot and notify the event organizer with the new registrant's email and name. Registrations can not be transferred within 30 days before the first day of class. No exceptions.
The intensive can not be taken in part or shared between more than one person.
If workshop sells out please sign up for the waitlist and post your interest on the Facebook event page wall. The waitlist is not for public use.
Little Scarab and Rachel Brice retain the right to refuse registration, enrollment or participation to anyone at any time before or during the workshop.
These provisions are necessary to guarantee the best experience for all participants. Sorry, no exceptions. Thank you.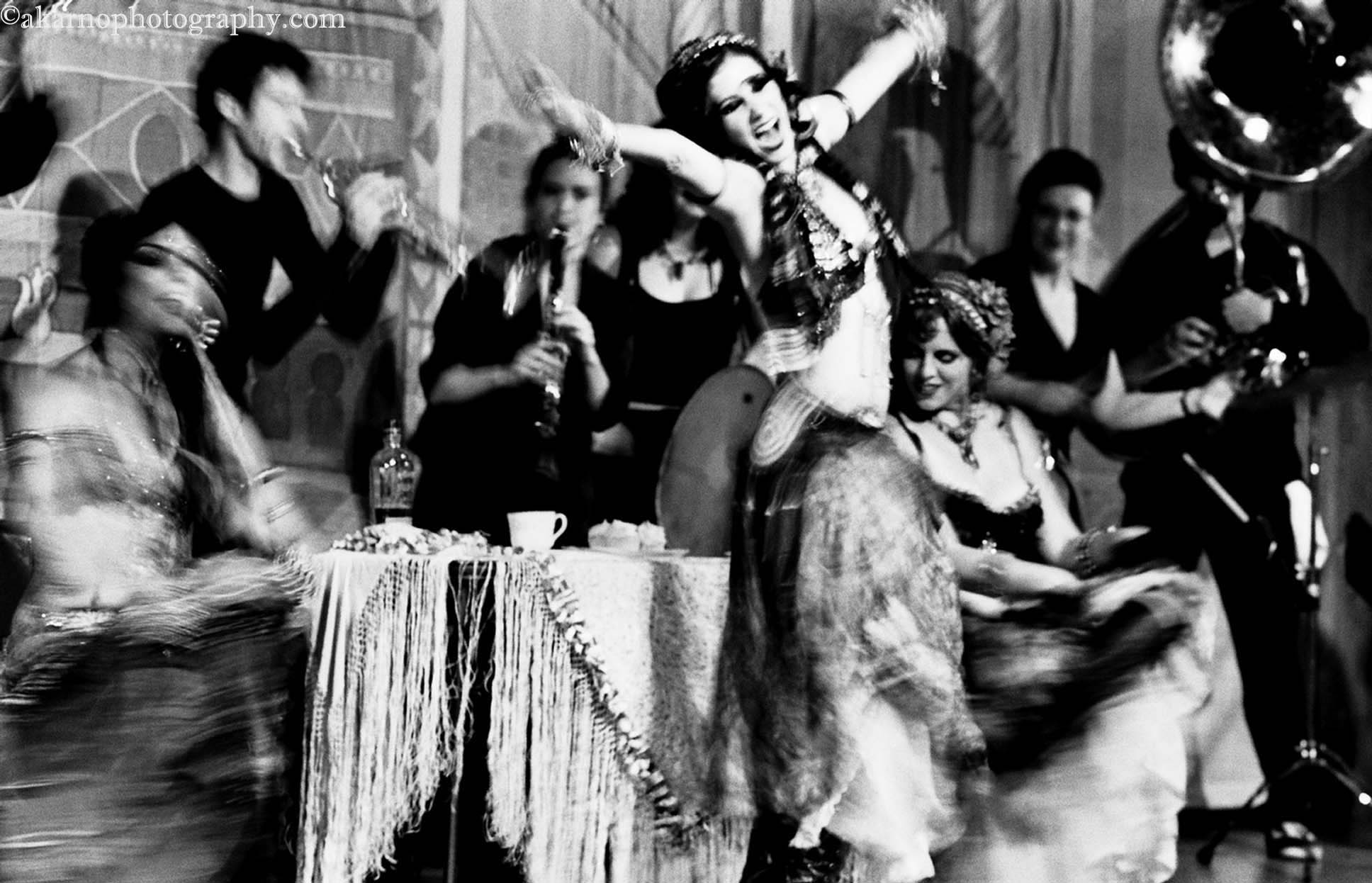 Have questions about 8 Elements™ Intensive 1: Initiation / August 5th - 9th, 2017 Portland, OR?
Contact Little Scarab
When & Where

StudioNia
918 SW Yamhill St, 4th Floor
Portland, OR 97205


Saturday, August 5, 2017 at 12:30 PM (PDT)
Add to my calendar
Organizer
Little Scarab is an arts and entertainment management and production company presenting workshops, retreats, educational media, merchandise and performance events featuring Rachel Brice.
Little Scarab also manages Datura, a belly dance studio in Portland, OR and Datura Online, a resource for online belly dance classes and fitness videos.
Please read our 8 Elements Privacy Policy & Terms of Service.