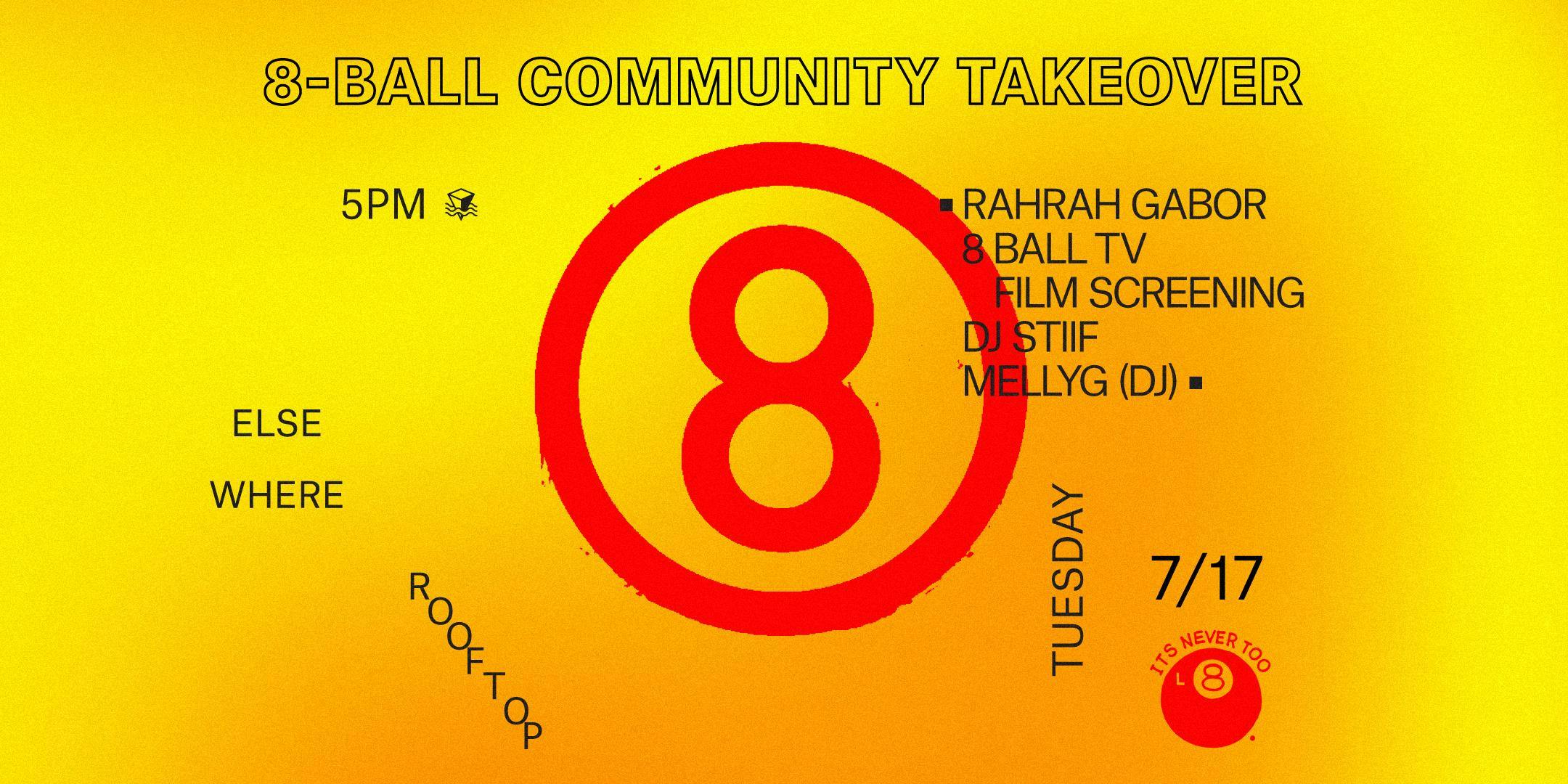 About this Event
Doors: 5PM
Happy hour: 5PM – 7PM ($4 beers, $4 wells)
Performances: 5PM - 10PM
Roof closes: 1AM
--
8 Ball Radio:
8 Ball Radio, voted Listeners Choice for Best Online Radio Station in North America in the 2018 Mixcloud Online Radio Awards, is dedicated to providing a home to a diverse array of music and talk radio that reflects the vibrant energy of New York City. 8 Ball Radio believes in building community through the exchange and exploration of music and ideas through the airwaves. 
MellyG:
Host of 8 Ball Radio's Te Aprecio Show, a regional R&B program that surveys the soul, hip hop and r&b from a particular place. Tuesday's Te Aprecio HH will be a combinado of Funk, Low Rider Jams, and Blood Orange ~ perfect after work chill vibras. 
MellyG is a bay area born, brooklyn-based multi media producer. Content Contributor for New Latin Wave and fotografa at Te Aprecio Foto ~ check out her stuff on remezcla! 
Next Te Aprecio Show airs on 8BR, Monday 7/16 at 2:00 PM
DJ Stiif:
Host of 8 Ball Radio's Disco Diaspora, which explores the international expression of the disco genre and the blending of Soca, House, Afrobeat, and other dance cultures from around the world. Hosted by DJ Stiif bi-weekly every other Sunday from 12-2pm. 
Elle Clay:
Elle Clay is a humorist and producer based in NYC. After a stint at Upright Citizens Brigade, Elle realized she wasn't a comedian. Instead, Clay refined her storytelling prowess in the coming of age comedy mixtape. Most recently, Elle produced a late night web series, 306 Late - Cue Applause -
RahRah Gabor:
Rahrah Gabor is a NYC-based, trans femme hip-hop artist. Self-described as "hip hop's Omar Little from The Wire only prettier" with her rhymes as her shotgun, Rahrah raps about everything from street life to twerking with the word play of Lil' Wayne and the lewdness of Lil' Kim. Rahrah Gabor's music is original, raw, real and unruly. She holds nothing back and her fans often pause and question," Did she really just say that?".
Raised between the inner-cities of Asbury Park and Newark NJ, Gabor started rapping in the 10th grade to prove to her classmates that a queer person can rap just as well, if not better, as their straight counterparts. She cites 1990s New York hip hop as her primary influence, including artists like Notorious B.I.G., Lil' Kim, Jadakiss, Foxy Brown and Nas. A hungry artist with a searing passion for music, Rahrah Gabor is ready to show hip-hop what a queer rapper can really do on the mic while simultaneously challenging notions of race and the conventions of heteronormativity.