Description
"After a successful "Federate the Federalist" Convention last year in Brussels, Stand Up for Europe is convening in Munich this year. This happens in a specific European context, we are at a critical crossroads with Europhobic forces remaining very strong throughout Europe but at the same time with a noticeable revival of pro-European sentiment following the Brexit vote and the election of Trump. A unique window of opportunity has opened following Macron's victory and better than expected Dutch election and the remarkable mobilization of thousands of citizens in the streets in defense of the European project. Following the upcoming German elections, we will need to seize the moment to re-kick start the European engine. Stand Up for Europe's role must be to provide all the support we possibly can from civil society to encourage our politicians to take the right actions. Federalists and pro-Europeans more than ever will need to gather forces to help this change happen.
The Munich Convention will be the opportunity to explain and celebrate our successes to date while reflecting upon what we need to improve further on our agenda and define our strategy for the coming years while spending time socializing with the other members of the movement coming to Bavaria from various city-teams spread all over the EU.
Join us between November 3 and 5 at the 7th European Convention in Munich to Stand Up together for Europe and show our unity and commitment to make Europe better for all of us."
------------------------------------------------------------------
*Please find the link to the agenda here:
- https://fr.scribd.com/document/357326852/Agenda-Stand-Up-for-Europe-Convention-2017
------------------------------------------------------------------
*Information on accommodation is available here: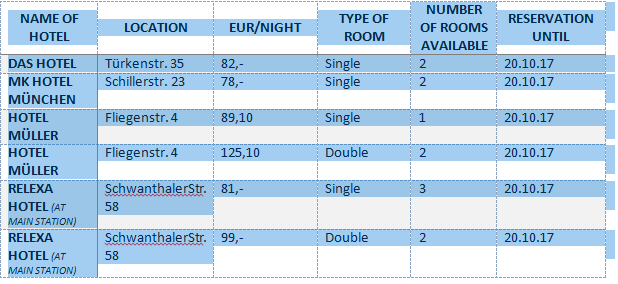 For your comfort we have made reservations in a few hotels in Munich that offered us reasonable conditions. If you are interested in one of the above rooms, please contact: sonja@stuchtey.de
We will
verify if the room is still available,

ask you for a money transfer and

send you the reservation details immediately upon reception of payment.
More hotels are available on the different online portals and, of course, market places like airbnb and so forth.
------------------------------------------------------------------------
*Please visit our Facebook event page here !
-----------------------------------------------------------------------
*Additional information:
° Participation fees are the following:
- 50 euros/ person (able to pay that amount)
- 25 euros/ employed person
- 10 euros/ students
- 0 euro/ unemployed or student not able to pay
° Saturday morning session open to non-members (from 8:15 to 12:15): 30 euros