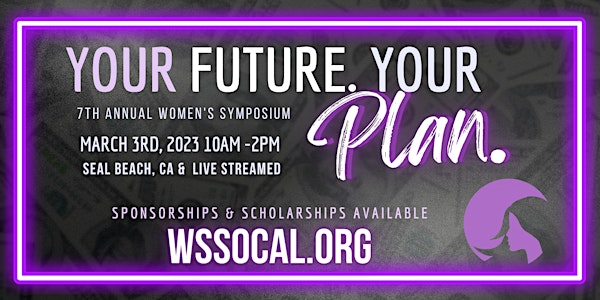 7th Annual Women's Symposium: Your Future. Your Plan (in-person & on Zoom)
The Women's Symposium improves the quality of life, financial independence, and confidence of all women.
When and where
Location
The Ranch 3020 Old Ranch Parkway Seal Beach, CA 90720
About this event
7th Annual Women's Symposium
2023 Program Theme: Your Future. Your Plan. In honor of International Women's Day!
When: Friday, March 3rd 2023 | 10am-2pm PST Hybrid in-person/Zoom program Broadcasted live from Seal Beach, CA AGENDA
Where: Broadcasting live from The Ranch Conference Room in Seal Beach CA 90740 as well as live interactive web conference link on Zoom.
Why: Annual Women's Philanthropic Celebration and Educational Symposium style community discussions to improve the lives of all women in honor of International Women's Day (IWD).#WSSCDAY#WSSCWomensSymposium #IWD2022 #Breakthebias #Womenhelpingwomen #BloomandAchieve
Women's Symposium is 100% volunteer operated and looking to grow Advisory Council Leadership! Help & Inquire today https://www.wssocal.org/volunteers
Finding Your "Why" and Funding It "How"
Women now control the majority of personal wealth in the United States and are in a greater position of financial strength than ever before. Your voice in the financial planning process is vital. But there are countless ways to get involved. What's right for you? We invite you to join us as we explore how your "Why" in life can define your role in the financial planning process - on your terms!
Topics to Consider
To what extent do you feel you can participate in decisions regarding financial decisions if you want(ed) to?
To what extent are you able to access information that you feel is important for making informed decisions regarding Financial decisions?
In this next years' Annual Women's Symposium, Your Future. Your Plan.: WSSC creates a forum for discussion around aligning one's current situation with purpose and wealth management as it relates to current events today. Learn from inspirational professional pro-bono speakers and investment managers regarding current economic conditions and forecasts, and review time proven investment strategies such as dollar cost averaging to minimize volatility and help you feel more confident making financial decisions.
Highlighting trends and resources for women today to help with measuring savings, access to credit, consumption, asset ownership, labor force participation and income, entrepreneurship, health life balance, diversity and inclusion in public and private arenas. Each of these indicators has its own measurement challenges, but the theories of empowering positive change underlying economic self-help groups, savings groups, and other women's groups suggest that each indicator is relevant and important for determining the comprehensive effects of women and their economic outcomes.
Your Future. Your Plan: The best investment is in yourself, family and community! WSSC Women's Symposium looks forward to our 7th Annual grassroots event with interactive conversations delivered from volunteers represented by the public, private and educational sectors. There is fundraising and contribution opportunities to WSSC Women's Symposium 501c3 during our events. Direct marketing and sales to attendees are prohibited during all WSSC Women's Symposiums public educational programs events since nonprofit inception in 2016.
Women's Symposium has added some mind-blowing 💣 community partners and Sponsors to bring this non sales educational and empowering forum for dialogue event to the public!
Thank you once more to all of our Women's Symposium's 2022 community supporter partners: T. Rowe Price, PIMCO, Zack's Investments, Belle Haven Investments, Brighthouse, Wells Fargo, WomensRadio, The Precious Life Shelter, Port of Long Beach, Congresseswoman Michelle Steele, City of Seal Beach, Connected Women of Influence, Sue Talks, Bogarts Organic Coffee, Pop-Drinks, GEWL, Pro Performance Biz, DIF MIX, XAHIVE and undisclosed individual contributors!
💜🥰 Women's Symposium is a no barrier to access & participate nonprofit 501c3 event via zoom. For more info: https://www.wssocal.org/registration
Unlimited zoom scholarship registrations available - join us now !