WOMEN DOING IT BIG AND FEARLESS WOMEN ROCK AWARDS LUNCHEON AND CONFERENCE SAT, NOVEMBER 16, 2019 IN NJ--MINUTES FROM NYC!
About this Event
WDIB Conference Founder, Tiana Von Johnson, will be joined by an illustrious panel of keynote speakers and celebrity panelists. This year we are focusing on BUSINESS, SPIRITUAL & PERSONAL DEVELOPMENT. A full day of activities for motivated women (and men) include interactive business, spiritual and personal development workshops, speed networking and other activities. There will also be an awards luncheon ceremony, where deserving women will receive recognition for their contributions in business and their communities. There will be a dinner with a private concert by R&B legend, Lil' Mo! Plus a live band, shopping and so much more. Attendees will arrive at 11am and stay the full day! Consider this a full day retreat!
Tiana Von Johnson is teaching you at WDIB, Tiana….
Generated Her First Million Dollars at 27-Years-Old, Her First Year in Business
One of The Most In-Demand Branding Coaches & Trainers in The World
Wall Street's Only African-American, Female Real Estate Broker
Only African-American Woman Inventor in the Board Gaming Industry
Publisher of Women Doing It Big magazine on newsstands, Barnes & Nobles and Books-A-Million Nationwide
Sold Over $10,000,000 From the Stage Selling Books, Products & Services
Delivered Over 1,500 Keynotes and Trainings for Business Organizations
Faith-Based Organizations,Community Organizations and Associations
Operates 7 Businesses While Simultaneously Training Over 200+ Entrepreneurs
Follow Tiana on social media @TianaVonJohnson
It's not the best business idea that wins, it's the BEST MARKETER WHO WINS. ~Tiana Von Johnson
Come learn the real branding and business secrets successful entrepreneurs don't want you to know.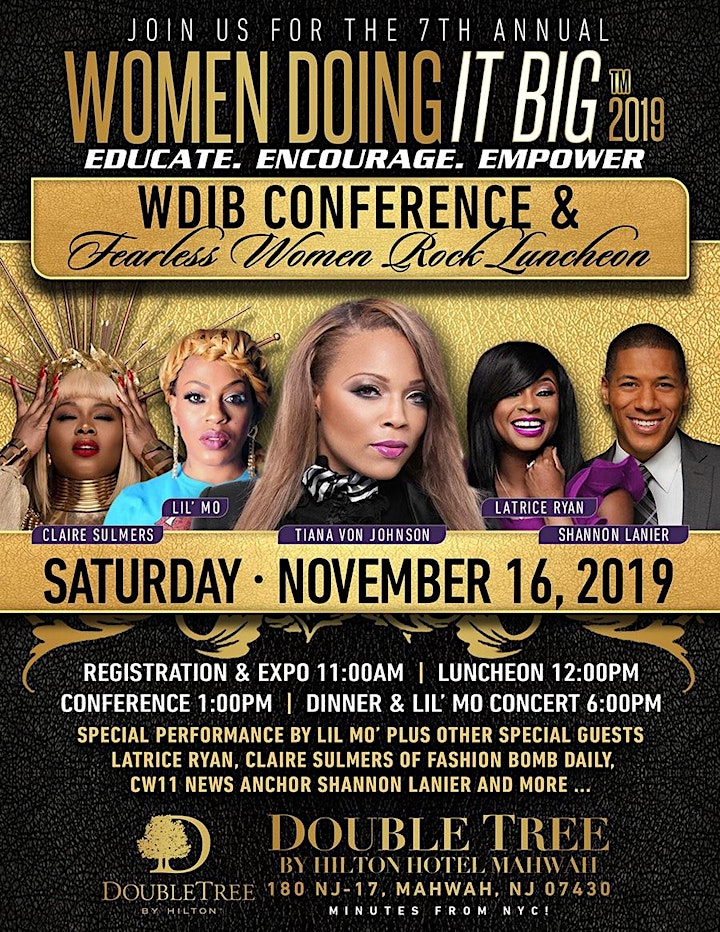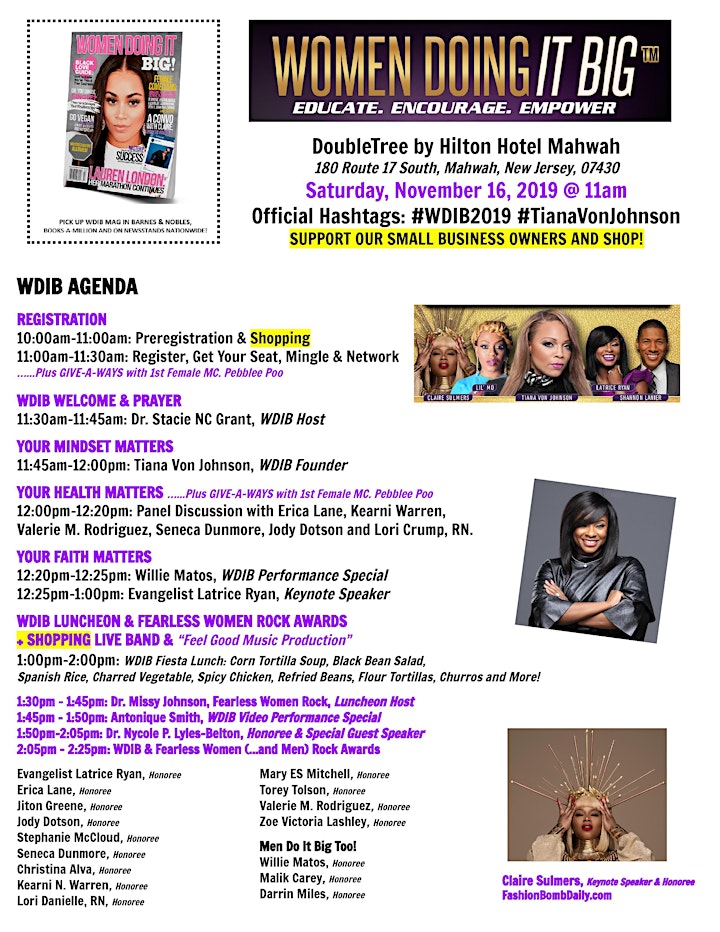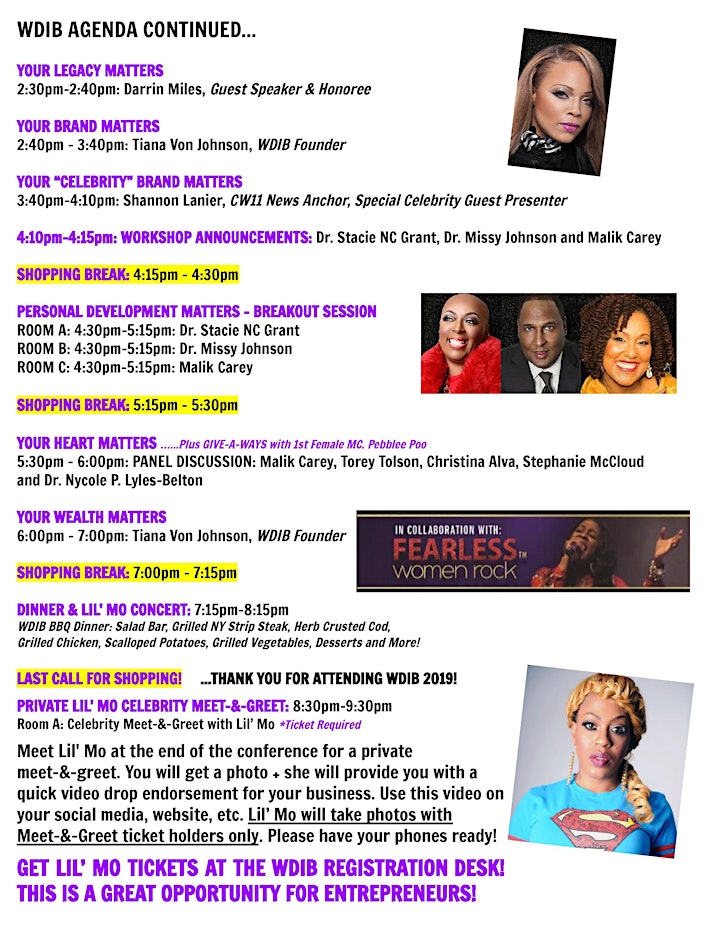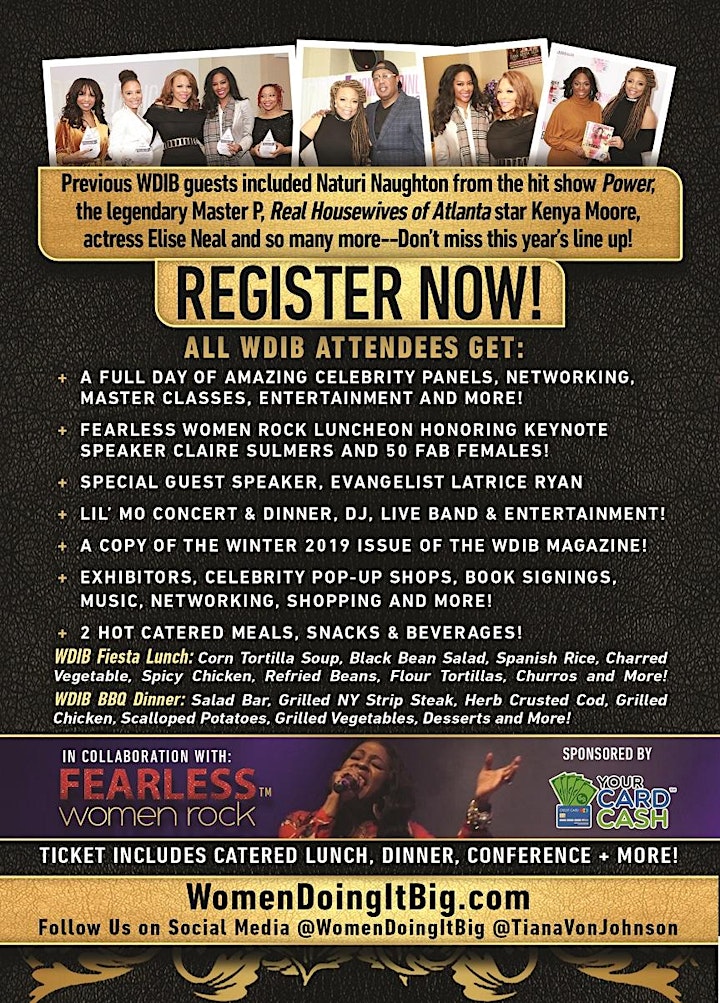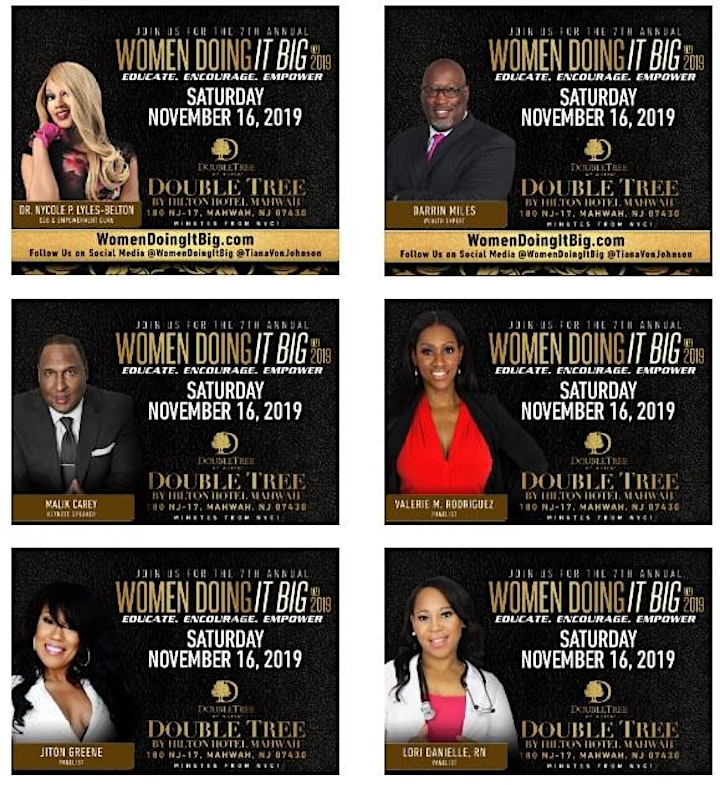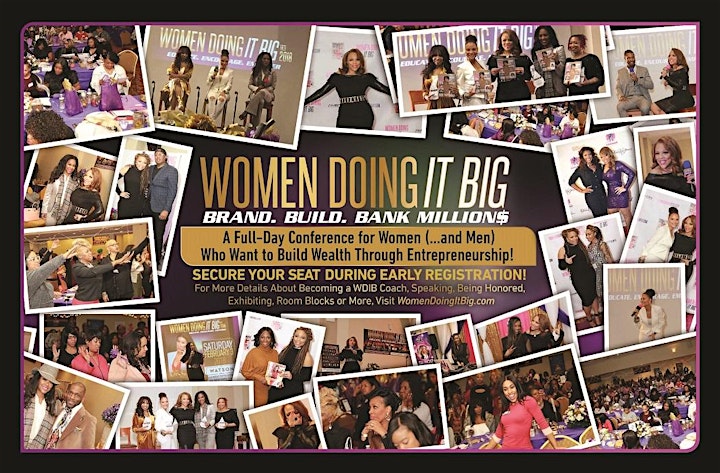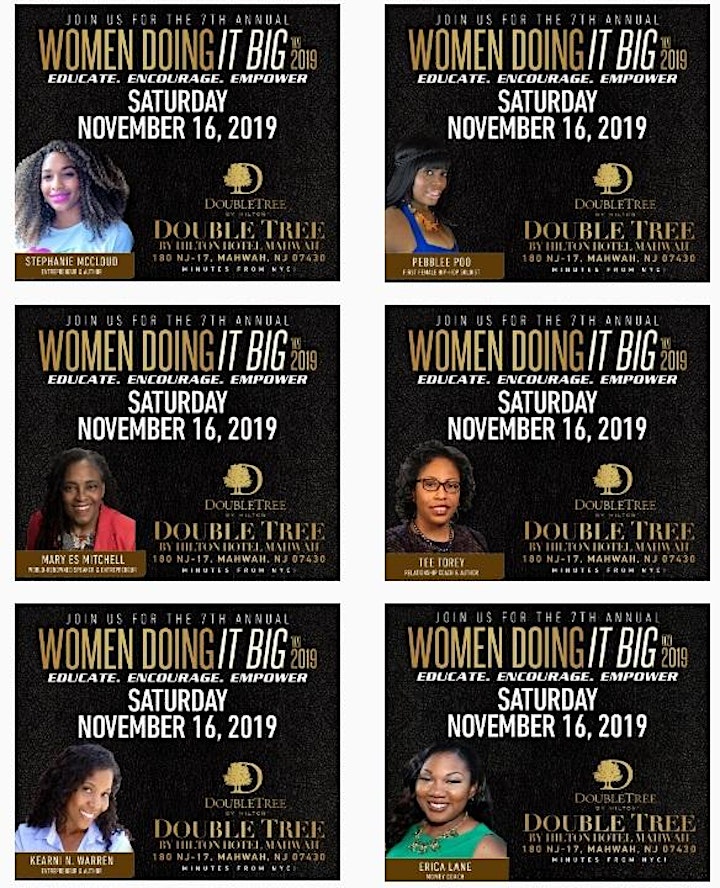 Mid-day you will join us for WDIB & Fearless Women Rock Awards Luncheon that includes 2 Hot Catered Meals, Snacks & Beverages!
WDIB Fiesta Lunch: Corn Tortilla Soup, Black Bean Salad, Spanish Rice, Charred Vegetable, Spicy Chicken, Refried Beans, Flour Tortillas, Churros and More!
WDIB BBQ Dinner: Salad Bar, Grilled NY Strip Steak, Herb Crusted Cod, Grilled Chicken, Scalloped Potatoes, Grilled Vegetables, Desserts and More!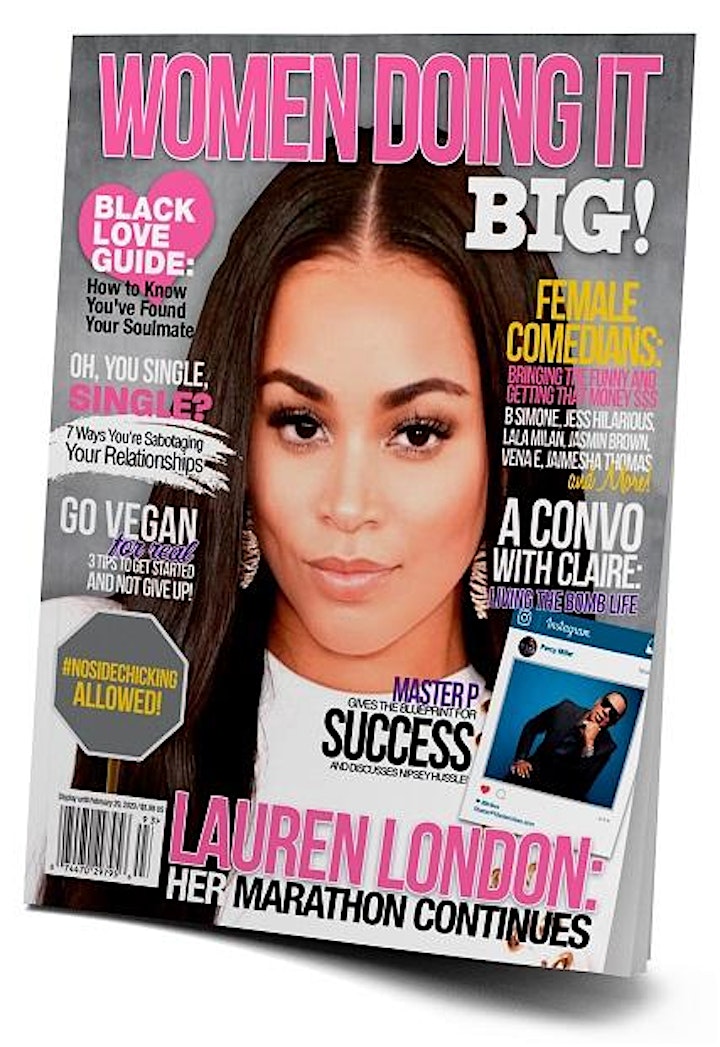 WDIB Magazine is a print magazine and social media platform @WomenDoingItBig that highlights entrepreneurial women with riveting rags to riches stories and insight into every facet of business. WDIB is sold on newsstands nationwide, Barnes & Nobles and Books-A-Million!
SPONSORED BY