7th Annual WINE TASTING & HMB Community Gathering for the TABLE of PLENTY H...
Description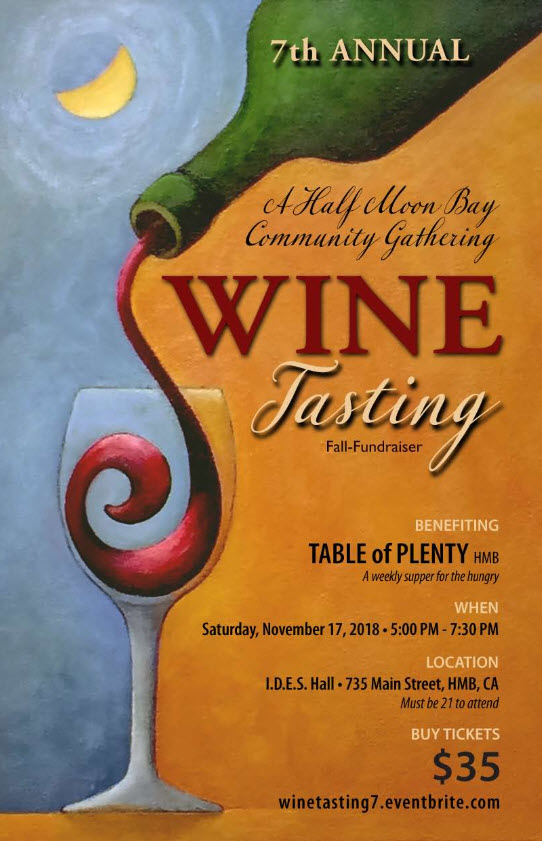 7th Annual poster painted by Sally K. Green
TOP's Resident Artist since 2012

HOSTED BY: Clyde Beffa Jr in partnership with Sr. Jeanette Braun, TOP Director,
TABLE of PLENTY Half Moon Bay
LOCATION:
I.D.E.S. Society Hall
735 Main Street, Half Moon Bay, CA

Please join us for our 7th Annual WINE TASTING & HMB Community Gathering benefiting the TABLE of PLENTY (TOP), a weekly supper for struggling families, our elders, and the homeless in Half Moon Bay.

2018 WINE TASTING Event Contacts:
Event Production LEAD: Andrew Hu
olpwinetasting@gmail.com
TOP Leadership Contact: Debbe Kennedy
tableofplentyhmb@gmail.com or 650-245-4998

EVENTBRITE CONTACT:
Debbe Kennedy
olpwinetasting@gmail.com or 650-728-0909

MORE ABOUT OUR COMMUNITY EVENT...
You are invited to join us for a fun-filled Half Moon Bay community gathering and fundraiser benefiting the TABLE of PLENTY in Half Moon Bay! Purchase your Wine Tasting Passport for $35 and take our 7th annual journey around the world of wines. Choose from over 35 wines from Southern and Northern California, Down Under, Spain/Portugal, Italy, Southern and Northern France, Germany and Austria.

The TABLE of PLENTY is an all-volunteer organization. All proceeds go directly to producing our weekly sit-down, beautifully served, suppers in a warm and welcoming restaurant-like setting for struggling families, our elders, and homeless members of our coastside on the coast.

Founded by a Priest and a Wine Merchant
The TABLE of PLENTY (TOP) was founded in 2012 by Fr. Charlie Fermeglia in partnership with Clyde Beffa Jr., wine merchant and long-time resident of Half Moon Bay. Learn more about our story in "VIEW from the TOP" at this link: http://bit.ly/1NWbaR5 We were honored to have our founding story is published in Leader to Leader journal, winner of the APEX Award for Publishing Excellence for nine consecutive years. (Spring 2015 edition - Wiley.


To complement your WINE TASTING experience, be our guest for an array of specialty pinchos
and a cheeses bar with crackers, nuts and served savory treats.


What's NEW in 2018: Don't miss Clyde Beffa's BUBBLE LOUNGE, opens 5:00 - 6:30 pm


Participate in special 2018 SILENT AUCTION that includes Wine Tastings in your home, Local Dining Gift Certificates and other prizes.


Discover new wines for you Thanksgiving table and for holiday gifts.



Must be 21 to attend; ID required.
Over 35 Wines . Food . Live Music . Silent Auction . WINES for Your Holiday Table

Share link with a friend: http://www.winetasting7.eventbrite.com
Learn more about TOP: http://www.tableofplentyhmb.org