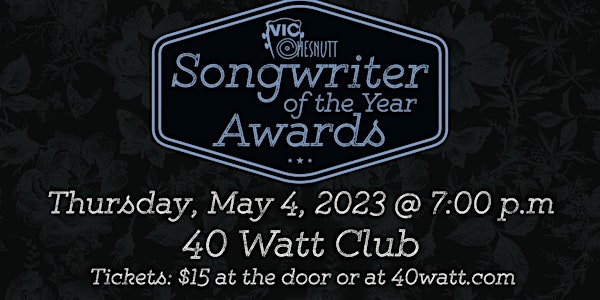 7th Annual Vic Chesnutt Songwriter of the Year Awards
ALL AGES
Classic City Rotary and the Vic Chesnutt Awards Committee Present
Vic Chesnutt Songwriter of the Year Awards Show. Musical Guest: Caroline Herring
Date and time
Thursday, May 4 · 7 - 10pm EDT
Location
40 Watt Club 285 West Washington St Athens, GA 30601
About this event
Classic City Rotary and the Vic Chesnutt Awards Committee present the 2023 Vic Chesnutt Songwriter of the Year Awards Show.
The Vic Chesnutt Songwriter of the Year Awards Show is a highly anticipated annual event that recognizes and celebrates the creativity of Athens-area songwriters. The 2023 Vic Awards winner and finalists will be announced during a special evening honoring the musical heritage of Athens, GA, and showcasing the town's emerging talent.
A special guest performer—TBA—will kick-off the show, followed by Elijah Johnston, the 2022 winner, who has gained wide recognition for his songwriting since receiving the Vic Award.
All 5 finalists—TBA—will then take to the stage to showcase their nominated songs. Chosen by a panel of music industry professionals, the pool of candidates represent the diversity of the local creative community. The reputation of the Vic Awards has grown in stature with each successive year, and 2023 marks a banner one with the participation of a stellar line-up of judges—Cassie Chantel, Caroline Herring, Boo Ray, Robert Schneider, and Greg Suran.
This celebration of the Classic City's musical universe will culminate in the announcement of the winner of the 2023 Vic Awards. The winner will receive $1,500, and each finalist will receive $250 from Classic City Rotary. The winner will also receive studio recording time from Amplify at Nuci's Space and a promotional package from Team Clermont valued at $5,000.
For more info on the Vic Chesnutt Songwriter of the Year Award, visit:
http://www.vicchesnuttward.com
Named in honor of Vic Chesnutt, an internationally renowned singer-songwriter from Athens, GA, the awards are presented annually by Classic City Rotary, a civic and service organization made up of local community leaders. The awards are intended to "celebrate the Classic City's storied tradition of song, reward honesty and bravery in songwriting, and honor and promote Athens' finest songwriters." Classic City Rotary provides assistance to a range of causes, but is especially proud of its support of the local arts and music community, including annual contributions to Nuci's Space.