7th Annual UC San Diego Postdoc Association (PDA) Vendor Show: Vendor Registration

Wednesday, August 9, 2017 from 10:00 AM to 2:00 PM (PDT)
Event Details
Dear Vendors,
Thank you for your interest in the 7th Annual UC San Diego Postdoc Association (PDA) Vendor Show scheduled for Wednesday, August 9th 2017, 10am – 2pm! As promised, we have incorporated all your valuable feedback from the 2016 PDA Vendor Show to ensure that this is a bigger and better show than before.
This event is our primary fundraiser for the year, allowing us to continue our many career development and social programs. Advertise your company and products at one of the largest Vendor Shows held on the UCSD campus, which attracts postdocs and other research personnel from across the area. We also welcome sponsorships and donations of items for our raffle prizes!
Please carefully read the details below for all your registration options. You will need to select your table type, and may need to indicate parking, electricity, and sponsorship options.
Deadlines
Early Registration is open until July 1, 2017. We strongly recommend signing up early so that you save $100 per table. After this date, the final registration deadline is July 31, 2017. 
Parking passes are available for purchase until July 25th, see below for more details.
Tables
If one table (6' x 30'') isn't enough, you have the option to purchase additional tables (maximum 2). If you would like to reserve only half a table (3' x 30''), please indicate your preferred vendor to share with in the checkout form. Please note that no table cloths will be provided, feel free to bring your own company branded table cloths.
Payment
You may pay by Credit Card (preferred) or Check (option available for early registration ONLY). Make checks payable to UC Regents and should be received by July 10th 2017. Please send checks to the following address: 
UC San Diego
Attn: Ginger Hazen
9500 Gilman Drive #0043
La Jolla, CA 92093-0043
*Please calculate the amount to pay by check based on the ticket prices listed for credit card payments. (Note this year that we are absorbing the Eventbrite fees.)* Be sure to account for parking, sponsorship, etc.
Electricity
If you require electricity, you have the option of only ONE electricity outlet per table. Please note that there are a limited number of electricity outlets.
Parking Pass
Parking at the University is extremely limited, we strongly recommend you to purchase a Parking Pass. If you require a Parking Pass at the Gilman Structure, this will cost $23 per car. Please let us know how many parking passes you require (maximum 2) AND the name(s) you would like to appear on each pass in the checkout form. Please note that passes must be purchased on Eventbrite by July 22nd to be reserved.
Sponsor Options
If you would like to make a donation to the UC San Diego Postdoc Association, please enter the amount of your donation in one of the Sponsorship "donation" options above. Please contact ucsdpdavendorshow@gmail.com if you have a raffle prize item you would like to donate instead.
Sponsorship levels: $500 - $999 = Bronze, $1000 - $1999 = Silver, $2000 - $4999= Gold, >$5000 = Platinum. All sponsors will be acknowledged on the UCSD PDA website, social media platforms, in marketing material and at the event. Sponsors' logos will appear on a "Thank You" Board at the Vendor Show, printed on the Vendor Show handout, and acknowledged in post-show media releases. The PDA will distribute collaterals for all sponsors, except for Bronze level. Only Gold and Platinum sponsors will have individual signage at the event. Only Platinum will receive priority choice for tables, priority electrical outlet access, and two parking spots.


Thank you for your cooperation, and we look forward to working with you to ensure a successful Vendor Show! If you require any further information, please do not hesitate to contact us at: ucsdpdavendorshow@gmail.com

Looking forward to seeing you there! 
Vendor Show Committee
UCSD Postdoctoral Association
Email: ucsdpdavendorshow@gmail.com
Website: www.pda.ucsd.edu
Facebook: www.facebook.com/UCSDpda
Please note: sales are non-refundable, unless a replacement vendor can be found.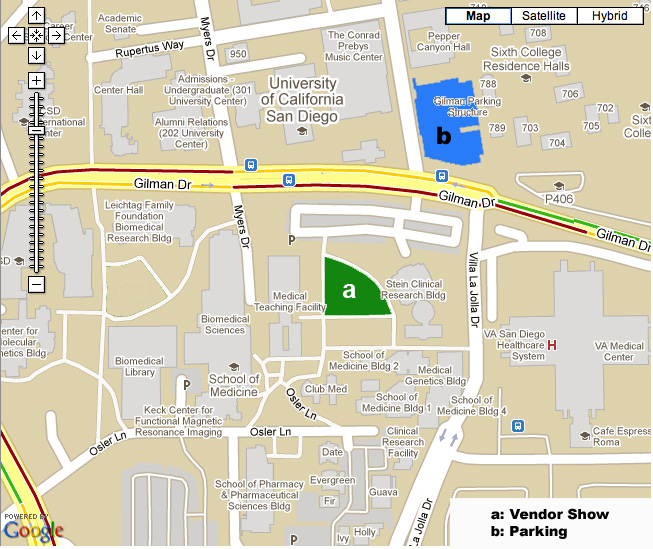 Have questions about 7th Annual UC San Diego Postdoc Association (PDA) Vendor Show: Vendor Registration?
Contact UC San Diego PDA
When & Where

UC San Diego Postdoctoral Association
UCSD Stein Lawn (Between Stein, Telemedicine & Medical Teaching Building)
9500 Gilman Drive
La Jolla, CA 92093


Wednesday, August 9, 2017 from 10:00 AM to 2:00 PM (PDT)
Add to my calendar
Organizer
The UC San Diego Postdoctoral Association (PDA) is an officially recognized Academic Advisory Group concerned with the quality of the postdoctoral experience at UC San Diego. The mission of the PDA is to enhance the postdoctoral experience by expanding professional development workshops, organizing social events, and facilitating networking opportunities. 
Please note that there is no cost to join the PDA, and we are not affilitated with the postdoc union. Interested in joining? Contact us today!