7th Annual Strong Girls, Strong Women Leadership Conference
Description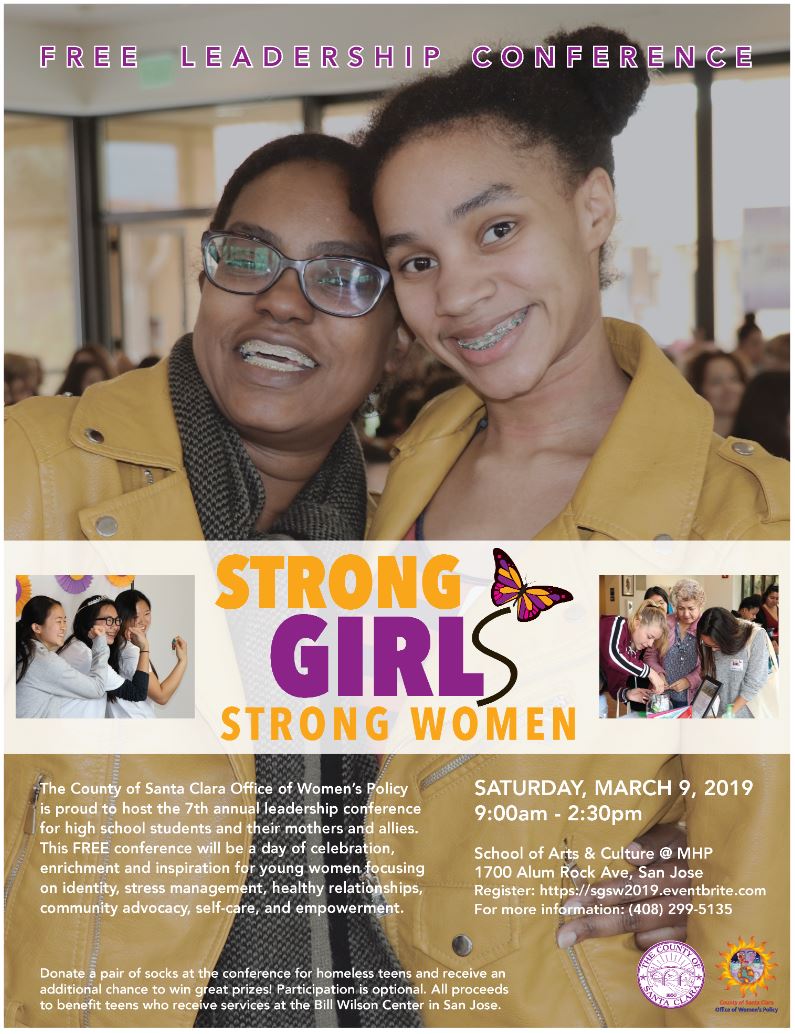 SEVENTH ANNUAL
2019 STRONG GIRLS, STRONG WOMEN
LEADERSHIP CONFERENCE FOR HIGH SCHOOL GIRLS AND ADULT ALLIES
CONFERENCE PURPOSE
The Strong Girls, Strong Women (SGSW) high school girls' leadership conference empowers, inspires and enriches high school girls and their allies to be strong members and committed leaders of their communities.
The goal of this conference is to bring together women and girls from diverse backgrounds for dialogue and education about the state of girls in Santa Clara County, including:
Workshops focusing on health, economics, education, healthy relationships, personal safety, art and leadership;

Resource Fair with community resources and volunteer opportunities;

Free drawings and giveaways for all participants.
WHO SHOULD ATTEND
SGSW is free and open to all high school students. We target girls and their mothers (or mother-figures) from Santa Clara County including Latinas, immigrants, LGBTQ youth, and their allies and advocates.
CONFERENCE COST TO ATTENDEES
The Strong Girls, Strong Women leadership conference is FREE to all attendees, including workshops, photos, gift bags, breakfast, lunch & parking.
CONFERENCE STRUCTURE
9am Registration, Continental Breakfast

9:30am Welcome

10:15am Morning Workshops

11:15am Lunch, Entertainment, Networking Fair, Photo Booth

12:45pm Afternoon Workshops

1:45pm Closing, Free Prizw Drawings & Evaluation

2:30pm END
Donate a pair of socks at the conference for homeless teens and receive an additional chance to win great prizes! Participation is optional. All proceeds to benefit teens who receive services at the Bill Wilson Center in San Jose.