Description
The Mosaic Group & The Urban League of Broward County presents the
7th Annual South Florida Black Economic Forum & Awards Reception: "Cornerstones of Wealth"
Friday, August 4, 2017
The South Florida Black Economic Forum is an annual initiative to connect, engage, and inform black business owners and professionals about opportunities, resources, and programs that will increase the number and scale of African/Caribbean-American owned businesses in South Florida and globally. In addition, the Forum aims to create dialogue and solutions for creating wealth and building sustainable communities.
SCHEDULE AT-A-GLANCE
Registration/Meet & Greet 11:00 am - 1130 am

Luncheon & Movie Screening- Generation One: In Search of Black Wealth 11:30 am –1:45 pm

Panel 1: Opportunities in South Florida's Leading Growth Industries 2:00 pm – 3:00 pm

Panel 2: Smart Investments – Creating Generational Wealth 3:10 pm - 4:10 pm

Panel 3: Reclaiming Our Communities Block by Block 4:20 pm – 5:20 pm

Networking & Awards Reception
---
2017 PANEL DISCUSSION THOUGHT LEADERS
LUNCHEON & FILM SCREENING HOST/MODERATOR: Generation One, In Search of Black Wealth
Dr. Latasha Russell, Psychologist, Creator & Host of Drive-by Therapy
PANEL I: Opportunities in South Florida's Growth Industries
Moderator: Tony Lesesne, President & CEO, Lesesne Media Group & In-Focus Magazine
Thought Leaders:
Gordon Eric Knowles, President and CEO Miami-Dade Chamber of Commerce

Ron Drew, Sr. Vice President Marketing and Communications, Greater Fort Lauderdale Alliance

Bruce Lewis, President, Black Chamber of Commerce of Palm Beach County
PANEL II: Smart Investments: Creating Multi-Generational Wealth
Moderator: Anthony Jackson, Partner, The Marome Agency
Thought Leaders:
Robert Owens, Investment Bank Officer, Wells Fargo

Chuck West, Financial Advisor, Morgan Stanley

Nia D. Johnson, Esq., Attorney/Estate Planner, Law Office of Nia D. Johnson

Frederick W. Mclendon, Owner, McLendon Investments Inc.

Karen Nichol Holloway, CLTC, Financial Advisor, Northwestern Mutual
PANEL III: Reclaiming Our Communities Block by Block
Moderator: Ann Marie Sorrell, President & CEO, The Mosaic Group
Thought Leaders:
Clarence E. Woods, III, Executive Director, Southeast Overtown/Park West CRA

Annetta Jenkins, Director of Neighborhood Services, Rivera Beach Community Redevelopment Agency

Natasha Hampton, Assistant City Manager, City of Miramar

Kevin Morris, Real Estate Investor, Colliers International South Florida, LLC

Brian Boysaw, Attorney, Law Office of Bryan Boysaw & Associates, PA

Bryan Finnie, Vice President of Development, Housing Trust Group

Beethoven Francois, Owner, Kafe Hub
VANGUARD AWARD HONOREES:
Felecia Hatcher, Black Tech Week

Jerome Hutchinson, ICABA

Beethoven Francois, Kafe Hub

Honorable Commissioner Keon Hardemon, City of Miami

Southeast Overtown/Park West Community Redevelopment Agency (SEOPW CRA)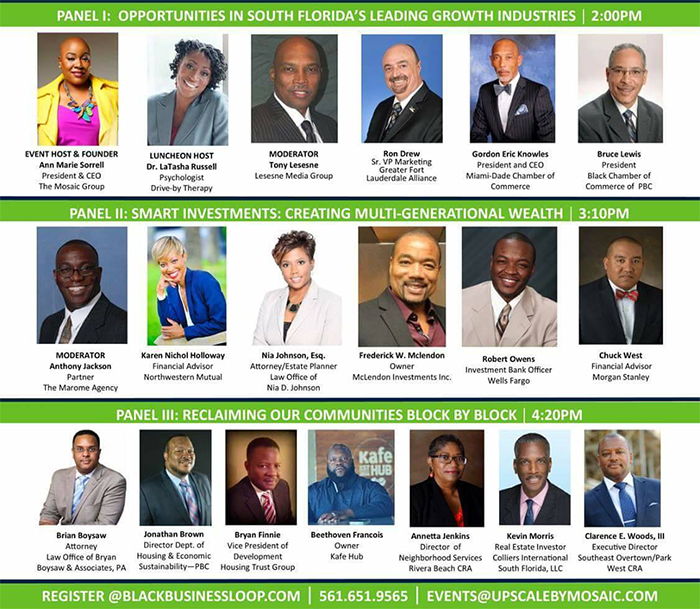 Limited vendor spaces and sponsorship opportunities are available.
For more information, visit blackbusinessloop.com or contact The Mosaic Group at 561.651.9565 or events@upscalebymosaic.com