Description
The 7th Annual Social Media Technology Conference & Workshop is set for October 5-6, 2017 at Howard University. This two-day intensive conference combines panel discussions, posters sessions, roundtables and hands-on workshops designed to enlighten scholars and practitioners about social media and provide them with the knowledge to create and effectively utilize social media in different contexts.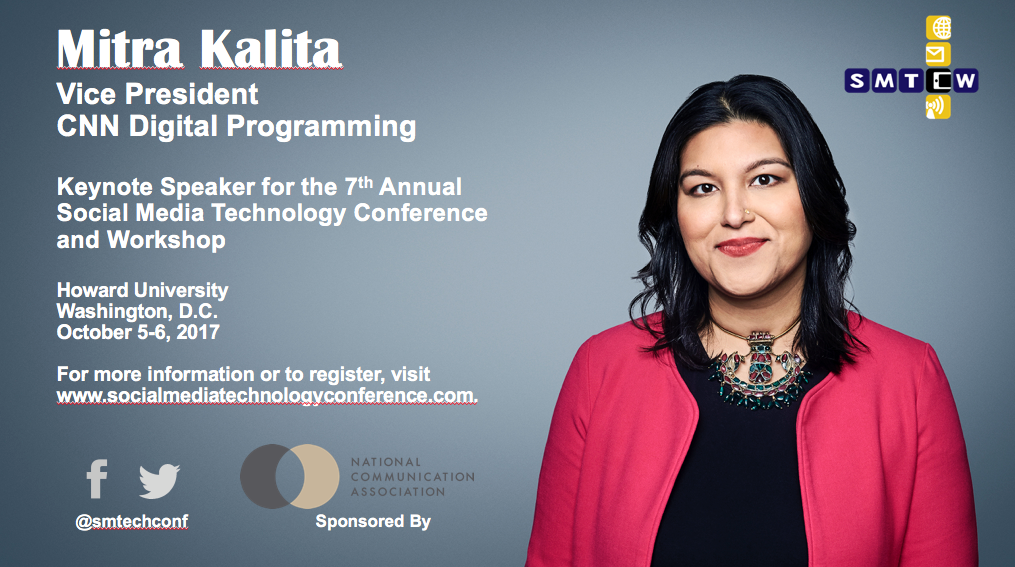 S. Mitra Kalita is the vice president for programming for CNN Digital. Kalita leads CNN Digital's efforts to creatively share its journalism and storytelling across an ever-exploding array of platforms. She also oversees the News & Alerting, Special Projects, and Mobile & Off-Platform teams.
She was previously managing editor for editorial strategy at the Los Angeles Times. During her time there, she helped latimes.com traffic soar to nearly 60 million unique multiplatform visitors monthly, innovated new forms of storytelling and audience engagement, and connected the Times to new communities via events, new beats, translations and partnerships. She also served as the executive editor at large for Quartz, Atlantic Media's global economy site, and was its founding ideas editor. She also oversaw the launches of Quartz India and Quartz Africa. Kalita worked previously at the Wall Street Journal, where she directed coverage of the Great Recession, launched a local news section for New York City and reported on the housing crisis as a senior writer. She was a founding editor of Mint, a business paper in New Delhi, and has previously worked for the Washington Post, Newsday and the Associated Press.
Kalita is the author of three books related to migration and globalization, including the highly acclaimed "Suburban Sahibs," and speaks seven languages. A former journalism professor at St. John's, UMass-Amherst, and Columbia University, she also previously served as president of the South Asian Journalists Association.
She is a graduate of Rutgers College, and received her master's degree from Columbia University's Journalism school.

Social Media Technology Conference and Workshop Sponsored by

During the course of this conference, I acknowledge that I may have my voice, likeness and/or actions captured in photograph, video and/or audio recordings. As a condition of my attendance at this conference, I agree to irrevocably grant to the National Communication Association ("NCA"), its assigns, licensees and successors the right to video, photograph, publish, record, broadcast, exhibit, digitize, display, copyright, license, transfer, reproduce, translate, modify, edit or otherwise use perpetually throughout the world, in all media now and hereafter known or devised, in whole or in part, my image, likeness, voice, name and actions in audio and video recordings, photographs and materials prepared by and/or disseminated by NCA.