Description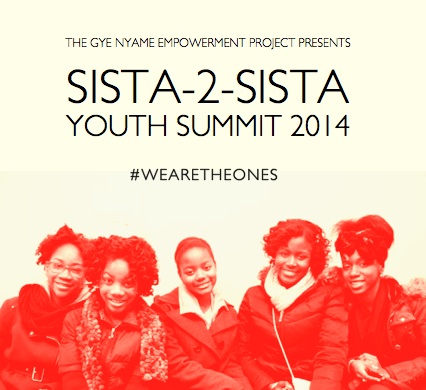 Overview
The Sista-2-Sista Youth Summit (S2S) is a two-day empowerment summit connecting 200 high school girls of Pan-African descent from underserved areas across NYC with women making a difference in the areas of media, health and wellness, entertainment, education, and personal growth. Participants engage in workshops, live entertainment, and reflective activities. Utilizing a 3 step-process of self-awareness, self-appreciation, and self-actualization the summit equips participants with fundamental tools to make well-informed decisions today and in the future. S2S is held every March during Women's History Month.
Since 2011 the Gye Nyame Empowerment Project, (GNEP) has offered a $1,000 book scholarships for one eligible high school senior attending a four-year college and committed to being a leader in her community. If you are a high school senior and would like to apply for this opportunity, please indicate your interest in the registration form.
Woman-2-Woman Conference (W2W) is a series of workshops specifically for female parents, guardians, and chaperones of Sista-2-Sista participants and runs concurrently to S2S. The workshops address the same issues as those discussed with the girls and they serve as training for parents, guardians and chaperones to continue the dialogue with the young women beyond S2S.
2014 Award Recipients
My Sister's Keeper Award: Toni Blackman
Strength, Courage & Wisdom Award: Spirit of a Woman Leadership Institute
Schedule of Events
Friday, March 28

5:30PM
Screening 1: Girl Rising (101 min)
Black Girls Rock! Spins
Saturday, March 29
9:00 AM
Registration & Breakfast
Opening Remarks, Syreeta Gates as Mistress of Ceremonies
Collective Keynote
Michaela angela Davis, Zewiditu Ruffin, Jadayah Spencer
Red Table Talk: Panel
Moderated by Aja Monet
Featuring Mercy Carpenter, Afiya Bennett, Dr. Marta Moreno Vega, Dr. Yaba Blay, Sonya Lockett, Michaela angela Davis, Sharada R. Maddox
12:00 PM
Lunch
We Are the Ones Marathon
Awards & Closing Remarks
Entertainment Showcase, Syreeta Gates as Mistress of Ceremonies
Featuring Love Jones Girlz, Aja Monet, Black Girls Rock! and Open Mic with Attendees
7:00 PM
End.
In the past six years, GNEP has gathered some of today's most influential and respected thought leaders and young professionals to facilitate workshops, perform and speak. These allies and advocates include Susan L. Taylor, Founder of National CARES Mentoring Movement, Ava Duvernay, Filmmaker and Founder of AFFRM, Queen Afua, Author and Wellness Expert, Image Activist Michaela angela Davis, Chrisette Michele, Recording Artist, Beverly Bond of Black Girls Rock!, and Misty Copeland, American Ballet Theater Soloist.
Check out images from the 6th Annual Sista-2-Sista Youth Summit and our first S2S Summit in Kingston, Jamaica in 2013.
Parents/Guardians + Supporters of our Youth
Please help us as we raise funds for this year's Summit via our IndieGoGo Campaign. Please visit our page and make a financial contribution and/or share it with others in your network. (http://tinyurl.com/FundS2S2014).
Organizer of 7th Annual Sista-2-Sista Youth Summit