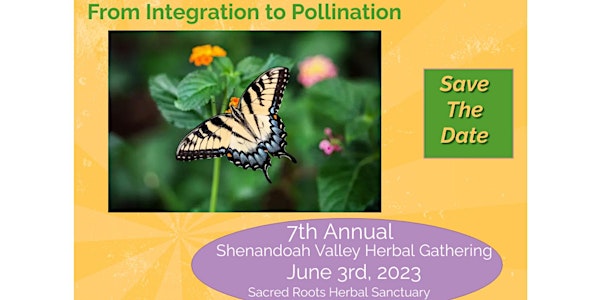 7th Annual Shenandoah Valley Herbal Gathering
Come join Sacred Roots Herbal Sanctuary for our 7th Annual Shenandoah Valley Herbal Gathering!
Date and time
Sat, Jun 3, 2023 9:30 AM - 8:30 PM EDT
Location
Sacred Roots Herbal Sanctuary 1799 Persimmon Lane Shepherdstown, WV 25443
Refund Policy
Contact the organizer to request a refund.
Eventbrite's fee is nonrefundable.
About this event
7th Annual Shenandoah Valley Herbal Gathering
June 3rd, 2023 9:30 am - 8:30 pm / 12 Herbal Classes to Choose From , Botanical Vendor Marketplace, Kid's Camp & Sound Healing Journey w/ Earth Astara
Theme: From Integration to Pollination
Early Bird Price $85 starting March 1st- April 1st
Regular Price $100 starting April 2nd - June 2nd
This event is Rain or Shine! We have covered classroom spaces and vending.
Kids Under 16 are Free. Kid's Camp for Children 5 and up is available during classes only. Younger children must be accompanied by an adult. Email info@sacredrootswv.com to register your child or children for Kid's Camp.
Potluck Lunch - bring your own cup, plate, utensils, and labeled food to share. We do not provide refrigeration or heating for food.
Please also bring a folding chair or blanket to sit on, as seating may be limited at the Garden Pavilion for lunch.
Give and Take Blanket - bring small items to give away: clothes, books, plants, garden items, etc.
No dogs.
Sacred Roots Herbal Sanctuary / 1799 Persimmon Lane Shepherdstown, WV 25443
***REFUND POLICY*** Non-refundable. However, we can put your credit towards next year's event, or you can pass your ticket onto a friend.
Schedule and Classes
_______________________________________________
Botanical Marketplace opens at 9:30 am. Come support your local growers and artisans!
Opening Ceremony - 10 am-10:30 / Sacred Circle
Session 1 10:30 am- Noon
Lunch at Garden Pavilion - Noon to 1
Session 2 1-2:30
Session 3 2:30- 4
Free Thyme / Botanical Marketplace / Give and Take Blanket 4- 4:30
Session 4 4:30 - 6
Dinner Break - OFF SITE ..or bring your own food. 6 - 7:30. *All kinds of Restaurants just 10 minutes away in town.
*Sound Healing Journey Concert w/ Earth Astara 7:30 - 8:30 !!!
Herbal Gathering Classes Include:
1) Methylation, Detoxification, Oh My ! ~ Elizabeth Baker/ Session 1 - Garden Pavilion
These biochemical processes happen close to 1 billion times every second but often are overlooked in mainstream medicine as something you should pay attention to. Let's take a deeper look at methylation and detoxification, what hinders these vital processes, and how you can support it to achieve thriving health.
2) Astrology, Astronomy, and Biodynamics: An Introduction to the Basics of Growing, Harvesting, and Preparing Herbs in Alignment with the Cosmic Rhythms of Our Universe - Meaghan Thompson / Session 1-Yurt
This class will discuss the different methods used for working with celestial bodies and how to incorporate them into your work with the plants. We will prepare a celestially influenced herbal preparation together for participants to take home.
3) Beyond Constituents: The Medicine of Plant Spirits ~ Laura Quisenberry / Session 1- Tulsi Tent
This class/plant walk is designed to help people see beyond the medicine that a plant carries to discover the spirit and cultural significance of at-risk plants.
4) Sleep & Sleep Disruption ~ Elizabeth Baker/ Session 2- Tulsi Tent
Only 1/3 of Americans get the recommended 7-9 hours of sleep each night! Sleep problems are a major comorbidity and quality of life issues. Sleep is one of the five key factors in preventing chronic disease and affects all of our physiological processes. What is it? What causes it? What are the consequences of inadequate sleep? In this class we will discuss all of these questions and review sleep interventions to include lifestyle and botanical support.
5) Peoples Medicine Circle- Lucretia Jones/ Session 2 - Yurt
Participants will enjoy sharing people's medicine through talking stick, breathing with plants meditation, tasting, and making nourishing herbal infusions and simple tinctures.
6)Easing Chronic Pain with Āyurveda- Belinda Baer / Session 2- Garden Pavilion
Experiencing chronic pain? Āyurveda offers tools and techniques to help ease chronic pain. Explore the Āyurvedic view of chronic pain, as well as diet, lifestyle, and herbal recommendations to help you live life more fully.
7)Mindful Herbal Support for Stressful Times ~ Becca Daye/ Session 3 - Tulsi Tent
In this class, we will cover how to incorporate herbs into your daily life through different herbal recipes that incorporate herbs to soothe your frazzled nervous system, reduce stress and anxiety, aid sleep and help your body/mind relax. We will cover the class of herbs called nervines and adaptogens and you will learn herbal recipes that you can easily make at home using multiple herbal preparations.
8) Incorporating Beef Tallow in Your Home Apothecary- Tania Hester/ Session 3 - Garden Pavilion
In this class, you will learn about the medicinal benefits of tallow. We will discuss how to source and render beef suet into tallow. We will also discuss alternative solid fats, both animal and plant-based that can be used as substitutions for tallow. In the hands-on portion of the class, we will be infusing herbs into tallow for a take-home tallow balm.
9)What do Yarrow, Comfrey, Arnica, Chamomile, and Mint have in common?
Come explore the benefits of different first aid kits. Special emphasis will be placed on wonderful Comfrey: we will journey with Comfrey and make Comfrey oil. $5 supply fee paid directly to the teacher. -Julie Yanekian / Session 3
10) Tending the Wild Sanctuaries ~ Laura Quisenberry/ Session 4 - Tulsi Tent
In this class, students will learn methods and practical applications of ways to help preserve and build wild spaces and at-risk woodland medical plants.
11) Self-Massage with Warm Oil - Belinda Baer / Session 4 - Garden Pavilion
Āyurveda, a 5000-year-old sister science to Yoga, recommends daily self-massage with warm oil to help soothe and calm the nervous system. Get a taste of this practice for yourself today during this session.
12) Brain Aging in Women ~ Elizabeth Baker/ Session 4 - Yurt
In this class, we will discuss the metabolic, neurotransmitter, and vascular changes that occur in perimenopausal and postmenopausal women and how these changes contribute to the role of hormones and memory. We will discuss the role of botanicals to prevent and support.
** Classes end at 6 pm. Dinner break- off-site. ....6-7:30 pm.
**Sound Healing Journey Concert w/ Earth Astara 7:30 pm- 8:30 pm
About the organizer
Welcome to Sacred Roots*
Things We Offer.....
Culinary and medicinal herbs ( fresh and dried )
Live herb seedlings
Herbal and garden based classes
Educational woodland trail for at risk medicinal plants
Garden tours
Events that allow you to plug back into the heart of Mother Earth and your wild self