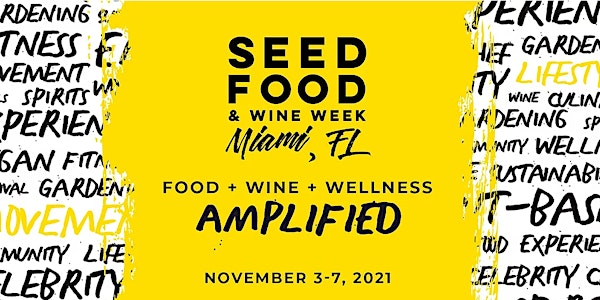 7th Annual SEED Plant-Based Food & Wine Festival
SEED Food and Wine Festival is the premier plant-based festival in the country since 2014. All tickets included UNLIMITED BITES + POURS.
When and where
Location
Variety of Venues - See Event Description 3500 Pan American Drive Miami, FL 33131
About this event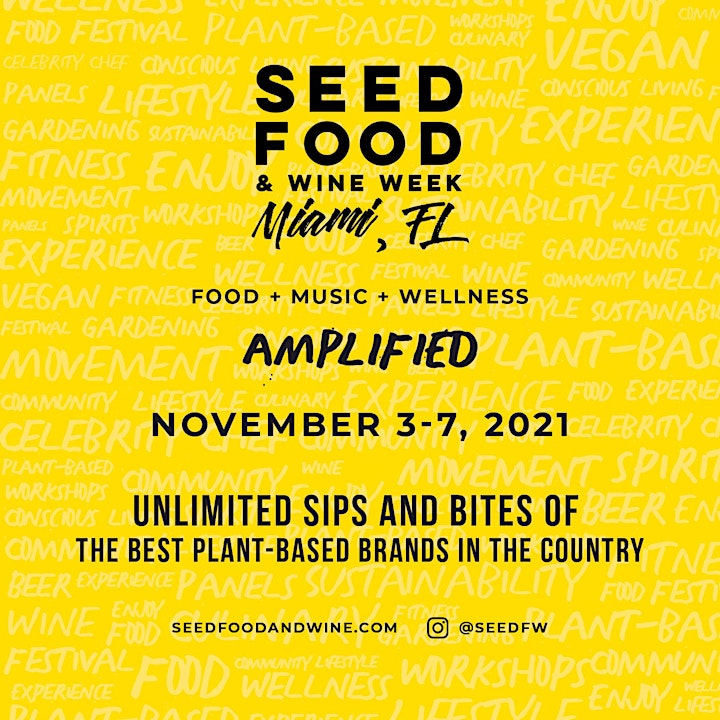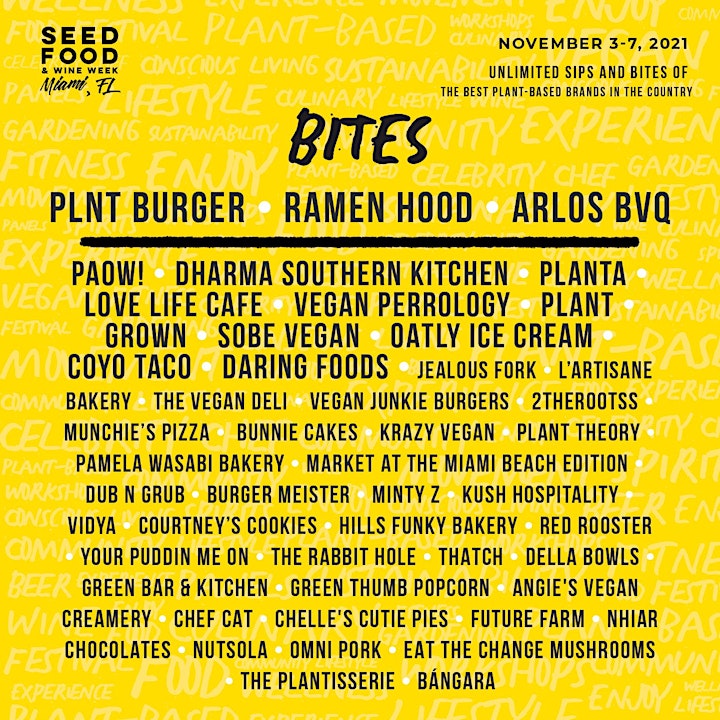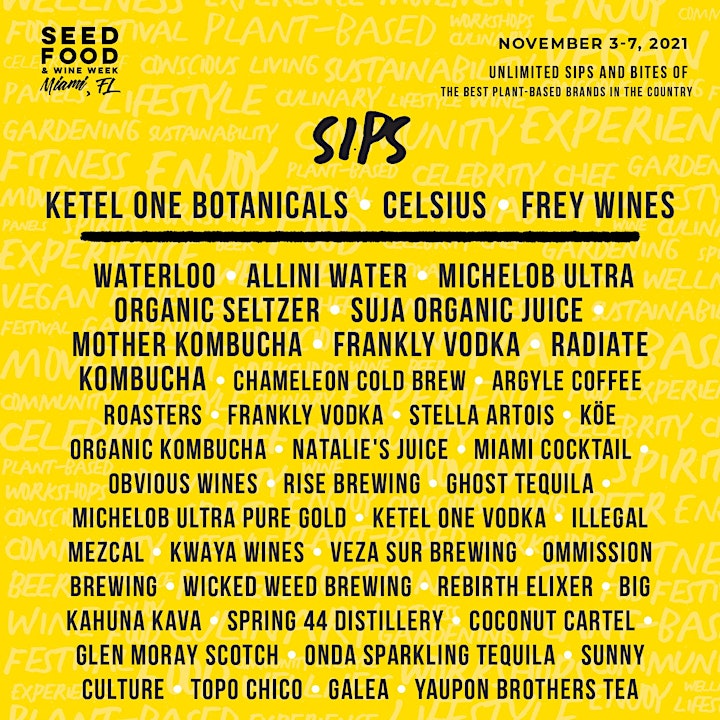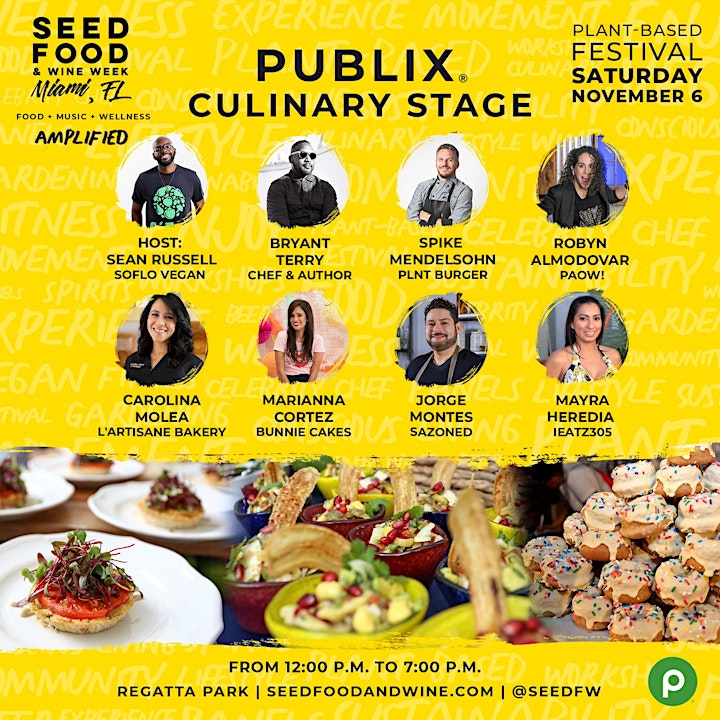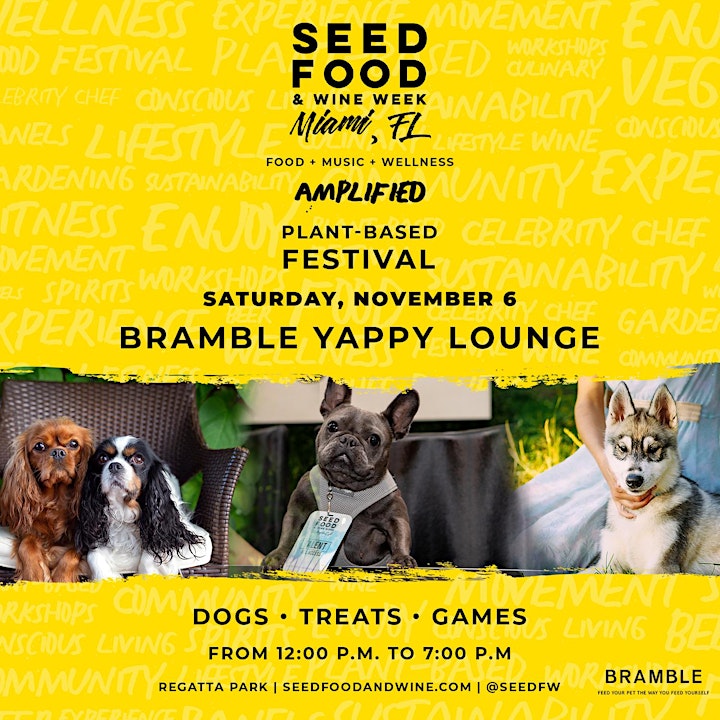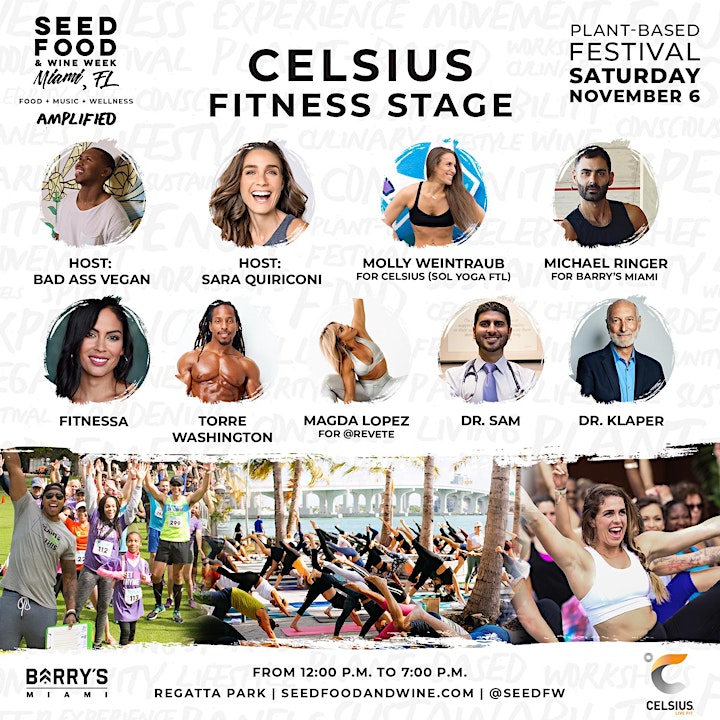 EAT. DRINK. GROW.
The 7th Annual SEED Food and Wine Festival, is the premier plant-based food and wine festival in the country, voted by USA TODAY as one of the top 3 food & wine festivals in the country!
Join us for a week-long adventure as we sip, savor and experience the very best in conscious, sustainable plant-based living. Enjoy UNLIMITED POURS AND BITES from the best plant based and vegan chefs, brands and products from coast to coast with your ticket. 
All activities are carefully crafted to take guests through a one-of-a-kind journey from cooking demonstrations, wine tastings, celebrity chef dinners, craft beer and spirits tastings, Burger Battle, fitness to body care, workshops and panels, plant-based brunch and more.
Please note that everything served during the festival will be plant-based / vegan and whenever possible local, organic and non-GMO certified. We proudly serve delicious food everyone can enjoy whether vegan or omnivore!
We work closely with our local partners to create a sustainable and zero carbon footprint event.
For those who want to experience ALL the Festival Favorites or a fully VIP experience at a discounted price, check out the PLANT PUSHER or VIP VISIONARY pass.
VEGETABLE KINGDOM DINNER with Chef Bryant Terry (SOLD OUT)
November 3, 2021 | 7 p.m. to 10 p.m.
$195 includes wine pairing and gratuity​
We are honored to welcome best-selling author Bryant Terry for a truly magical evening as he presents a five-course, wine paired dinner. You will not want to miss this delicious experience.
Location: Red Rooster | 920 NW 2nd Ave, Miami, FL 33136
FIFTH ANNUAL PLANT BASED BURGER BATTLE™
November 4, 2021 | 7 p.m. to 10 p.m.​
Walk the green carpet and chow down on plant-based burgers created by chefs and restaurants from across the country. We are excited to welcome Food Network's Celebrity Top Chef alumni Chef Spike Mendelsohn of PLNT Burger and Chef Robyn Almodovar of Chopped / Hell's Kitchen to the SEED Plant-Based Burger Battle! This hugely popular annual event features an array of delectable burger creations, and celebrity judges will choose their favorites while you get to cast your vote for the crowd's choice: BEST PLANT-BASED BURGER IN AMERICA. Wash down the deliciousness with paired craft brews and kombucha and get your sweet tooth fix with our dessert station all while enjoying live music by QUEEN OF KINGS and great company. Your ticket includes it ALL!
PLNT Burger / Spike Mendehlson
PAOW! / Robyn Almodovar
Vegan Junkie Burgers / Martha Tabora
Planta / Felicia De Rose
Green Bar and Kitchen / William Uralowich
Dub & Grub / Kriss Kofi
Burgermeister / Alex Ringleb
SoBe Vegan / Kedon 'Slim' Carter
Krazy Vegan / Darryl Harris
Future Farms / Alexandre Ruberti
$55 General Admission
$85 VIP Admission (one hour earlier than the General Public)
Location: Space Park | 298 NE 61st St, Miami, FL 33137
SEED SUMMIT | Plant-based Workshops + Panel Discussion
November 5, 2021 | 8:30 a.m. to 5 p.m.
Connect with other conscious and sustainable aficionados for a day of inspired conversations, this event features a full day of workshops and panels– all designed for entrepreneurs, content creators, influencers and those passionate about conscious, sustainable and vegan living. We are honored to welcome Dr. Michael Klapper. Michael A. Klaper is an American physician, vegan health educator and conference and event speaker, and an author of articles and books of vegan medical advice.
You'll mingle with celebrities; meet creative, like-minded people; and learn everything you need to know to elevate your presence and make a major impact on the world. The day includes an organic plant based breakfast and lunch. This year's event will continue to add to the nation's growing-and sometimes controversial-conversations about food and health.
$50 (includes admission, breakfast and lunch)
Location: The Sacred Space | 105 NE 24th St, Miami, FL 33137
NEW YORK STATE OF MIND DINNER with Michelin Star chefs Jeremiah Stone, Fabian Von Hauske, TOP CHEF Ilan Hall and 1 Hotel South Beach Executive Chef David Henriquez (SOLD OUT)
November 5, 2021 | 7:00 p.m. to 10:00 p.m.
Did you know that this year's MET Gala Dinner 2021 was entirely plant-based for the first time in history? Here's your chance to eat like a star! Two of the participating MET Gala dinner chefs who were hand selected by Bon Appétit Magazine, Jeremiah Stone and Fabian Von Hauske (of Contra & Wildair NYC), will be participating at this year's NY STATE OF MIND DINNER!
We are honored to welcome Michelin starred chefs, Chef Jeremiah Stone and Chef Fabian Von Hauske (Contra & Wildair NYC) along with TOP CHEF winner, Ilan Hall and 1 Hotel South Beach Executive Chef David Henriquez to SEED for the NY State of Mind Dinner. We'll start with cocktails & hors d'oeuvres, followed by a wine paired dinner. You'll spend the evening enjoying innovative, mouthwatering cuisine made exclusively for special SEED guests. We will offer indoor and outdoor seating. This dinner will sell out!
All-Inclusive Admission: $150 ​
Location: Habitat at 1 Hotel South Beach | 2341 Collins Ave, Miami Beach, FL 33139
NAMASEED YOGA & MEDITATION
November 6, 2021 | 10:00 a.m. to 11:30 a.m.
Kick off your morning with an invigorating and centering yoga class by Miami's favorite yogis, followed by a guided meditation. Grab a refreshment and healthy snack and get ready to head into the Grand Tasting Village.
FREE
Location: Regatta Park | 3500 Pan American Dr, Coconut Grove, FL 33133
SEED FESTIVAL DAY TASTING VILLAGE
November 6, 2021 | 12:00 p.m. to 7 p.m.
Dig into a day-long smorgasbord of incredible food, drink, speakers, demos, wellness, shopping, and much, much more! Enjoy ALL THE FREE food and drinks you can devour all day at the nation's ultimate event dedicated to celebrating the best in plant-based health, wellness and conscious, sustainable living. You'll get to sip brews at the beer garden and also enjoy celebrity speakers, get fit with our wellness stage, recharge in the meditation lounge, check out crafts, buy cruelty-free fashion, and sample delicious plant-based treats from over 100 restaurants, bakeries, brands, wines, spirits and juices. Immortalize your experience via Instagram, and head home with a new enthusiasm for all the awesome aspects of a conscious, plant-based lifestyle!
Barry's Bootcamp will be joining us to get everyone moving at this year's festival and will be hosting multiple classes on the Celsius Fitness Stage at the Festival Day Tasting Village, catch them there and get your sweat on!
​General admission $55 / VIP Admission $85
VIP TICKET ALSO AVAILABLE: Includes VIP room access, with your own celebrity mixologist bar, celebrity chef bites, lounge seating.
Location: Regatta Park | 3500 Pan American Dr, Coconut Grove, FL 33133
BLOOM BRUNCH presented by Florida Crystals®
YOGA + MEDITATION + BRUNCH
November 7, 2021 | 11 a.m. to 2 p.m.
Join this morning celebration of mindful living featuring a yoga practice followed by a guided meditation session. Then, you'll get to dig into a delicious, organic, plant-powered brunch made by an impressive lineup of culinary all-stars. Your tasty morning eats will all be paired with a variety of refreshing juices, cocktails, kombucha and bellinis.
For the first time ever we welcome, The Class by Taryn Toomey, to join us on Sunday as part of our BLOOM BRUNCH presented by Florida Crystals®.
The Class is a cathartic workout experience that guides you to strengthen the body and notice the mind to restore balance. Join instructor, Soeuraya Wilson, as she guides our guests on an hour long journey to elevate the mind, body and soul.
​$50
Location: The Sacred Space | 105 NE 24th St, Miami, FL 33137
PLANT PUSHER PASS - FAN FAVORITE EXPERIENCE
November 3 - 7, 2021
Admission to all the Festival Favorites for One Discounted Price - includes general admission to the Plant-Based Burger Battle, Tasting Village & Bloom Brunch.
$135 (Value $195)
VISIONARY SEED PASS - VIP EXPERIENCE
November 3 - 7, 2021
9:30 a.m. to 2:00 p.m.
VIP Access to ALL SEED Week events.
$495 (Value $675)
Use ALTO and RIDE to SEED in style!
Use the promo code SEED for $20 off 2 rides each during the festival from 11/3-11/7.
Instructions for code:
1. Download the Alto app and create an account.
2. Select the profile section of the app, tap promotions, and enter promo code SEED.
3. Enter the promo code and enjoy your ride!
Event Proceeds Benefit Debris Free Oceans, our 2021 non-profit partner.