7th Annual Rudy Powell Memorial Dinner Dance 2019
Description
YOU ARE INVITED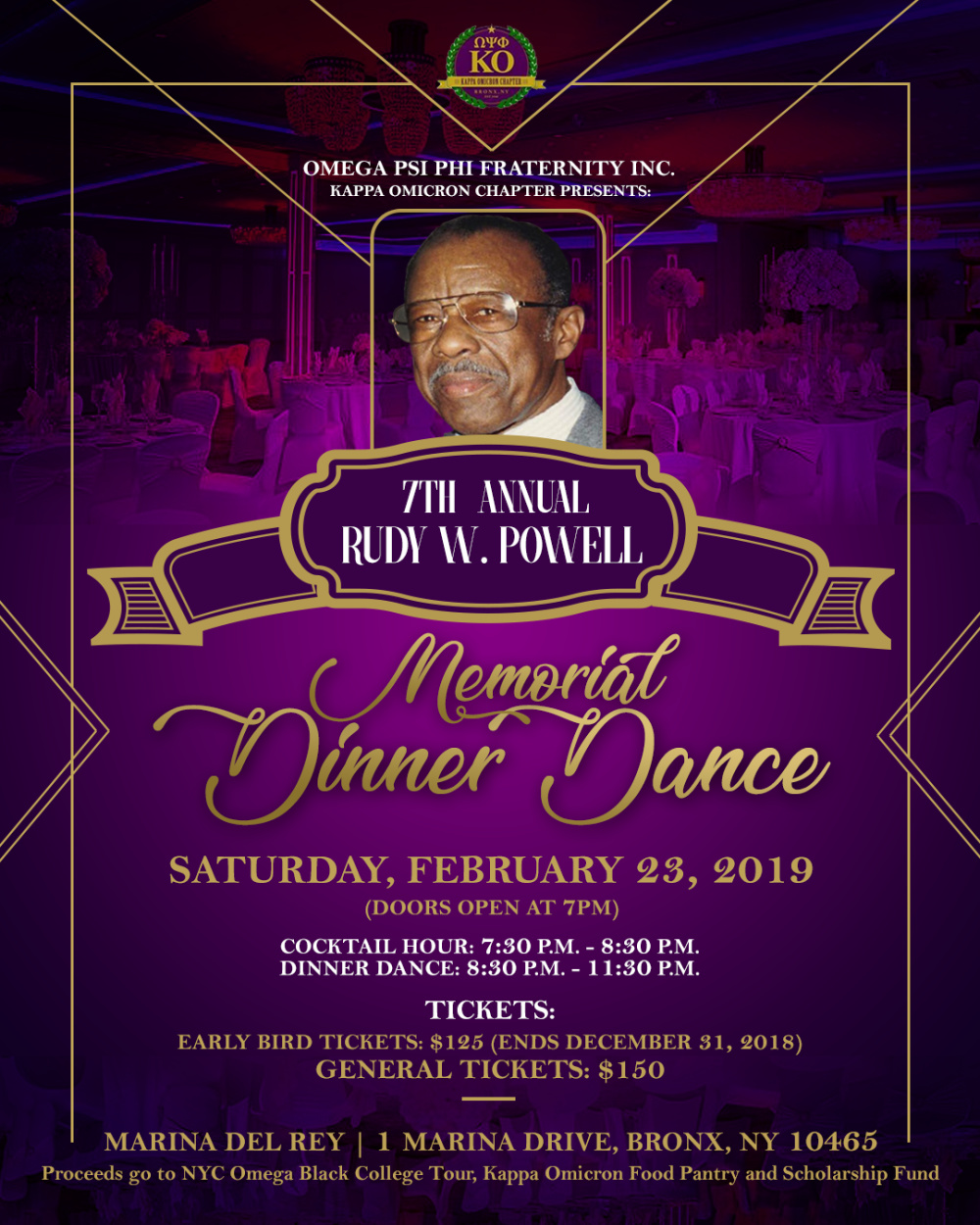 OMEGA PSI PHI FRATERNITY, INC.
KAPPA OMICRON CHAPTER PRESENTS:
7th ANNUAL Rudy Powell Memorial Dinner Dance 2019
Saturday, February 23, 2019
The Marina Del Rey
1 Marina Drive, Bronx, NY 10465

Doors Open 7:00PM-7:30PM
Cocktail Hour 7:30PM-8:30PM
Dinner Dance 8:30PM-11:30PM

DONATION: $125.00 until December 31st, 2018
GENERAL ADMISSION: $150.00

Honorees:
Guarionex Marte Kappa Omicron Chapter [Omega Psi Phi Frat.Inc]
Jon Byers Nu Beta Chapter [Omega Psi Phi Frat.Inc]
Larry Blackmon [Alpha Phi Alpha Frat. Inc]
Andrea Webster President Tau Omega [Alpha Kappa Alpha Sorority Inc]
Ayris B. Granby New York State Director [Zeta Phi Beta Sorority Inc]
For Information and Tickets:
Pay Online:
http://bit.ly/RUDYPOWELLDINNER2019
or contact:
Steve Schmidt (914) 815-7136
Nigel Rawlins (646) 861-8006
Charles E. Johnson (917) 557-2037
Rene Jon-Sandy (347) 920-6884
ABOUT RUDY POWELL:
Rudy (as he was affectionately known by his Brothers in Omega Psi Phi) was a devoted life member of the Fraternity who served faithfully and with distinction for over 66 years. He was active with Kappa Omicron Chapter in New York City for more than 30 years. Prior to that, he was an active member with Epsilon Chapter in New York City, and Nu Omicron Chapter in Jamaica, NY. He was elected as Basileus (Chapter President) for four different chapters: Nu Psi Chapter, Epsilon Chapter, Nu Omicron Chapter, and Kappa Omicron Chapter. Rudy was appointed as the 2nd District Corridor Five Representative.
Rudy was always willing to share his experiences and knowledge of Omega with his Brothers. He invited many of the newly initiated Brothers in the New York City area to his home and encouraged them to remain financial and active, become working members on chapter committees, run for chapter leadership positions, and attend other local chapter meetings. He also encouraged them to do the same on the District and National level. Rudy also provided counsel to many of the local chapter Basili as well as District and National Officers.