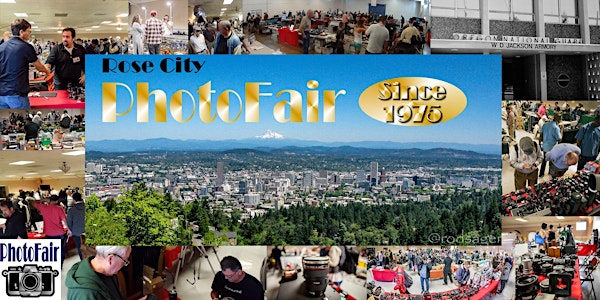 7th Annual Rose City PhotoFair
Portland's largest camera show event!
When and where
Location
Kliever Armory 10000 NE 33rd Avenue Portland, OR 97211
About this event
PhotoFair is back this year at the Kliever Armory right here in the Rose City. Take note that Jackson Armory is our normal venue but it is closed for rennovations. This year's show is at nearby Kliever Armory. We are aiming to raise the bar higher to help make the Rose City PhotoFair a premier photography event for the Pacific Northwest. Come see dozens of vendors spread out over scores of tables. The range of products includes modern digital photo gear, classic and vintage gear, darkroom, film, local camera stores, local collectors, and even international buyers looking for your gear! We have to special guests, PhotoClubPDX will have images on display and for sale and Ross Hamilton 34 year veteran photo journalist from the Oregonian will give a presentation at 11am. This is truly a buy sell trade and learn event. Come see Mark from 7artisans, TT artisans and Light Lens Labs. He will have the latest new lenses to fit nearly any camera from vintage film to modern mirrorless. Members of photoclubPDX will have a photo show and we have a special guest speaker as well. More details on photofair.com. The Rose City Photo Fair! We will have a food cart on hand to serve delicious breakfast, lunch and beverage during the event! Vendor TBA. We will also have more special guests this year so stayed tuned to the website for information as it becomes available. Visit the website. #RoseCityPhotoFair #PortlandCameraSwap   
Local goverment may require that masks be worn indoors during the event. Check the website for updates on restrictions.