7th Annual RNPN Forum: Alliances for Inclusive Resilience
We are excited to announce the Resilient Nation Partnership Network will host the 7th Annual Forum on "Alliances for Inclusive Resilience."
About this event
FOR MORE INFORMATION AND TO REGISTER: PLEASE VISIT THE NEW EVENT WEBSITE. As of September 16, 2022, any registrations processed on Eventbrite may not be captured as part of future outreach and communications. For questions, please email FEMA-ResilientNation@fema.dhs.gov. Thanks!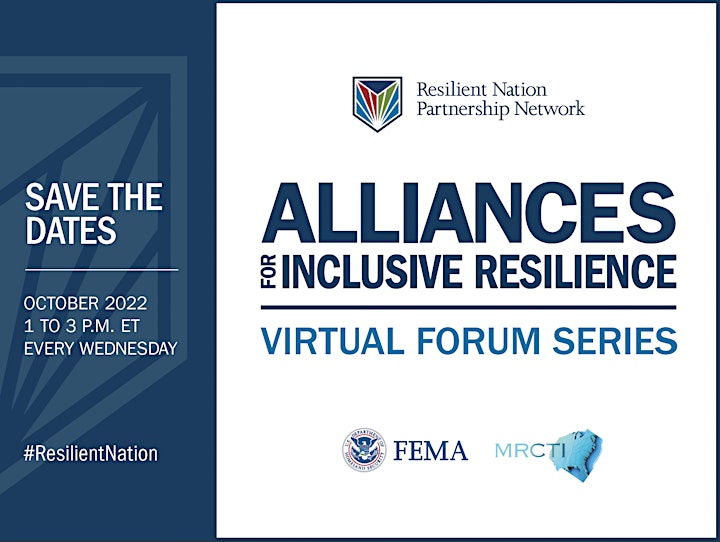 FEMA's Resilient Nation Partnership Network (RNPN) and the Mississippi River Cities and Towns Initiative (MRCTI) will host the 7th Annual Partnership Forum. This year's Forum will focus on "Alliances for Inclusive Resilience." The virtual series will occur every Wednesday this October from 1-3 PM ET and will explore the following topics around inclusive resilience:
October 5 – "Social Cohesion: Making Access, Inclusion and Equity Priorities in Resilience"
October 12 – "Making Resilience Priorities Complementary"
October 19 – "Inclusive Design: Building a Sense of Resilient Belonging"
October 26 – "Voices of Inclusive Resilience"
About the 2021 Annual Partnership Forum
The Forum provides opportunities for partners to engage with other industry peers, opportunities to network, and to identify actionable future partnerships around a priority topic.
Co-hosted by the RNPN, FEMA and NASA, the 2021 Annual Forum explored "Building Alliances for Climate Action." The forum was one of the largest federally hosted climate events in recent years. 37 speakers shared their perspectives and paths to bolstering collective climate action. Over 3,250 viewers from more than 900 organizations joined this important conversation. Recordings of each session are available on FEMA's YouTube channel.
About the RNPN
The Resilient Nation Partnership Network is a unique network of organizations and individuals united to help communities take action and become more resilient. Our mission is to inform, educate, and motivate communities to protect themselves from the loss of life, property, and prosperity as a result of natural hazards. Learn more about the Network by visiting our website. For more information, please contact FEMA-ResilientNation@fema.dhs.gov.