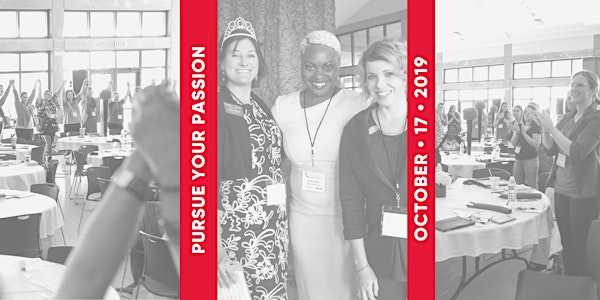 7th Annual Pursue Your Passion Conference
When and where
Location
Sanders Beach Community Center 913 South I Street Pensacola, FL 32502
Description
Celebrating National Business Women's Week 2019, Powerful Women of the Gulf Coast proudly presents their Seventh Annual Pursue Your Passion Conference, bringing together nearly 200 women seeking to share their business skills in a series of speaking engagements, networking events and educational workshops.
Officiated by Dr. Lusharon Wiley, the Director of Culture of Innisfree Hotels, the 2019 Pursue Your Passion Conference will include a keynote speech by Kristie Tobias, a Huron Consulting Group Healthcare Consultant, Studer Group Coach and National Speaker. Additionally, it will feature a series of PED Talks, or influential presentations by engaging speakers including Major (Retired) Emily Elmore, Michelle Salzman and Linda "Sonshine" Moorer.
Attendees will also enjoy lunch and snacks provided by local food establishments, an interactive Experience Hall, or vendor area, and opportunities to network with some of the brightest, most passionate businesswomen in the Gulf Coast.
---
Dr. Lusharon Wiley is the Director of Culture for Innisfree Hotels. She is the emcee and official "dot connector" for the conference. Lusharon exudes infectious energy while focusing on key areas of learning, keeping attendees motivated and energized!
Formerly the Director of Case Management Services and Senior Associate Dean of Students at the University of West Florida, Lusharon played an instrumental role in multiple inclusion and diversity groups and programs on campus. She is the founder of the University's Argo Pantry. Lusharon wrote and starred in her one-woman show – Lusharon Unleashed. She is currently working on her second show.
---
Kristie Tobias is a Huron Consulting Group Healthcare Consultant, Studer Group Coach and National Speaker. She has consulted over 30 organizations on change management and leadership, employee engagement, patient experience, leadership development, business optimization and financial improvement.Through her creation of a change leadership curriculum and leadership development workshops, she has provided professional development for thousands of employees and leaders.
Kristie was a PED Talk speaker for the 2018 Pursue Your Passion Conference; according to our post-event survey, attendees agreed that she knocked it out of the park! We are happy to welcome Kristie to speak at this year's conference in a longer format.
Diagnosed with Post Traumatic Stress Disorder (PTSD) at age 20, Kristie used her recovery journey to provide empowerment, mentorship and inspiration to others on her blog, fearlesslymadeyou.com.
Additionally, Kristie serves as the Strategic Advisor and Governance Operations Team Lead for the Mayor of Pensacola, she is on the Board of Directors for Ronald McDonald House Northwest Chapter, and she's an Organizational Consultant for Gulf Coast Kid's House and Powerful Women of the Gulf Coast.
At this year's conference, Kristie's keynote speech will center on "Owning Your Journey: Owning Your Story, Working to Build Your Network and Never Allowing Yourself to Stop Growing."
---
Major (Retired) Emily Elmore is a former Air Force pilot and wounded warrior, credited with over 300 combat hours in Operations Enduring Freedom and Resolute Support. After suffering a catastrophic injury that limits the use of her right arm, Emily medically retired from the military in April 2019. Since, Emily founded The MotoDoll LLC, a brand management and web design company specializing in brand management, marketing and web design.
At the 2019 Pursue Your Passion Conference, Emily will be speaking on, "From What to Why: Self Discovery Through Crisis."
---
Michelle Salzman, a decorated veteran of the United States Army, is a prominent community volunteer and co-founder of Salz Studio, a Pensacola based photography business. Michelle has received a number of designations and honors, including Distinguished Woman by the Gulf Coast Girl Scouts Council, 2015, 2017 and 2018 IN Weekly Volunteer of the Year, Mom of the Month from Greater Pensacola Parenting Magazine and "I am Pensacola" from VIP Pensacola Magazine. Recently, Michelle has announced her candidacy for the State Congress elections in 2020.
---
Linda "Sonshine" Moorer is a radio personality featured on Magic 106.1 and founder of Teen Advocacy Program, or TAP. Through her radio show, "Your Midday Diva," Sonshine is committed to educating the community on important social, minority and health issues.

---
Tax Status - Although Powerful Women of the Gulf Coast, is not established as a 501(c)(3) organization, it is a recognized Florida not-for-profit. Sponsorships are recorded by the donor as business expenses, professional development or other category depending on their own internal financial regulations.
---
Please invite another Powerful Woman by sharing this with her!