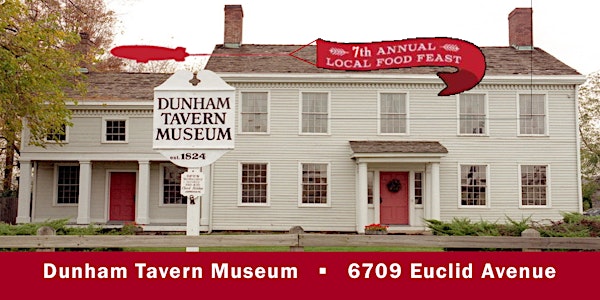 7th Annual Potluck in the Park - A Local Foods Feast
When and where
Location
Dunham Tavern Museum 6709 Euclid Avenue Cleveland, OH 44103
Description
POTLUCK IN THE PARK – 7th ANNUAL Potluck in the Park – A LOCAL FOOD FEAST!
The Potluck in the Park is a celebration of local food and a chance for Clevelanders to share a meal together.
[Cleveland, September, 29, 2018]: Hundreds of growers and guests from neighborhoods throughout Cleveland will come together for one of the largest potlucks in the city to share in one amazing home grown meal! The Potluck in the Park will be held on Saturday Sept. 29th from 4:00 p.m. - 7:00p.m. at the Dunharm Tavern, located at 6709 Euclid Ave, rain or shine. Check-in is at 4:00 p.m. Dinner starts shortly after. Off-street parking is available. Participants can also ride the RTA Healthline.
In addition to sharing a meal, there will be live music, information tables, and interactive entertainment for children. Bring a dish of your choice -- whether it serves a few or a bunch! Please join us for this community celebration of Cleveland's vibrant and growing local food movement, even if you are unable to bring a dish. During the potluck, local organizations will have tables that display community resources available throughout Cleveland. The Potluck in the Park is a Zero Waste event, so please make an effort to bring food items in containers that can be re-used or recycled.
Potluck in the Park is hosted by the Sustainable Cleveland 2019 Vital Neighborhoods Working Group. Sponsorship has been provided by Sustainable Cleveland 2019, Neighborhood Connections/NeighborUp, Cleveland Neighborhood Progress, Ward 7 Councilman Basheer Jones and the Greater Cleveland Neighborhood Centers Association.
Event Details
Prepare:
Please use safe cooking methods during preparation.

Bring a list of ingredients so the Vital Neighborhoods group can note common food allergens.
Food Competition
Rules for the food contest are as follows: Voting will only apply to main course dishes. Although not required, submissions are strongly encouraged to include a locally grown ingredient. Restaurants are ineligible to participate in the contest. Submissions must arrive by 4:30pm and the winner will be announced at 5:30pm.
What to expect:
Registration: Guests will check-in their dish at 4:00 p.m. at Dunham Tavern. Volunteers will place the food on the designated tables. The feast will begin shortly after.

Drop off non-perishable food donations for the Hunger Network of Greater Cleveland (optional).

Seniors and persons with disabilities will get priority seating

Individuals are encouraged to bring picnic chairs & blankets

Non-disposable dishes will be set aside. You are responsible for retrieving your dish.